(MAY 1) — Professors Ma. Crisanta N. Flores, PhD and Priscelina P. Legasto, PhD were among the 11 recipients of the "2020 Gawad Pambansang Alagad ni Balagtas" (Gawad Balagtas).
Launched in 1988, Gawad Balagtas is a lifetime achievement award given to Filipino writers by the Unyon ng mga Manunulat sa Pilipinas (UMPIL), the country's largest organization of Filipino writers.
This year, the 11 Gawad Balagtas awardees were Fray Paolo Diosdado Casurao (Play in Waray), Flores (Literary Criticism in Filipino) Eric Gamalinda (Poetry and Fiction in English), Marra PL. Lanot (Poetry and Essay in English), Legasto (Literary Criticism in English), Glenn Sevilla Mas (Play in English), Jose Javier Reyes (Screenplay), Augie Rivera (Children's Literature in English), Aida Santos (Poetry in Filipino), and Hope Sabanpan Yu (Fiction, Essay, and Translation in Cebuano).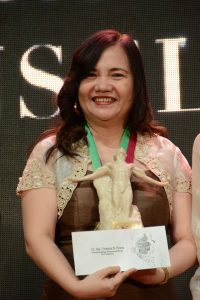 Flores is a professor at the College of Arts and Letters (CAL) Department of Filipino and Philippine Literature and affiliate faculty of the Tri-College PhD Philippine Studies Program based at the Asian Center.  She previously served as Office of Extension Coordination director at UP Diliman (UPD). Flores previously served as director of UP Padayon Public Service Office under the Office of the Vice President for Public Affairs from 2017-2018.
Flores teaches Panitikang Filipino, Kasaysayan ng Pilipinas, Cultural Anthropology, Gender Studies, Comparative Literature, Ethnic Studies, and Popular Culture.  She has authored various books and academic research papers in Filipino and was the 2017 Gawad Tsanselor para sa Mananaliksik sa Filipino.
Among her published works were "The Cattle Caravans of Ancient Caboloan (Interior Plains Of Pangasinan)" published by the National Historical Institute in 2007; "Birhen ng Manaoag at ang Tradisyong Manag-anito" (Daluyan, 2004), and "Ideolohiyang Anacbanua: Pagtatakda ng Baley/Sentro ng Doxa at Kamalayang Makabansa sa Panitikan at Kasaysayan ng Pangasinan" (Palimbagan ng Lahi,2006).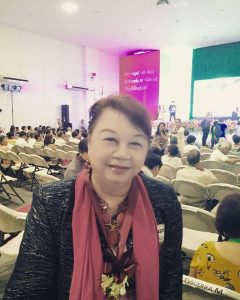 Legasto is a retired professor of the CAL Department of English and Comparative Literature. She taught courses in literary, cultural, feminist and Marxist theory and criticism, Philippine theater history and postcolonial studies.  She was a former UP assistant vice president for academic affairs, and the former director of the UP System Information Office and the UP Office of Alumni Relations.
Some of her publications include the "Philippine Post Colonial Studies: Essays in Language and Literature" (as editor and contributor; 2nd edition, UP Press, 2004), "Filipiniana Reader: A Companion Reader of Filipiniana Online" (as editor and contributor, UPOU, 1998), "Sarswelang Pangasinan" (Ateneo de Manila University Press, 1996), and "Prism of Literature" (as co-editor with Yolanda Tomeldan et. al., 1986).
UMPIL also announced Lourdes H. Vidal as the recipient of the"2020 Gawad Paz Marquez Benitez" (Gawad Benitez). Gawad Benitez is a lifetime achievement award for Filipino teachers of literature and creative writing.
Gawad Balagtas and Gawad Benitez awardees will each receive a citation diploma accompanied by a pen and ink print by Pen Prestado; and a sculpted hardwood trophy by world-renowned Filipino artist Manuel Baldemor.
This year, the awarding ceremonies originally scheduled on Apr. 25 as the highlight of the UMPIL annual national congress was postponed indefinitely because of the enhanced community quarantine due to the COVID-19 pandemic. The schedule and the venue of the awarding will be announced later.
The Executive Board of UMPIL is composed of Michael Coroza (chairperson), Susan Lara (vice chair), John Iremil Teodoro (secretary general), Louie Jon Sanchez (treasurer), Aldrin Pentero (auditor); Romulo Baquiran Jr., Karina Bolasco, Celina Cristobal, Marne Kilates, Joey Tabula, and John Enrico Torralba (members); and John Bengan, Dulce Maria Deriada, Grace Chong, Joaquin Sy, and Ariel Tabag (sectoral representatives).
---
Photo credit:
Dr. Priscelina P. Legasto's photo — https://wendellcapili.tumblr.com/post/144612645856/my-up-diliman-mentor-and-thesis-adviser