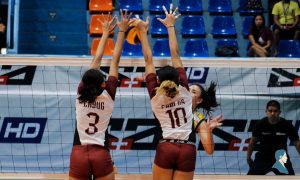 The UP Women's Volleyball Team posted a convincing win over the University of Santo Tomas (UST) in four sets, 31-33, 25-23, 25-16, 25-12, in the University Athletic Association of the Philippines Season 80 Volleyball Tournament, yesterday at The Arena in San Juan City.
The win snapped the Lady Maroons' four losing streak and improve their win loss record to 2-4.
The Lady Maroons started flat in the first set. Down 10-19, UP slowly clawed their way back to even the score, 24-24. The two teams battled it out tightly, sending the first canto of the game into several extensions, 31-31, until Carla Sandoval's service ace that gave the Lady Tigers the first set.
With momentum shifting to UP, the Lady Maroons took control of the early goings of the second set and were at set point, 24-21, when UST managed to cut the deficit to one, 24-23. In the next rally, Ayel Estrañero came up with a huge defensive stop in the net on UST's Carla Sandoval to seal the second set for UP.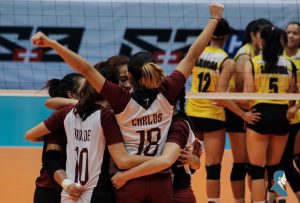 From then on, it was all UP show as they breezed to a convincing and dominating win.
Team captain Diana Carlos paced the Lady Maroons with 32 points (27 attacks, three blocks and two service aces). Isabel Molde chipped in 24 points. Rose Cailing also stepped up, converting 31 excellent sets and scoring six points.
The Lady Maroons played solid on defense scoring 14 block points, with 9 coming from the combined efforts of Marian Buitre and Maristela Layug. The team also registered 38 excellent digs.
UP's next assignment is against the National University Lady Bulldogs on March 4 als at The Arena.