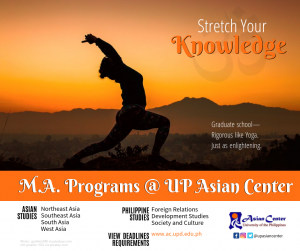 The UP Asian Center is accepting applications for its graduate programs on Asian Studies and on Philippine Studies for the second semester, Academic Year 2019–2020, which starts in January 2020. Applications will be accepted until 29 October 2019, 5 pm (excluding weekends and work cancellations).
PROGRAMS OFFERED

♦ Master of Arts in Asian Studies (Thesis)
♦ Master in Asian Studies (Nonthesis)
♦ Master of Arts in Philippine Studies (Thesis)
♦ Master in Philippine Studies (Nonthesis)
AREAS OF SPECIALIZATION

♦ Asian Studies
◊ Northeast Asia (specialization on China, Japan, or Korea)
◊ Southeast Asia
◊ South Asia
◊ West Asia
♦ Philippine Studies
◊ Development Studies
◊ Foreign Relations
◊ Society and Culture
INTERDISCIPLINARY COURSEWORK

♦ History and Area Studies
♦ Research and Methodology
♦ Politics and Governance
♦ Socioeconomic Development
♦ Culture, Religion, and Society
For inquiries, please email acsec.upd@up.edu.ph or call 8 981 8500 local 3578.