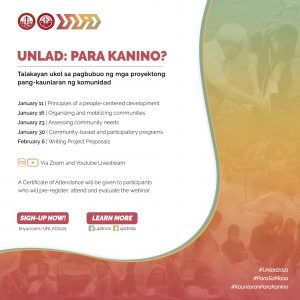 The UP National Service Reserve Corps (NSRC) composed of graduates of the Civic Welfare Training Service and Literacy Training Service components of the National Service Training Program (NSTP) will conduct a webinar series this January 2021. The webinar series: "UNLAD: Para Kanino? Talakayan ukol sa pagbubuo ng mga proyektong pang-kaunlaran" aims to develop broader perspective on community engagements and help student reservists understand the importance of translating short-term projects for the communities into sustainable initiatives.
Through these webinar series, reservists are expected to obtain critical mindset in examining issues and motivate them to act in solidarity with the communities that they aim to serve. It aims to further strengthen the idea that reservists shall work 'with and for' the people in achieving their actual needs and aspirations. Likewise, projects should take careful consideration on sustainable, responsible, and inclusive development of the community and its people.
In line with this, the NSTP Office is requesting for social media support through sharing of our publicity materials in UP Diliman's social media platforms. Attached in the email is a copy of our posters for your reference. Additional information and updates on the webinar series will also be posted in the event Facebook page: www.facebook.com/updnsrc.
For further inquiries, please feel free to contact Sedric Suringa, Project Communications Officer, through 0955-095-9751 or at nsrc.upd.unlad@gmail.com or sbsuringa@up.edu.ph.