By Haidee C. Pineda, images by John Morris A. Garcia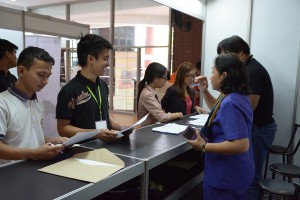 (MAY 7)— More than 70 companies comprising private and small scale businesses, government agencies and non-governmental organizations, both local and multinational, participated in this year's University Job Fair (UJF) held at the Ang Bahay ng Alumni from April 21 to 24.
In addition to providing employment opportunities, the UJF 2015 featured career, company and alumni talks, a seminar on HR (Human Resources) Policies (local and international) and other career exposition activities to help students choose their careers and provide them with knowledge in resumé writing, power dressing and how to handle interviews.
Organized by the Office of the Vice Chancellor for Student Affairs (OVCSA) through the Office of Counseling and Guidance (OCG) in cooperation with the UP Alumni Association (UPAA), the fair was attended by close to a thousand UP students and graduates seeking job opportunities.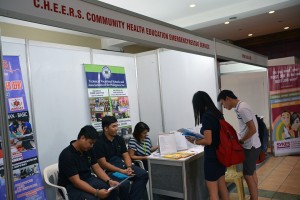 Opening the fair, Vice Chancellor for Student Affairs Dr. Neil Martial R. Santillan said "The UJF has played an active role in helping students and alumni find their place in the corporate world. The job fair has introduced them to various companies and industries in the country and offered them a wide range of career opportunities to choose from."
"This year's UJF aims to provide holistic, inclusive and high quality employment opportunities for our students and designed to further nurture meaningful learning experiences for our students. This direction is aligned with the University's mission of honor, excellence, love of country and public service. The values that best characterized maroon pride, the theme for this year's UJF," Santillan added.
UPAA President Ponciano E. Rivera, in his message read by UPAA Executive Director Romeo S.A. Carlos, congratulated the UJF organizers. "Through this praise-worthy and practical project of yours, UP graduates as well as students in need of financing for their education are given opportunities for employment," he said.
Some of the participating businesses were: Aboitiz Group of Companies, AFNI Philippines, Inc., Baker McKenzie Global Services Manila, ROBERT BOSCH, Inc., Community Health Education Emergency Rescue Service (CHEERS), Coca-cola FEMSA Philippines, Inc., Cognizant Technology Solutions, Inc., Delaware Managed Services & IT Consulting, ECLARO Business Solutions, Inc., First Philippine Holdings Corporation, FactSet Research Systems, Inc., Healthy Options Corporation, Jobs 180, KUMON Philippines, Inc., LBC Express, Inc., Malayan Insurance Co., Inc., Manpower for Advertising Services Agency, Inc., Microsourcing Philippines, Inc., Phoenix Petroleum Philippines, Inc., PTT Philippine Corp., Sykes Asia, Inc., Universal Robina Corportation and Vista Land & Lifescapes, Inc.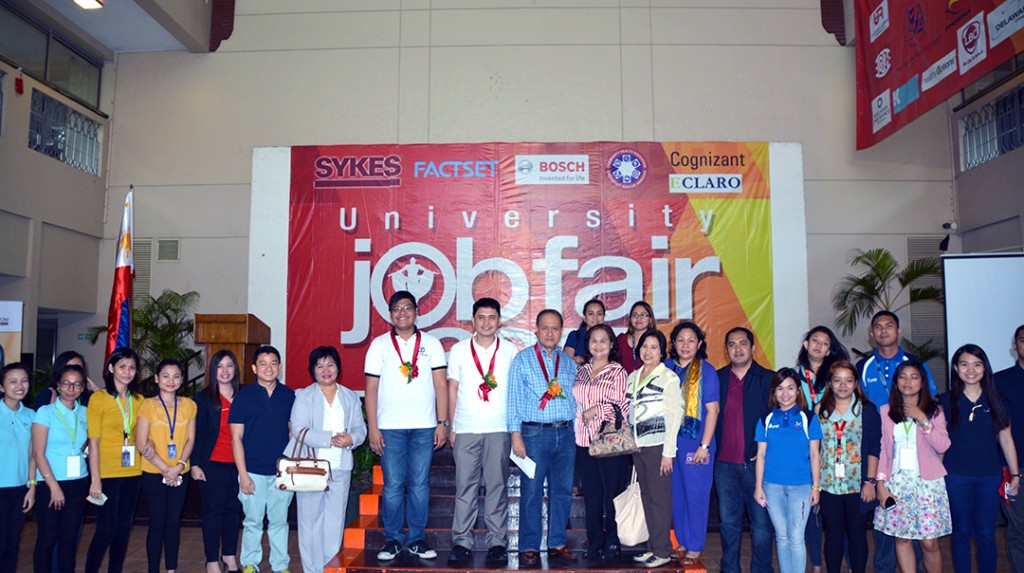 UPD officers with representatives of participating companies.
On the average, UPD contributes more than 3,000 graduates to the workforce yearly.
UJF 2015 chair Mary Ann Gina M. Valderrama of OCG introduced the participating companies as well as the event's week-long series of career-oriented activities.
Also present during the opening program were Student Regent Neil John Macuja, Office of Student Housing officer-in-charge Dr. Shirley V. Guevarra, Office of Scholarship and Student Services officer-in-charge Prof. Niel Kenneth F. Jamandre, OCG Director Annabelle M. Sangalang, Oscar Gomez of OCG, Dr. Rosalinda D. De Mesa, former Diliman Learning Resource Center officer-in-charge, and representatives of participating companies.
Edgie Francis B. Uyanguren of DZUP 1602 serves as master of ceremonies. The National Anthem and doxology was led by Roxanne Abuel of the College of Music (CMu) while the UP Singing Ambassadors under the baton of CMu professor Edgardo Manguiat provided the intermission number.