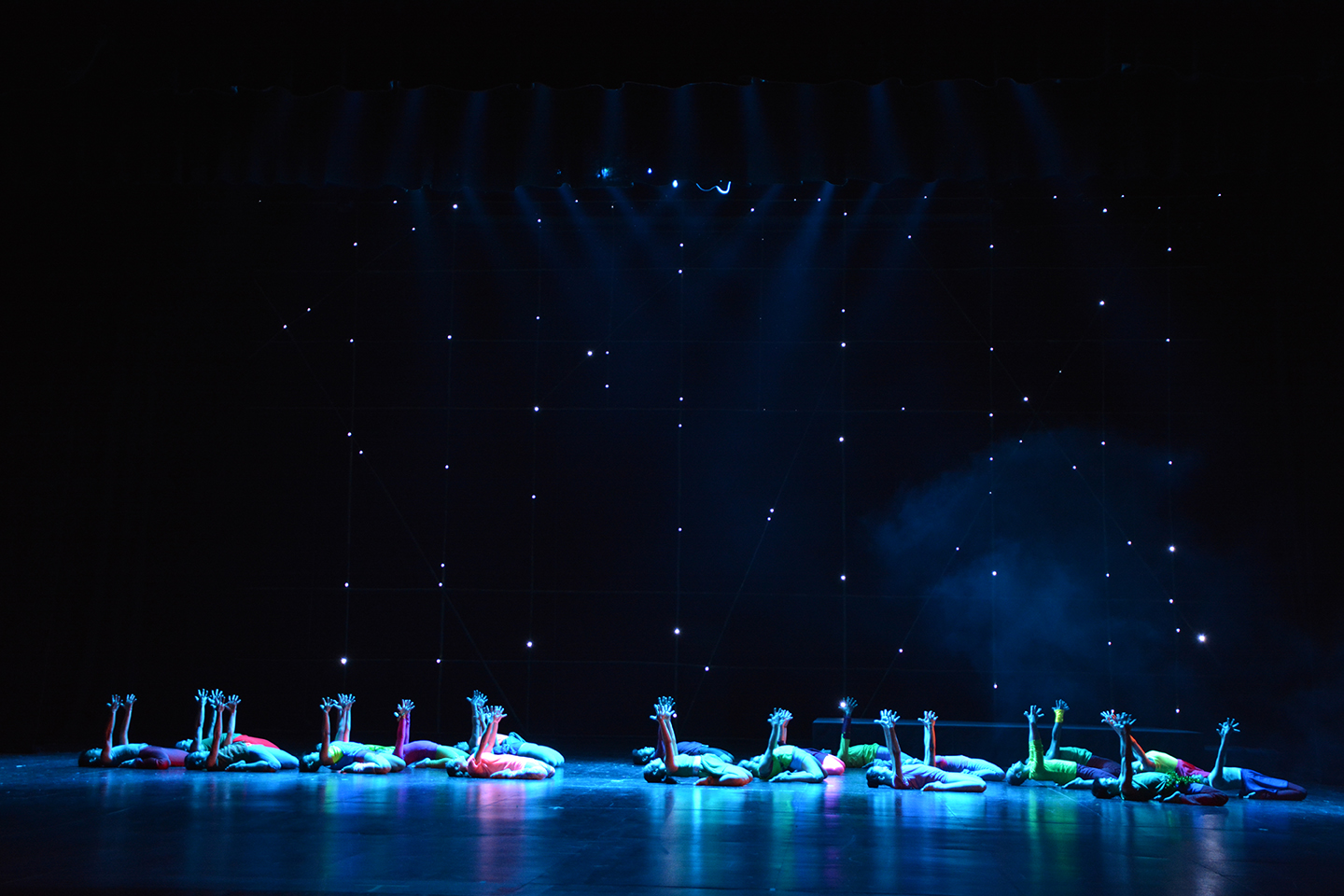 In celebration of its 80th anniversary, the UP Filipiniana Dance Group (UPFDG) held "Tanglaw," a homecoming Christmas concert, on Dec. 11 at the University Theater.  The concert was part of the Yuletide activities in UP Diliman (UPD) that carried the theme, "Dingas 2015: Adhikaing Diliman, Adhikaing Bayan."
Featuring the group's past and current members and artistic directors, "Tanglaw" (Torch) were in two parts: "Indayog ng Kapuluan" (dances of the islands) and "Tala-arawan" (diary).  "Tanglaw," in Filipino culture, serves as a guiding light leading people towards the right direction.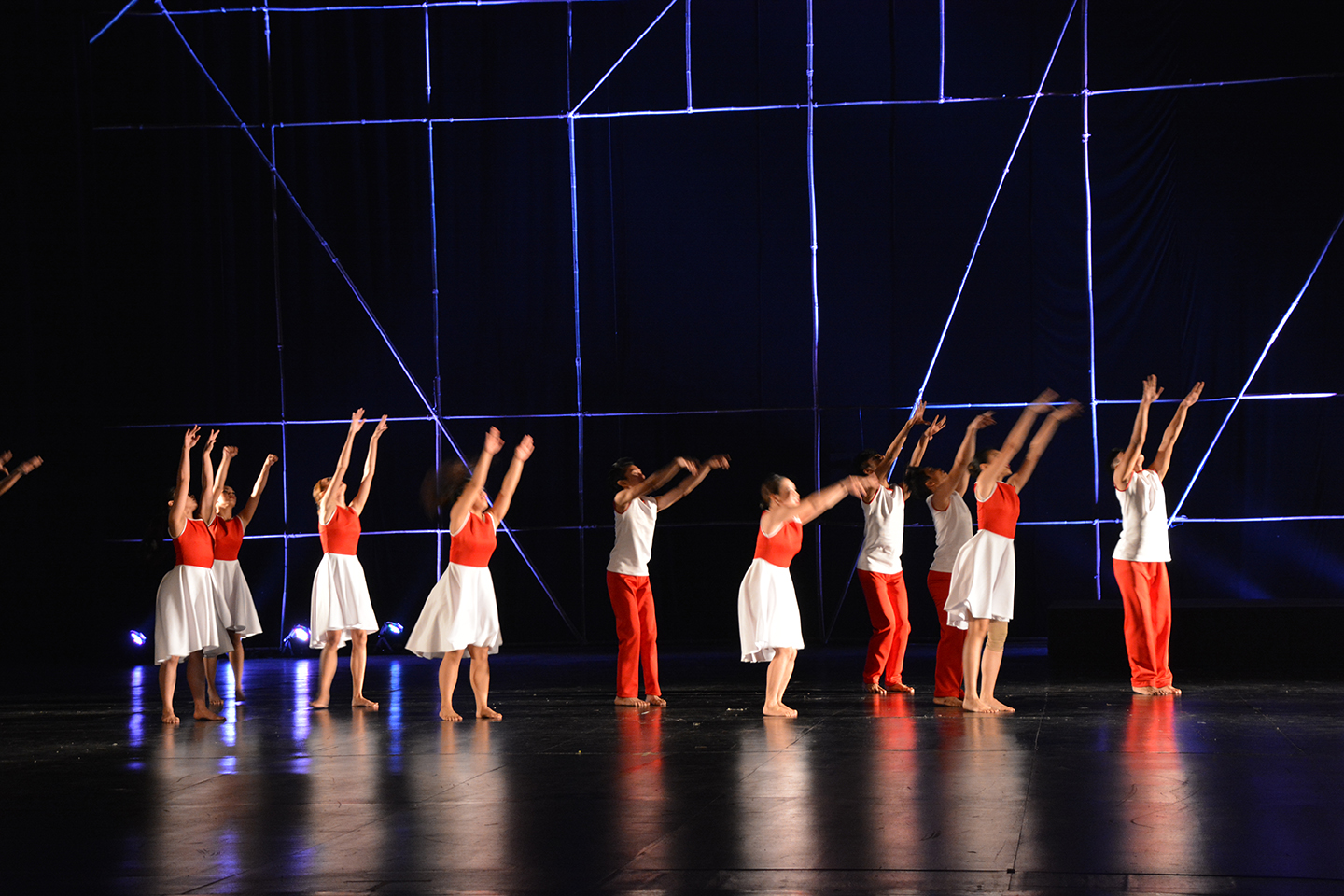 Indayog ng Kapuluan.  Showcasing dances from the islands of the Philippines, the concert began with a series of ethnic dances, "Sayaw at Galaw Etniko," showing the interactions among men, their daily life and their environment.
Accompanied by several gangsa, percussion instrument in Northern Philippines, the first set presented dances from the Cordillera Region: "Pattong/Tadjok" of Lubuangan, Kalinga, a fiery war dance in preparation for an attack; "Sakuting" of Mountain Province, an energetic mock fight between Ilocano Christians and non-Christians using sticks; "Baliwos" of Abra, an enticing dance from ladies of the barrio; "Tayaw" of Benguet, a passionate courtship dance, followed by "Bendian," also from Benguet, a community celebration which ensued after an understanding between the couple was reached.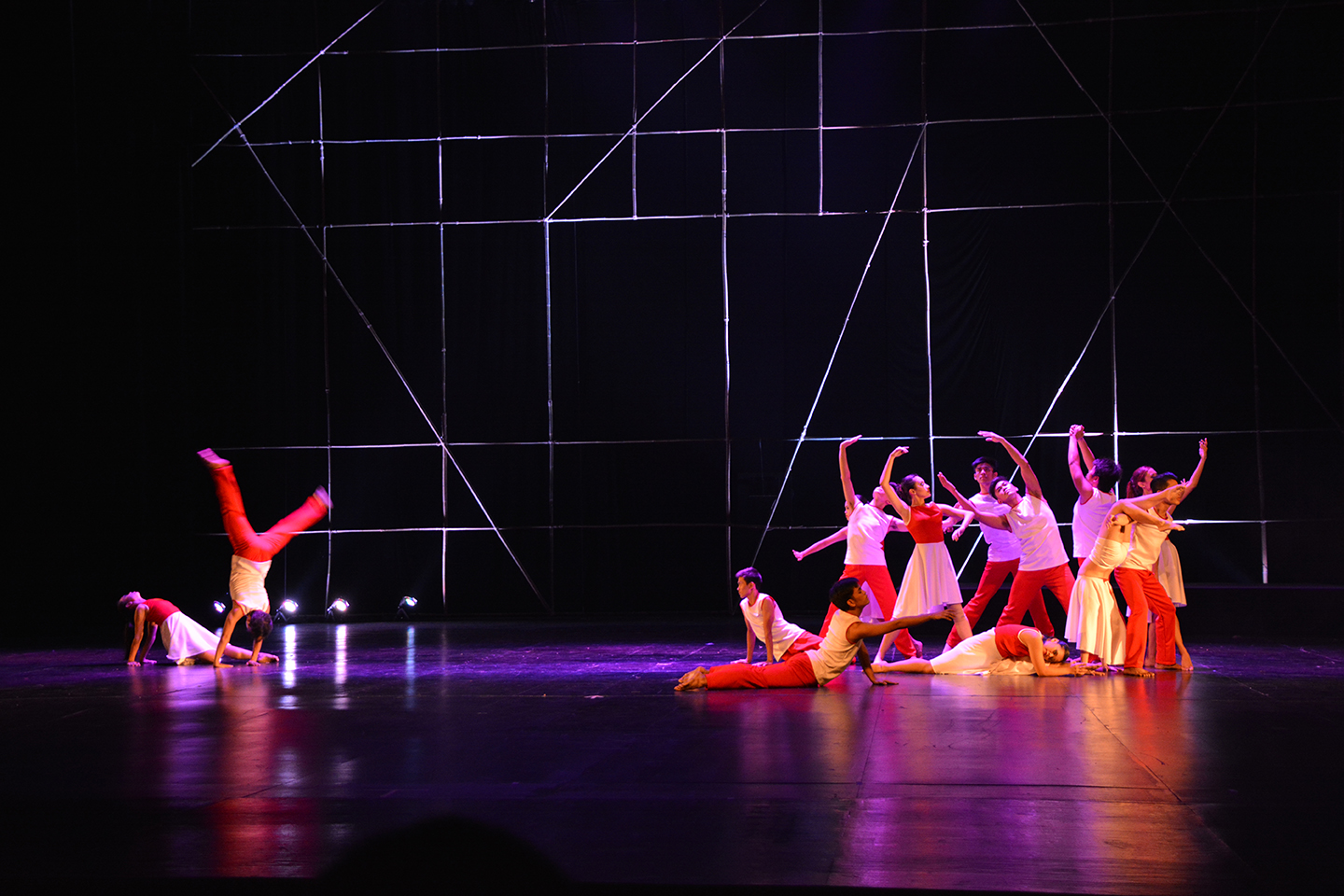 Next set was "Inim" of Aborlan, Palawan or the "Pagdidiwata," which is an elaborate 9-day harvest time ritual dance. The enchanting dance ritual is officiated by a "babaylan" (priestess or shaman) executing trance dances and is assisted by several "taga-iring."
The last set featured dances of the Maranaos, Maguindanawons, T'boli, Bagobos, Tausug and Badjao. Using several agong and kulintang, the set started with "Kadal Taho" of Lake Sebu, South Cotabato, a dance during planting and harvesting season imitating the moves of the "tahaw" bird. It was followed by "Lawin-lawin" of Davao del Sur where male dancers mimicking the "lawin" (hawk) use their tribal shields as wings and "Kappa Malong Malong" of Lanao del Norte which shows ways of how a malong, a tubular piece of cloth, can be used both by men and women.
There were also the "Sagayan" of Lanao del Norte, an intense dance depicting a warrior defending his master using a "kampilan," a double-edged sword; "Binakbak" of Bukidnon where male dancers imitate frogs hunted by men for food; and "Pangalay Ha Pattong" of Jolo, Sulu, a breathtaking dance of a couple atop bamboo poles imitating vintas, traditional boats of Southern Mindanao people, gliding across the Sulu Sea.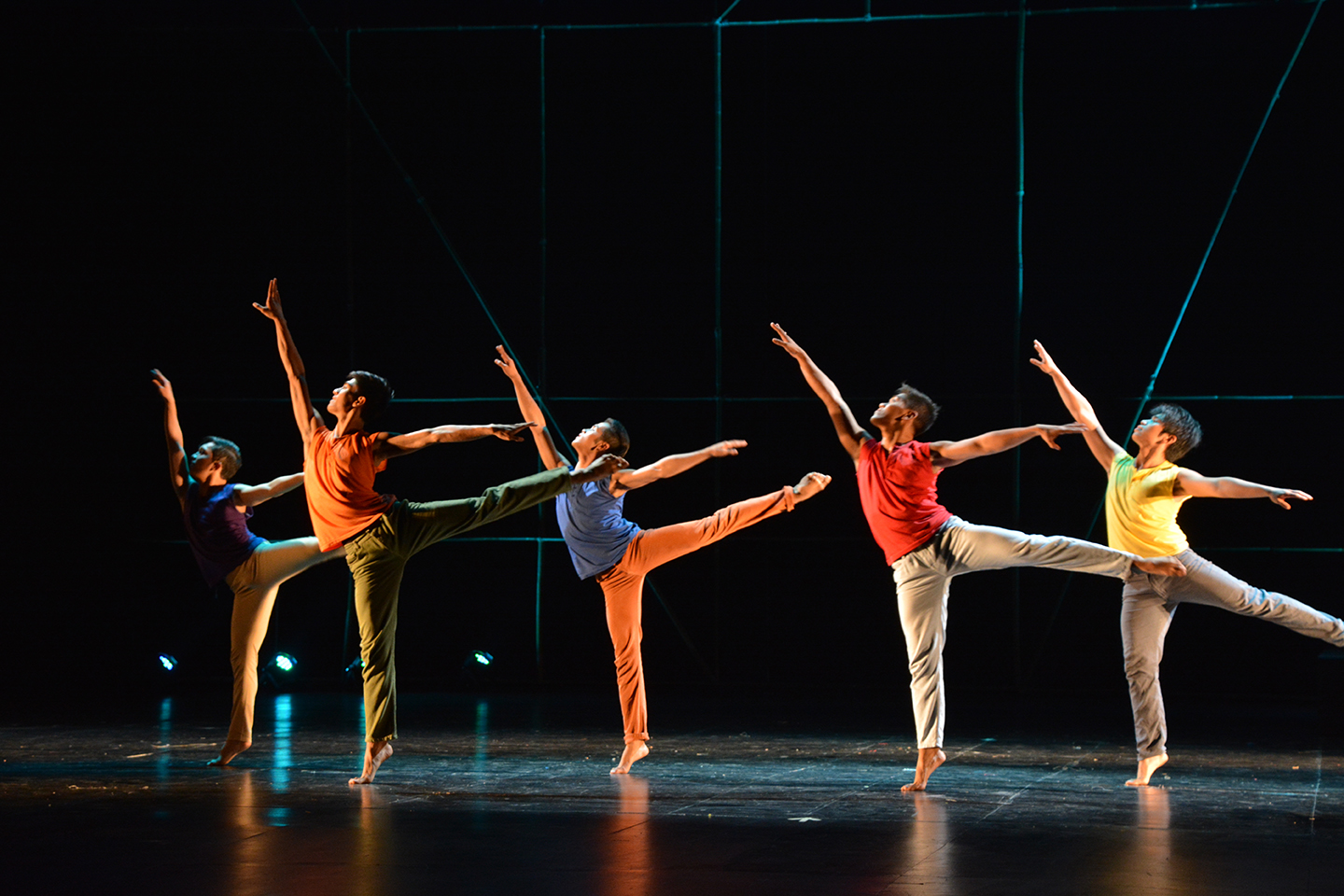 "Baylehan," featured community dances held in large halls or open fields: "Pandanggo sa Ilao" of Lubang Island, Occidental Mindoro, a dance of grace and balance where performers have lighted candles on their heads and hands; "Oasioas" of Pangasinan, a celebratory dance after a good fish catch where lighted candles inside glasses where swirled on air using white cloths; "Subli Sinala" of Bauan, Batangas, an enthralling ceremonial worship dance in homage to the Holy Cross; "Binoyugan" of Estanza, Pangasinan where female dancers balance "banga" (clay pots) used for fetching water or cooking rice, on their heads; and "Maglalatik" of Biñan, Laguna, a war dance using coconut shells as weapons depicting a fight between Moros and Christians over "latik," the residue left after boiling coconut milk.
The last dances for the set were "Jota Gumaqueña" of Gumaca, Quezon featuring stomping and elegant moves while using castanets and "Panderetas," Spanish word for tambourine, of Tanza, Iloilo, a Yuletide season dance where female dancers use tambourines while they swirl and turn.
"Harana," (serenade) featured dances between men and women during courtship. First is "Habanera Botoleña" of Botolan, Zambales, a celebration dance during weddings, baptisms and other special occasions; next is "Putritos" of Tayabas, Quezon, a festival dance with flirtatious and playful gestures; "Sayaw Ed Tapew na Bangko" of Lingayen, Pangasinan a lively dance atop a bench; and "Kumakaret" of Dorungan, Pangasinan, a dance of a "kumakaret" (wine maker) to impress the girl of his dreams.
Ending "Indayog" is "Binasuan" of Bayambang, Pangasinan where impressive female dancers whirl and roll on floor while balancing wine-filled glasses atop their head and hands; "Tinikling" and "Grand Tinikling" of Leyte where mesmerizing pairs of dancers use bamboo poles to depict the legendary grace and speed of the "tikling" bird as they play, chase each other, fly over trees or dodge bamboo traps set by farmers.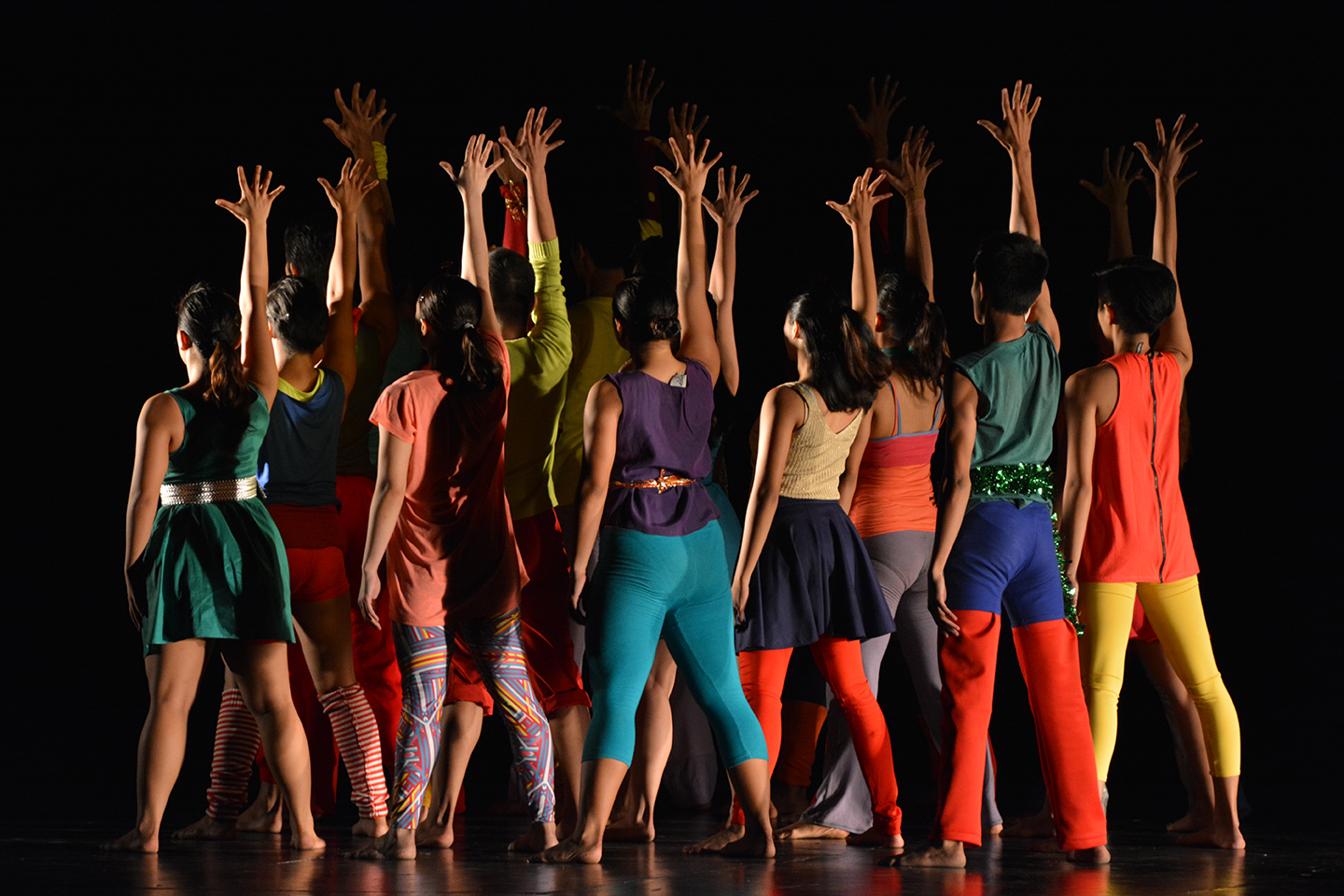 Guiding Lights. The concert also honored past UPFDG artistic directors: Prof. Francisca Reyes-Aquino (1935-1939); Prof. Cynthia Abad Santos (1956-1960), Prof. Lydia Evangelista-Buendia (1960-1964), Prof. Amelia Zafra (1964-1967), Prof. Teresa Miraflor Agsalud (1967-1973), Prof. Corazon Generoso Iñigo (1973-1990), Dr. Leilani Gonzalo (1990-1997) and Van Cornelius Manalo (1997-2014).  On hand to award plaques of appreciation were UPD Chancellor Michael L. Tan, CHK Dean Prof. Ronualdo U. Dizer and current UPFDG Artistic Director Peter Alcedo Jr.  Present at the awarding were Iñigo, Gonzalo and Manalo. Relatives of Reyes-Aquino, Santos and Zafra accepted their plaques on their behalf.
Tala-arawan.  The years of UPFDG through interpretive dances were reminisced in Tala-arawan. It opened with the song Binibini of Apo Hiking Society and Noel Cabangon where male dancers depicts how men court and impress women, followed by Ako Lang ang Nagmahal of Vincent de Jesus and Aiza Seguerra which tells of a woman's unrequited love and a medley of Rey Valera songs – Sinasamba Kita, Tayong Dalawa, Huwag Mangamba, Malayo pa ang Umaga and Kung Tayo'y Magkakalayo – portraying different aspects of love.
Five alumni members then shared about their time with UPFDG followed by the songs "On my Way Home" by Pentatonix and Boyce Avenue portraying Filipinos returning to their homeland; "Shut Up and Dance" of Walk the Moon started by Gonzalo, Manalo and Alcedo followed by alumni and current members featuring pop, funk and jazz moves; and a medley of Christmas songs – "Pasko na Naman," "Simbang Gabi" and "Noche Buena" – in celebration of the Season.
The concert ended with all the participants jubilantly dancing to the tune of "Sumigla, Sumayaw" as the dancers and musicians are recognized based on the dance sets they performed.
The UPFDG began in 1935 by Prof. Francisca Reyes-Aquino, first National Artist for Dance, and was initially named UP Folk Song and Dance Club. It is one of the official UPD performing groups is known both locally and internationally.
The concert was presented by the Office of the Chancellor of UP Diliman in cooperation with the UPD Office for Initiatives in Culture and the Arts, UP Diliman Information Office, the UP Theater Complex and the College of Human Kinetics. It had two shows–the 3 p.m. matinee show was offered free to the public with invited high school students while the 7 p.m. gala show was ticketed to raise funds for UPFDG's future performances.