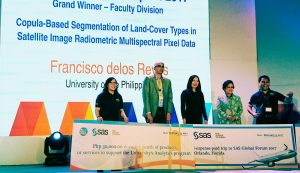 UPD School of Statistics (SS) Prof. Francisco N. delos Reyes research won the grand prize in the faculty division of the SAS paper competition held during the Annual SAS Philippines Academic Analytics Conference on Feb. 9 at the One Esplanade Events Place, Pasay City.
According to delos Reyes, his paper Copula-Based Segmentation of Land-Cover Types in Satellite Image Radiometric Multispectral Pixel Data, "is useful in inferring with high confidence a pixel's representation of a specific land cover in the absence of ground-truth data. Through the copula-trained classifier, the multivariate distribution of multi-band reflectance is fitted through their actual covariance structure not imposed by usual probability models, thus resulting into better classification."
As part of the award, delos Reyes who is also the director of SS Undergraduate Studies, was given an all-expense-paid trip to SAS Global Forum which will be held in Orlando, Florida from April 2 to 6, 2017. Meanwhile, the UP SS will also receive P160,000 worth of SAS products and services. SAS is an international company specializing in business analytics software and services.
The Annual SAS Philippines Academic Analytics Conference is the biggest gathering of all SAS academic program partners aimed at building a community focused on using analytics for a greater cause. The paper competition, which showcases the analytical skills of SAS academic partners in addressing business, government, and social issues in the country using SAS technology, is the highlight of the conference.