By Haidee C. Pineda
(November-December 2014) A total of 13, 820 students availed of the Socialized Tuition System (ST-S) at UP Diliman (UPD) in the first semester of Academic Year 2014-2015.
The total represents 74 percent of the total undergraduate student population (18, 660) who may apply for the tuition discount.
Of the beneficiaries, 4,574 (24.51%) were given Partial Discounts (PD) of 33 percent while 4,036 (21.63%) were granted a PD of 60 percent. Only 498 applicants (2.67%) qualified for Full Discount plus stipend (FDS) while 2,755 (14.76%) had No Discount (ND). (Refer to table Distribution of ST System AY 2014-2015 UP Diliman)
These figures were announced at the forum "Talastasan sa Diliman: Assessing the Results of ST-S Applications in UPD" conducted by the Office of the Vice Chancellor for Student Affairs in cooperation with the University Student Council (USC) and League of College Councils on Nov. 28 at the Palma Hall.
The presentors were Dr. Evangeline C. Amor, University Registrar and Prof. Niel Kenneth Jamandre, Office of Scholarships and Student Services (OSSS) officer-in-charge. The forum also looked at the ST-S application process and results, recommendations to improve the system and concerns about the appeals process.
Appeals process. There were 3,035 appeals for a re-assignment of tuition discounts. These were from 467 freshmen and 2,568 upperclassmen.
Vice Chancellor for Student Affairs Dr. Neil Martial R. Santillan told UPDate the Diliman Committee on Scholarship and Financial Assistance (DCSFA) received 3,035 appeals which were resolved in less than two months. "Committee members have to study some 500 appeals before they make decisions in their weekly meetings," he said.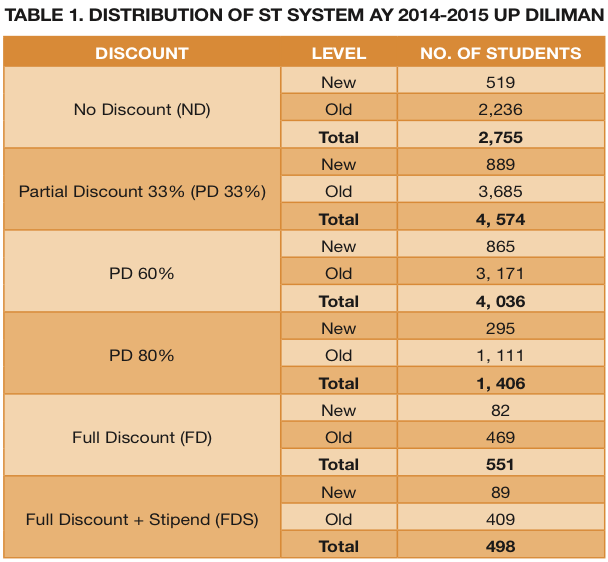 Jamandre said the DCSFA handles appeals of ST-S applicants who may be in special situations. These are students affected by disasters or students who may have a family member afflicted with a catastrophic illness such as cancer.
As specified in the ST-S website, "They may file an appeal to inform the ST Office about these circumstances and to request these to be considered in the grant of tuition discounts."
Santilan said "Kung mayroong plus factor itong ST-S ay mas mabilis niyang nare-resolve ang appeals. At dahil wala nga siyang hinihinging documents (i.e. income tax return, employment contract, etc.), hindi mo na iisipin, mabilis na ring mag-apply." (If ST-S has a plus factor, the resolution of appeals is faster. And because no documents are required, it is faster to apply.)
The ST-S does not require forms. One only needs to honestly answer the forms online, Santillan said.
One question frequently asked is why do siblings, who are both UPD students, have different discount schemes. According to Santillan, "ang sagot doon, maaaring magkaiba iyung information na pinasok ninyo. So, mache-check iyun," (they may have provided different information. In that case, the system will be able to check that.)
There is an ST-S audit, he cautioned. "With the audit, just like any research or survey sample, only a certain percentage of applicants granted with discounts are randomly audited," he said.
A work in progress. The ST-S is still a work in progress. Santillan said based on DCSFA's assessment, among the challenges encountered relative to the ST-S during the enrollment period were: a) timetable of ST Online application and appeals visa-á-vis schedule of enrollment; b) helpdesk assistance; c) awareness of the ST-S program and understanding the process of completing/accomplishing the application; and d) the number of appeals.
To refine the system at UPD, DCSFA recommended the availability of facts and FAQs (frequently asked questions), detailed and specific guidelines on ST Online application and appeals and to conduct the ST-S audit.
Meanwhile, to address negative issues concerning the ST-S, Santillan said "The OSSS addresses the negative issues through general assembly/academic forum and email responses to queries received through helpdesk."
Also present at the forum were ST-S Office director Prof. Richard Philip A. Gonzalo, USC Chairperson RJ Mercado, USC Education and Research councilor AJ Montesa and University Freshie Council chairperson Pia Magaoay.