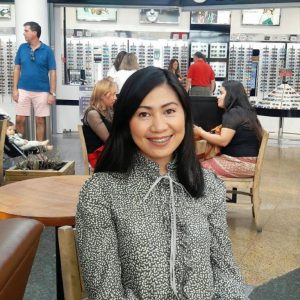 (FEB. 26)–Once again a story of honor and pride for UP Diliman (UPD).  Prof. Ros Costelo of the College of Social Sciences and Philosophy Department of History along with her PhD received the mark of sobresaliente cum laude from the Universidad Complutense de Madrid (Complutense University of Madrid), Spain's most prestigious academic institution on Jan. 28.
Costelo graduated with a doctorate degree in Contemporary History from the University which counts national hero Jose Rizal and hero Antonio Luna as alumni.  She successfully defended her thesis "Public Works, Sanitation, Order, and Social Control in Manila in the Second Half of the 18th Century to the 19th Century," on how Spanish colonial policies created public works like lighting, water systems and public streets in Manila.  Her study also produced original maps of 19th century Manila through her analysis of archival texts.
According to the GMA News Online story of Franchesca Viernes/RC, published on Feb. 18, Costelo's defense panel composed of noted historians from both Spain and the Philippines lauded her work "for its originality and importance to the study of colonial life in the waning days of the Spanish occupation in the Philippines." (https://www.gmanetwork.com/news/pinoyabroad/pinoyachievers/776573/filipina-historian-receives-highest-mark-at-spanish-university/story/)
From the same GMA News online article, Costelo was said to have tested positive for COVID-19 before she finished writing her thesis.
To which, according to the news, Costello said, "Laban lang! History has taught us many narratives of people's responses to the challenges of the time."  Castello also said, "In the end, this achievement would not have been possible if not for the support and prayers of many people and institutions…I am beyond grateful. I just hope that my work can contribute to the fuller understanding of our nation's story."
Costelo, who is Assistant Professor at the UP Department of History, is affiliated with the Instituto de Historia – Centro de Ciencias Humanas y Sociales, Consejo Superior de Investigaciones Científicas (Institute of History – Center for Human and Social Sciences, Higher Council for Scientific Research).
She obtained her Master Interuniversitario en Historia Contemporánea (Interuniversity Master in Contemporary History) in 2016 also in the Universidad Complutense de Madrid.  Her research was "'Construyendo la Colonia': La Inspección General de Obras Públicas en Filipinas."

Costelo also has an MA History (2012), with her thesis "Kinaagi han Leyte: Kasaysayan ng Pabubuo ng Lalawigan 1565 – 1899," and a BA History (2007) from UPD.
She is the author of "Leyte sa Dantaon 19: Pagtukoy ng Kabisera at Pagbuo ng mga Bagong Bongto" (Leyte in the 19th Century: Formation of a Capital and Foundation of Towns) published in the Philippine Social Sciences Diliman, vol. 66, no.1 (Jan-June, 2014) pp.1-40; and the "E-Lessons Project of the National Historical Commission of the Philippines" 2012-2016.
Her teaching interests are History of Spanish colonial public works, History of Spanish colonial engineering, History of urbanization, Local history of Leyte, History of Spanish colonial Philippines, and History of Spain and Europe.