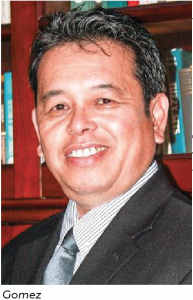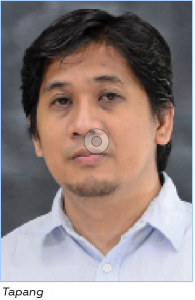 A low-cost and portable handheld device coupled with sensors has been developed by researchers from UP Diliman (UPD) and UP Los Baños (UPLB) to upgrade the Science, Technology, Engineering and Mathematics (STEM) strand of the K to 12 program of the Department of Education (DepEd).
The Versatile Instrumentation System for Science Education Research or VISSER is a science kit that allows students to conduct 120 experiments in biology, chemistry, engineering, environmental science and physics.
The device consists of fully integrated hardware, operating system or software and laboratory modules.
The VISSER's hardware consists of multi-channel data acquisition, plug and play analog and digital sensors that run on an Arduino microcontroller which acts as the brain on which various sensors can be connected and controlled to perform different experiments in science subjects. It can run or be powered by battery or a power bank.
The software, on the other hand, includes data storage, control, user interface and analysis tools developed using open-source applications.
The laboratory modules are descriptive manuals to guide the user doing experimentations and provide theoretical basis for the results. These are developed or patterned after the existing curriculum of the STEM strand of DepEd's K to 12 program.
According to Prof. Giovanni A. Tapang, PhD, a professor at the UPD National Institute of Physics (NIP) and VISSER's project leader, the device can be used without a computer. It can also be used as a stand-alone data logger or a programmable device (it has built-in timer and SD card) for some other purposes like robotics.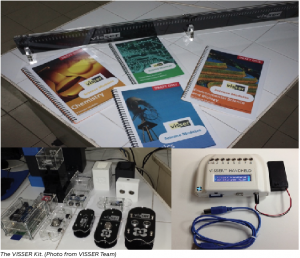 Since the hardware and software components of the device were developed from the open-source electronic platform Arduino, Tapang said VISSER is a lot cheaper compared to existing similar hand-held devices that are mostly made by international companies.
The project was conceived to address the severe lack of science educational equipment and laboratory modules in the Philippines, Tapang said. "Out of 12,390 high schools in the Philippines, 4,520 have no laboratories and of those with laboratories 2,800 have no access to newer digital tools. This situation is the main reason why most high school students obtain low scores in science achievement examinations."
Given the sad state of science education, in 2012, Dr. Romel D. Gomez, a UPD alumnus and a professor at the University of Maryland, College Park, USA,  pitched the idea to create a microcontroller with sensors to be used by students in laboratories. Gomez was an adjunct professor at the NIP and a Balik-Scientist Awardee of the Department of Science and Technology (DOST) at that time.
"We collaborated with him to come up with the device, he was really the person behind this project," explained Tapang.
Other UP faculty members/scientists involved in the project are Prof. Nelio C. Altoveros (UPLB), Dr. Ranzivelle Marian C. Roxas-Villaneuva (UPLB), Dr. Gay Jane Perez (UPD, Institute of Environmental Science and Metreology), Dr. Paul Leonard Hilario (UPD, Electrical and Electronics Engineering Institute), Dr. Sonia D. Jacinto (UPD, Institute of Biology), Dr. Imee Su Martinez (UPD, Institute of Chemistry), Kristine Faith Roque (UPD, NIP) and Maria Eloisa Ventura (UPD, NIP).
The project received funding from the DOST and the UP Office of the Vice President for Academic Affairs under its Emerging Interdisciplinary Research Project.
VISSER has been pilot tested in public, private and science high schools in Davao, Quezon City, Iligan City, Bicol, Cebu, Bataan, Baguio, Mindoro, Laguna and Ilocos Region. The team also trained teachers on how to integrate and align VISSER in their teaching.
Students in the pilot test said "learning science could be more fun, enjoyable and modern" while teachers who attended the training session said "less effort is needed in gathering data and the students can have more time in interpreting and analyzing the results."
At present, the VISSER team is awaiting the delivery of the mass-produced devices from a local manufacturer until the first quarter of 2018. The devices will be deployed to different campuses of the Philippine Science High School, selected public high schools in Pagadian City, Zamboanga del Sur and the lumad schools in Mindanao.
The VISSER team, through UP, also gave DepEd the license-free agreement, wherein the latter is allowed to manufacture the device, free of any charge or royalties, and distribute them to all public high schools in the Philippines.
With the ultimate goal of designing and developing home grown experimental modules centered on a handheld microcontroller-based universal platform, Tapang said "VISSER will allow us to put modern science laboratories in high schools all over the country and transform the curiosity of the students into scientific competency."
(Gomez's photo from https://www.naefoee.org/symposia; Tapang's photo from http://nip.upd.edu.ph)