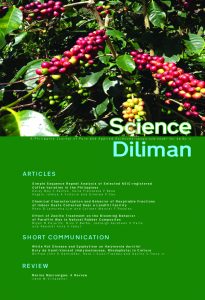 (Jul. 21)— The latest of issue Science Diliman, a Philippine Journal of Pure and Applied Science, is now online.
The current issue features three articles, one short communication and a review.
The first article "Simple Sequence Repeat Analysis of Selected NSIC-registered Coffee Varieties in the Philippines" discusses the simple sequence repeat (SSR) markers to distinguish and correctly identify the varieties Arabica, Robusta, and Liberica. According to the study, the proper identification of coffee varieties determines their market value or importance. Daisy May C. Santos, Carla Francesca F. Besa, Angelo Joshua A. Victoria and Ernelea P. Cao co-authored the article.
The second article by Rheo B. Lamorena-Lim and Colleen Maricel F. Rosales is entitled "Chemical Characterization and Behavior of Respirable Fractions of Indoor Dusts Collected Near a Landfill Facility." The article discloses the potential risks brought about by airborne or inhalable particulate matter within the vicinity of a landfill facility (Payatas dumpsite in Quezon City) under different relative humidity conditions.
The last article "Effect of Zeolite Treatment on the Blooming Behavior of Paraffin Wax in Natural Rubber Composites" is by Bryan B. Pajarito, Nico V. Berba, Jadreign Keisheen C. Parto and Raechel Anne V. Yabut. According to its abstract, the authors "studied how three different chemical treatments of natural zeolite filler, namely acid activation, ion exchange with a tertiary amine salt, and organic modification with a non-ionic surfactant, affect the blooming of paraffin wax in vulcanized natural rubber."
Meanwhile, the short communication entitled "White Rot Disease and Epiphytism
on Halmenia durvillei Bory de Saint-Vincent (Halymeniaceae, Rhodophyta) in Culture" highlights the incidence and negative effects of white rot disease and heavy infestation of epiphytes (plants that grows and uses the host plant for support) on cultured red alga, which usually results in significant losses in biomass and potential profit." Wilfred John E. Santiañez, Hera J. Suan-Flandez, and Gavino C. Trono Jr. authored the paper.
Marine Macroalgae: A Review by Irene Vilaseñor underscores the significant contributions of NAST Academician Marco Nemesio E. Montaño in the post-harvest technology of seaweed production. Villasenor, who is also the editor of Science Diliman, said the review "is limited to the research done on the optimization of extraction methods to enhance the quantity and quality of hydrocolloids, specifically agar and carrageenan, from red seaweeds; and the characterization of the physicochemical properties of the hydrocolloid extracts."
Printed copies will be available at the UPD Office of the Vice Chancellor for Research and Development by August 2016.