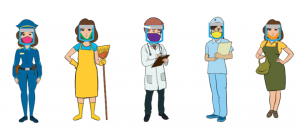 (MAY 20)—To continue providing frontliners protective gear to battle COVID-19, the UPD Office of the Vice Chancellor for Academic Affairs (OVCAA) is making a clarion call for volunteers to assemble face shields.
Deadline for volunteers to enlist is today, May 20.
To increase the production of face shields for frontliners, particularly those working in the hardest hit areas of Metro Manila, the OVCAA, through the Office for International Linkages Diliman, set up the Facebook page OVCAA Volunteers (https://www.facebook.com/OVCAA-Volunteers-106392697735444/?ref=br_tf&epa=SEARCH_BOX) where interested parties may know more about the assembly of face shields.
Face shields may be assembled in the safety of homes and dormitories. The OVCAA will provide materials (in sets of 20) and an online instructional video. Volunteers will be given two sets of materials. The OVCAA will deliver the raw materials and pick up the assembled shields from volunteers residing in the UPD campus. Those living outside the campus will shoulder the costs of booking the pickup and delivery.
Those interested can fill up the form at https://forms.gle/y6n4jgKamE7x6m948. For other concerns, you may send a message through the OVCAA Volunteers FB page.
Finished face shields will be donated to the University Health Service, quarantine area facilities and other frontline services, Barangay Health Emergency Response Teams and government hospitals.