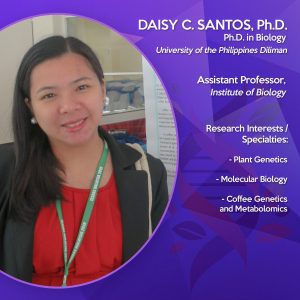 (March 24)―The UPD College of Science celebrates its women scientists as part of commemorating International Women's Month.
In focus now is Prof. Daisy May C. Santos, PhD of the Institute of Biology (IB).
Assistant Professor, member of IB Microbiology and Cell Biology Group, and biologist.  She teaches Fundamentals of Cell and Molecular Biology, and Fundamentals of Biology.
Her specialization and research interests are on plant genetics, molecular biology, and coffee genetics and metabolomics. Santos has published in national and international peer-reviewed journals, and has presented numerous scientific papers both in local and international conferences.
Santos earned her PhD in Biology (Genetics) from UPD in 2019, where she received the Outstanding PhD Graduate and Outstanding PhD Dissertation Award.
She grew up with a budding interest in plants that later became her passion, perhaps one of the reasons why she majored in Biology in UP Baguio.
After graduating, she taught for a semester at the Manila Central University before taking a career shift as a call center agent. Santos eventually went back to the academe and worked as a research assistant at the UP Natural Sciences Research Institute (NSRI) and IB while pursuing her master and later her PhD.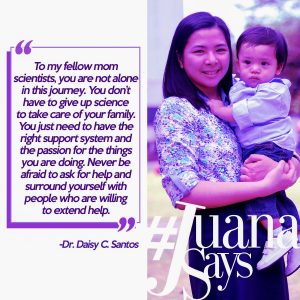 She is the project leader of the ongoing NSRI-funded research "Screening of yield-linked SSR markers in Philippine coffee."  Her research team is looking for molecular markers in coffee that are related to yield or produce to help in improving existing Philippine coffee varieties.
Santos pursued examining coffee's molecular genetics because she sees a big potential in the Philippine coffee varieties.
"Aside from being a coffee drinker, we are one of the few countries producing liberica and excelsa varities. If we can improve these varieties that are abundant here, that would be of big help in the Philippine coffee industry," Santos said.
Outside the academe, Santos is known as Mother to three children and Wife to IB colleague Prof. Brian Santos, PhD.
Her role as scientist and homemaker is not without its fair share of challenges.  Santos made big adjustments just so she could balance her responsibilities to her family and her career.
"There would be times when we (with husband Brian) had to bring the children to the office and even to class. Some faculty and staff would also take turns babysitting the kids. I received the support I needed from them and somehow, they have made my life as a scientist mom easier," Santos explained.
For that she is grateful to the IB faculty members and staff who have been very supportive of her journey in building a family while still achieving her scientific goals.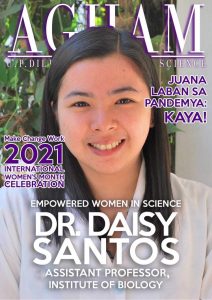 "It is really tough building a career in science and at the same time building the lives of my young children. Time management is really essential and you need to have support from your spouse and the people around you to continue doing scientific endeavors," said Santos.
Still, she reminded people to rid themselves of the notion that women should just stay at home, or women scientists should just focus on science.
"We are able to do both, and we are successful in doing our tasks as homemakers and as career women," she said.
For women to be able to grow and become successful in their chosen career, Santos highlights the importance of giving women opportunities and fostering a nurturing environment.
"Having the opportunity and being in the right environment contribute to a woman's success in both endeavors, but I still believe it is the capabilities and determination of a woman scientist that matters inorder for her to have a successful career, while also being a mother," Santos said. – With reports from UPD CS.