For her exceptional contributions to genomics research in the Philippines, Cynthia P. Saloma, PhD, was recently honored with the 2022 Presidential Lingkod ng Bayan (PLB) of the Civil Service Commission (CSC).
According to the CSC, the PLB award is given to an individual or a group composed of five members for exceptional or extraordinary contributions resulting from an idea or performance that had nationwide impact on public interest, security, and patrimony.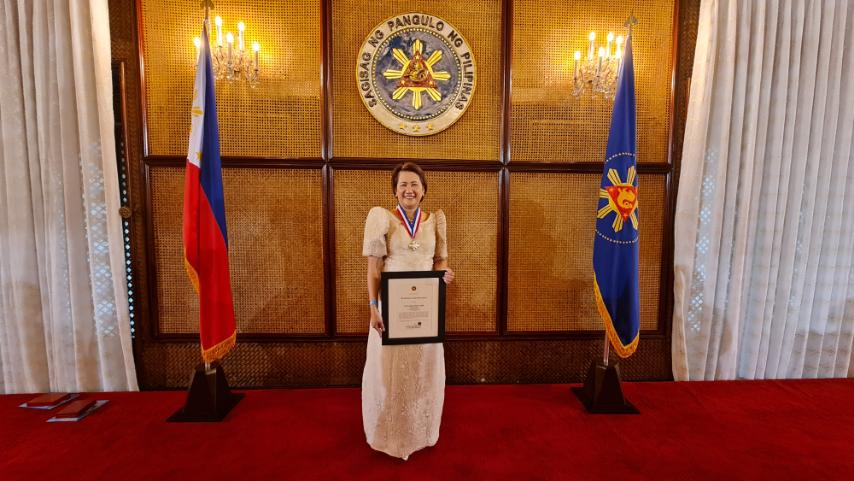 Saloma who is a professor of molecular biology and biotechnology at the UP Diliman (UPD) National Institute of Molecular Biology and Biotechnology (NIMBB) and the executive director of the Philippine Genome Center (PGC) received the award at the Outstanding Government Workers Awards Rites on March 8 at the Malacañang Palace.
In an article in the CSC website, Saloma was recognized for her work of "laying the infrastructure for genomics research in the country and the foundation by which genomic biosurveillance is now part of the arsenal for pandemic preparedness."
In addition, Saloma's leadership of PGC enabled the center "to provide the Inter-agency Task Force for the Management of Emerging infectious diseases with science-based genomics data critical for whole-of-nation approach management of the COVID-19 pandemic," the article stated.
For her numerous and significant studies on molecular biology, genomics and developmental biology, Saloma has received various awards, among them the Department of Science and Technology Outstanding Science Administrator (Dioscoro L. Umali Medal, 2020), the Clara Y. Lim-Sylianco Award by the Philippine Society of Biochemistry and Molecular Biology, Inc. (2019), UPD Centennial Faculty Grant (2019), the UPD Gawad Chanselor para sa Natatanging Guro (2008), and the National Academy of Science and Technology Outstanding Young Scientist Award (Physiology, 2004).
Saloma earned her BS molecular biology degree from Nagoya University in Japan (1993), and both her master's in medical science (physiology, 1995) and PhD (physiology, 1998) from Osaka University in Japan. She earned her BS fisheries degree from UP Visayas (1987).