By Benito V. Sanvictores Jr.
(March-April) Lower cost of living and reminders of a nostalgic past: these are the two main reasons why some 8,000 South Koreans (Koreans) chose to retire in the Philippines.
In the lecture, "I am a Half Retiree, But Soon to be Pure: Korean Retirees in the Philippines" held at the Asian Center on Mar. 23, Dohye Kim, a visiting fellow at the UP Diliman (UPD) College of Mass Communication, discussed the results of her preliminary research on retiring and retired Koreans in the Philippines.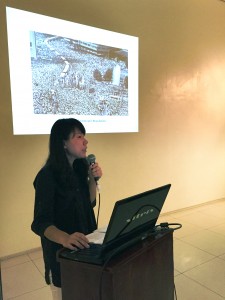 She said the remarkable rise in the number of Koreans retiring in the Philippines started in 2005 when a Korean newspaper, "The Dong-A Ilbo," reported how a married couple moved to Baguio City after their retirement.
The newspaper reported, "We are enjoying a comfortable and satisfactory second life here," Jeong Won-yeong, 61, and Kim Sun-ok, 60, said. "The lives here are busy and pleasant. We will stay here until we die and visit Korea a couple of times per year to see our sons and daughters." The couple, at that time, was receiving a monthly allowance of 2 million won or around P100,000.
Some Koreans fully dependent on pension found life better in the Philippines. However, Kim said, "Many Koreans came here because they believed making money might be easier, but since some did not study the country beforehand, they soon realized that it is almost impossible to make big money. That is why they ended up cheating other Koreans or Filipinos to make money and return to Korea."
Kim said the cheating incidents led to some crimes against Koreans. In some instances, Koreans are even behind murder, because they want to seek revenge. "Some Koreans were shot dead because they misbehaved against Filipinos," one interviewee said.
These negative reports,  however, did not hinder the influx of Korean tourists and those planning to retire in the Philippines; some even brought their families with them.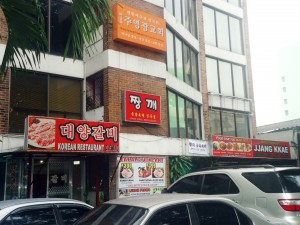 Rise in SRRV application. From 1,000 applications in 2005, the number of Koreans who applied for Special Resident Retiree's Visa (SRRV) increased to 8,000 in 2014, according to the Philippine Retirement Authority (PRA).
The SRRV provides foreign retirees special privileges such as the option to retire and live in the Philippines, enter and exit the country as often as they want, tax exemptions, business investments and use of foreign health cards in accredited hospitals or clinics.
As of 2013, Koreans ranked second among top 10 foreign nationals under the PRA. First are the Chinese while third to fifth are the Taiwanese, Japanese and Americans. As of 2014, there were 27,000 foreigners from 107 countries who retired and were living in the Philippines under the SRRV program.
Metro Manila is the first preferred area because of immense business opportunities. Other preferred areas are Cavite, Baguio, Pampanga and Rizal because of relatively cool climate and proximity to business centers.
Filipino residents in these areas have mixed experiences and perceptions of Koreans – mostly negative.
According to Kim, to achieve economic miracle, former president Park Chung-hee inculcated pride and will power in Koreans, instilling in them the belief that they are of superior race.
"The Koreans, in modern industrial times, became very nationalistic, instinctual, militaristic and goal-oriented to make money. These materialistic values spawned great anxieties and (Koreans) became very confrontational which can be seen as 'bastos' (rude) and rough by Filipinos."
Kim also said Koreans here are like automated teller machines "because many of them are so eager to show off their money that is why they become easy targets."
However, Kim pointed out "Filipinos who learned of Koreans through other people's stories hate Koreans, but Filipinos who learned of Koreans through K-pop (Korean pop) culture and Korean telenovelas (TV drama series) learned to like Koreans."
Lower cost of living. Industrialization in Korea in the 1960s and 1970s increased the cost of living and many Koreans moved to the urban cities to earn higher income, at the same time thinking of ways to provide care for older family members.
Even after retirement at the mandatory age of 57, Kim said many Koreans still needed to work until they were 70 years old because their children could not support their parents' post-retirement life and no efficient pension system was installed. As of 2013, only a third of senior citizens received state pension.
"This stress among older South Koreans led to high suicide rates among 65-year olds and above," Kim shared.
 Nostalgic moments. Rural life in the provinces reminds Koreans of their past. "Look at these dusty, unpaved roads –these are exactly what my home town was," Kim quoted an interviewee.
But the poverty seen by the retirees had a negative impact on some. "I miss this kind of emotional bond in the family which we used to have when the country was poor. However, I don't think I can live under this poverty though," one interviewee said.
In general, research shows that the Philippines can be a viable retirement site. "Many of those I interviewed said they prefer to stay in the Philippines than go back to Korea and be a burden to their relatives," Kim said. "Interestingly, retiring Korean men like the Philippines more than retiring Korean women," she added.
When asked if she would consider living in the Philippines upon retirement, Kim replied with a smile, "I still have some years to think about it."
Dohye Kim is a Ph.D. candidate in anthropology at the University of Illinois at Urbana-Champaign in US. She worked in an NGO for youth with migrant backgrounds including Korean refugees and children of migrant laborers in Korea. Presently, she is doing her ethnographic field research on Korean retirees in the Philippines. –Photo courtesy of the Asian Center