Why are bamboo musical instruments (BMIs) important?
LaVerne David de la Peña, PhD, explained BMIs are very personal instruments.
"Halimbawa ang nose flute, nilalagyan nila ng mga marka na parang tattoo na kapareha ng tattoo ng may-aring binata. It's an extension of the self. Ginagamit din sa ligawan—tumutugtog ng mga plawta o tumutugtog ng kubing para mag-send ng message," he said.
De La Peña spoke on the importance of the BMIs at the launch of the coffee-table book, Tradition and Innovation: People, Places, and Practices of Bamboo Music in the Philippines.
He is dean of the UP Diliman (UPD) College of Music (CMu), director of the UP Center for Ethnomusicology (UPCE), and is the book editor.
De La Peña said the BMIs are one of the two traditions of musical instruments in the Philippines, the other being the metal or bronze musical instruments. While the metal musical instruments are considered rare and more valuable, the BMIs are widely-distributed and mass-based.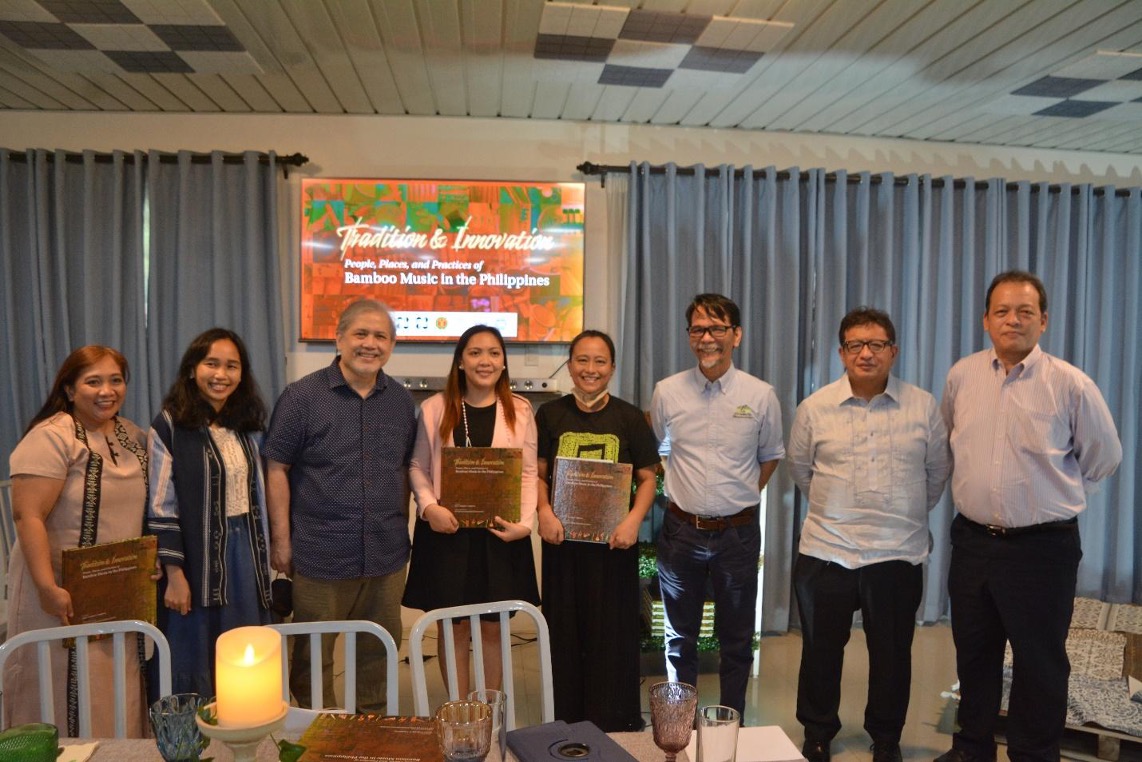 "Ang mga yari sa metal ay bunga ng espesyal na teknolohiyang hindi alam ng lahat, yari sa materials na hindi common, kailangan ng special knowledge para hukayin sa ilalim ng lupa, at para gawin ang mga instrumentong iyon. Kaya naman ang mga instrumentong yari sa metal ay mas mahal ang tingin. Ito ay pag-aari ng mataas na uri. Usually, ang mayayaman ang may-ari ng mga gong o kaya common ownership iyon. Very valuable ang mga ito, puwedeng pambili ng asawa (bride price), puwedeng pambili rin ng bukid, at dahil diyan, pwede ring pantawag ng mga espiritu sa malalaking ritwal. Ito iyong power na nakikita sa mga instrument kagaya ng gong, gangsa, (at) agong," he expalined.
Meanwhile, the BMIs are easily made by anyone.
"Iyong isang grupo naman ang mga kawayan, ordinaryong teknolohiya, hindi highly specialized, kahit sino pwedeng gumawa. Ang material (is) readily available kahit saan naandyan kaya iyong value niya hindi kapareho ng value noong mga bronze instrument. Kapag nasira na ang kawayan ay gagawa ka na lang ulit;hindi mo puwede ipambili ng asawa iyon," he said.
"Bukod-tangi ang mga kawayan dahil nga makamasa ito at hindi kagaya ng mga bronze instrument na ang tingin ay sacred—hindi mo pwede galawin, hindi ka pwede basta mag-innovate na kung ano ang gusto mo. Ibang klase sa kawayan, talagang lumalabas ang innovation, iyong creativity noong mga maker," De La Peña added.
The research project. It is the creativity of the BMI makers and the BMIs as personal instruments that the UPCE wanted to document.
Thus, the CMu and the UPCE collaborated with the Department of Science and Technology (DOST) Forest Products Research and Development Institute (FPRDI) for the BMI Innovation Research and Development Program (BMI IRDP).
According to the DOST-FPRDI video presentation, the BMI IRDP was launched with the goal of preserving the country's indigenous music and help the country's creative industry.
"The BMI IRDP aims to use science to upgrade the quality of our bamboo musical instruments in terms of processing, durability, playability, aesthetics, and sound quality," the DOST-FPRDI stated.
In addition, "It also targets to document ethno-cultural or heritage stories behind selected bamboo musical instruments, identify the bamboo species used, and analyze how value is created in the bamboo musical instruments industry. When these objectives are attained, it is hoped that the raw materials based from musical instruments-making will broaden and the Philippine indigenous music promoted," the DOST-FPRDI presentation continued.
Among the research project's products is the coffee-table book.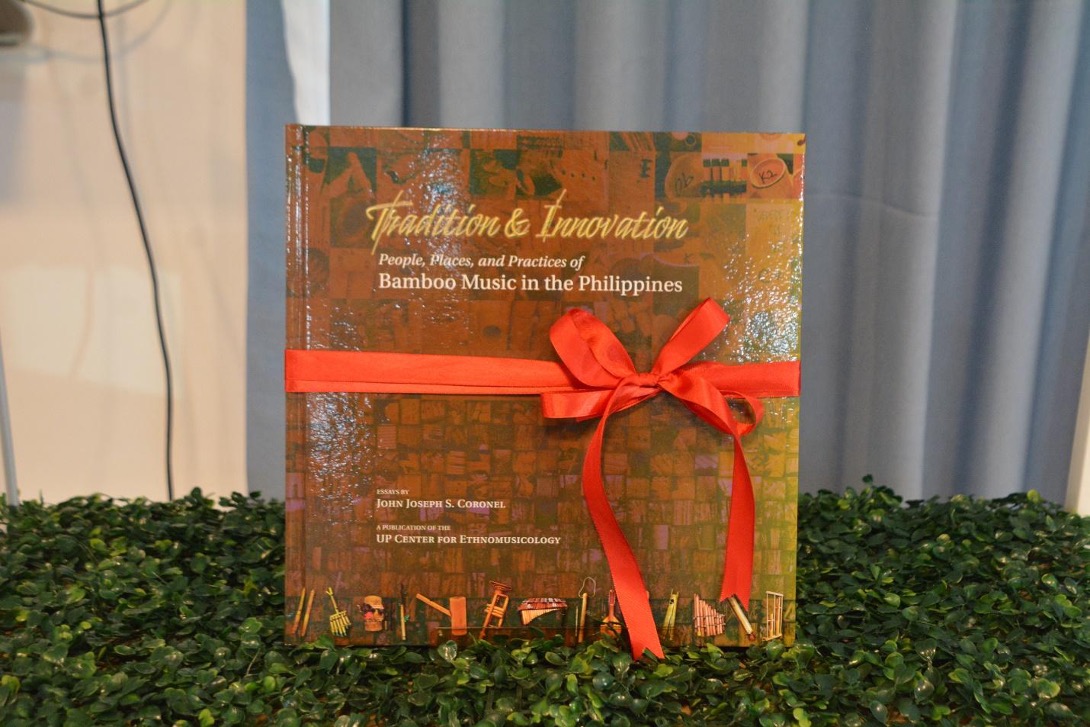 Aralyn Quintos, program leader of the DOST-FPRDI BMI IRDP, said the coffee-table book is a testament of the DOST's commitment to preserving Philippine indigenous culture and ensuring that the creative sector will be benefited by the innovations.
"The book gives us a glimpse of the state of the BMIs in the country, which is an integral part of the Filipino culture," she said.
For De La Peña, Tradition and Innovation: People, Places, and Practices of Bamboo Music in the Philippines is more than a coffee-table book.
"Bagama't ang tawag ng proyekto ay coffee-table book, sabi namin sa UPCE, more than a coffee-table book ang gagawin natin. Gagawa tayo ng source book. Bukod sa magfo-focus tayo sa instrument as an object, magfo-focus tayo doon sa mga tao na gumawa nito—iyong mga kuwento nila at iyong kuwento ng pamayanan na kung saan mahahanap mo ang mga ito. Kaya iyon ang laman ng ating libro," De La Peña said.
Quintos lauded the researchers for their resilience in pushing through with the research despite the many challenges they faced.
"Challenging as it may have been, the pandemic and its effect did not deter our team from gathering data, do interviews, field notes, visits, actual immersion, and digital documentation just so our current and future generations will continue to learn and enjoy the beauty and rich tradition of bamboo music in the Philippines," she said.
Jocelyn T. Guadalupe, PhD, the BMI co-project leader, explained the research project had four components: documentation, analysis of BMIs, training center of market value chain, and testing of audio properties.
Guadalupe said there were two processes used in documentation: the collecting of the live plant samples used in making BMIs by their scientist collaborators, and the collecting of stories of people who played the BMIs, the BMIs, and the music played by the people with their instruments.
In the analysis of the BMIs, Guadalupe said, "Ina-analyze bakit nabubulok ang mga bamboo instruments, ano iyong cause? Paano po natin iyon patitibayin? (In the process of researching) may mga na-discover nadocumented processing techniques na makakapagpatibay sa ating mga instrument."
On training center of market value chain, "Minapa po saan makakakuha noong supply, magkano iyon binibenta. Kasi kung ako iyong principal ng eskwelahan, gusto ko bumili, saan ako kukuha ng supply, atevery year ba kailangan ko iyong i-maintain?" she said.
In the testing of the BMI audio properties, Guadalupe said Franz Asunta de Leon, PhD, director of the DOST-Advanced Science Technology Institute, did the testing of the prototype instruments and existing BMI instruments. De Leon is an associate professor at the Electrical and Electronics Engineering Institute of the UPD College of Engineering.
According to the DOST, it is anticipated that there will be a higher demand for BMIs for these are included in the K-12 music curriculum.
Guadalupe said aside from the coffee-table book, their project also have modules for lessons from Grade 1 up to Grade 10.
She added that there were many stories that were not included in the coffee-table book.
"Ilan sa mga ito, siyempre may mga ka-partner pa tayo na hindi pa sila ready na i-share iyong knowledge. Sino po ang mga iyon? Meron po tayo na-research sa Cordillera, (at) mga Talaandig ng Bukidnon. Hindi po kasi na-sign iyong kanilang NCIP (National Commission on Indigenous Peoples) papers. Gusto po nila pero iyong sa region hindi pumayag. The third group is the Palaw'an. Hindi pa sila nag-respond doon sa amingcall. The fourth group is the Panay Bukidnon. During the time that we were supposed to go there, nagkaroon po ng encounter between the military and the NPA (New People's Army). We were offered a military escort to go there and do fieldwork pero hindi ako pumayag, kasi baka hindi kami makauwi nang buhay. The Aeta po nakolekta namin pero because of the internal politics (at) NCIP, (their paper) was not signed," Guadalupe said.
Guadalupe is an assistant professor of music education and college secretary at the CMu.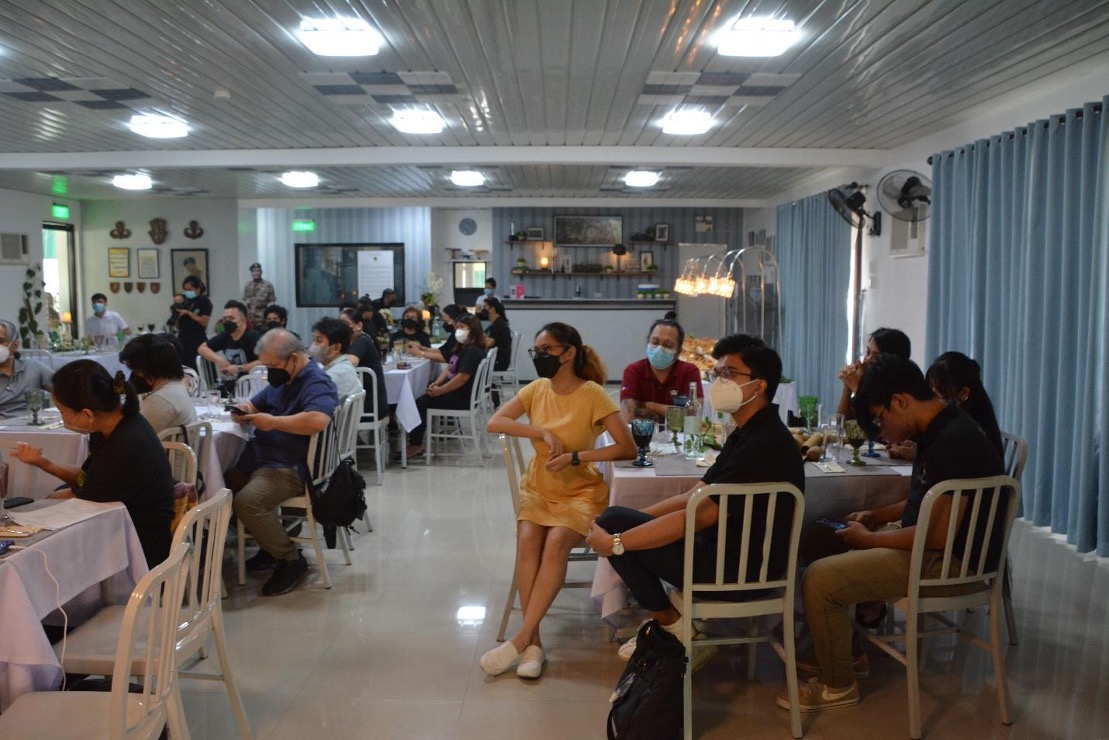 Book contents. Included in the coffee-table book is the list of groups of people involved in the research and the research field sites. There were 15 teams, 30 data gatherers and transcribers, and 31 resource persons and local experts, as well as cultural bearers. There were 17 field sites, but only 15 field sites were completed and only 12 were included in the book.
De La Peña discussed the other contents of the book.
"Sa koleksiyong ito, mayroong limang uri ng BMIs ang makikita ninyo. Una, iyong pre-colonial na galing sa mga indigenous group. Pangalawa, iyong mga tradisyong natanggap natin mula sa kanluran kagaya ngbamboo organ o iyong bamboo guitar, rondalla. Inimport natin pero kinonvert into bamboo. Ang pangatlong uri ay iyong tahasang ginawa ng ating mga kasamahan para labanan ang kolonyal na pwersa.Ito iyong mga bandang kinonvert nila iyong mga band instruments into bamboo. So bamboo French horn, bamboo trombone, bamboo clarinet. Ito iyong panahon ng Katipunan, iyon talagang anti-colonial. Pang-apat, ito iyong may impluwensiya naman ng ating mga kapitbahay, kagaya ng angklung. At panglima, iyong pinaka exciting at pinakamarami, iyong invented traditions na sari-saring festival," De La Peña said.
The book also includes a glossary of BMIs.
The coffee-table book's author John Joseph S. Coronel said the book is a story of kinship, friendship, and human relations.
Coronel said the book is "A celebration of bamboo music and more importantly, the love and freedom that come with it."
Meanwhile, Patricia Brillantes-Silvestre, PhD, an associate professor of historical musicology at the CMu, said the book is "A fantastic addition to the greater body of knowledge on Philippine music culture. The stories, experiences, places, and the cultures outlined in the book will certainly enrich our society and history, and this surely adds to our awareness, understanding, and appreciation of one of our country's rich natural resources which is the bamboo, which has generated a whole set of diverse music practices and traditions."The coffee-table book is the fifth publication of the BMI project Year 1 and was launched on Oct. 18 at the Magno Hall of the UPD Department of Military Science and Tactics.