Lenore Polotan-Dela Cruz, a professor of community development, is the new dean of the UP Diliman (UPD) College of Social Work and Community Development (CSWCD). Her appointment was approved by the UP Board of Regents at its 1372nd meeting on July 28.
Polotan-Dela Cruz is an expert in community-based disaster risk reduction and disaster management, and coastal resources management.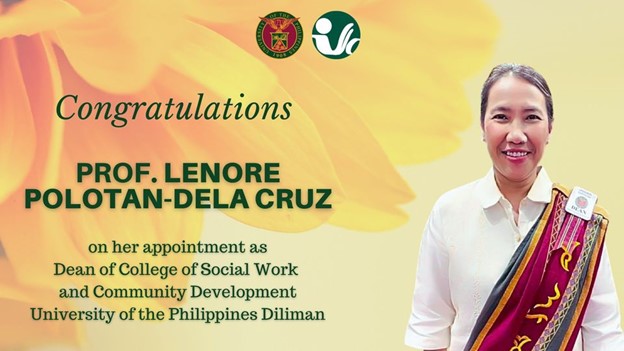 Among her research interests are organization development, leadership, learning and knowledge management for non-profit organizations; monitoring, evaluation, accountability and learning for program quality enhancement; community development strategies; and gender and development.
Her research papers have been published in various refereed and peer-reviewed journals. Among her publications are "Resistance and Hope from the Fringes: Grassroots-Led Responses to the COVID-19 Pandemic" in Philippine Journal of Social Development (2021), Strengthening Field Instruction: The DCD Field Instruction Program Manual (2019), and Shifting Paradigms: Strengthening Institutions for Community-based Disaster Risk Reduction and Management, (co-authored with A. Bawagan, M. R. Felizco, M. C. Tan, M. Wamil, and J. Germar, 2015).
Her more than 30 years of development practice and management experience in various community-based organizations, national and international development agencies in the Philippines, and some East Asian countries have earned her recognitions.
Some of her noteworthy achievements are the One UP Professorial Chair Award for Outstanding Teaching and Public Service (January 2019 – December 2021), the CSWCD Service Award (2019 and 2014), the CSWCD Natatanging Kontribusyon sa Gawaing Panaliksik at Publikasyon / Outstanding Researcher Award (February 2009), and the CSWCD Loyalty Award (February 2009).
She earned both her bachelor's degree (community development), cum laude in 1980 and her Master of Education (major in nonformal education) in 1994 from UPD. Polotan-Dela Cruz, who succeeded Sylvia Estrada Claudio, PhD, is the college's 13th dean. She will hold her office until 2025.