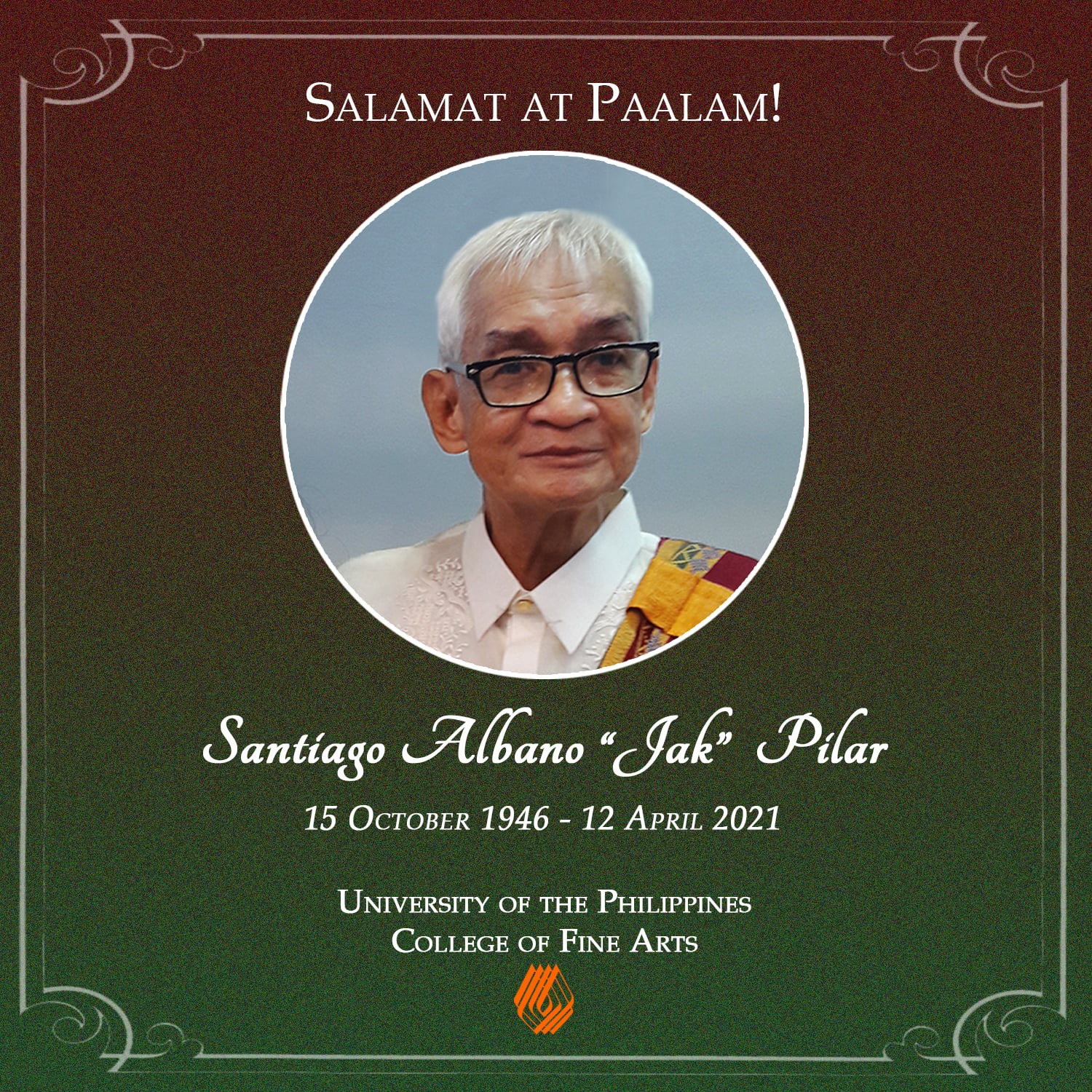 (APR.14)—Retired Prof. Santiago 'Jak' Albano Pilar of the UP College of Fine Arts (CFA) Department of Theory passed away on Apr. 12. He was 74.
An eminent scholar, educator and historian of Philippine Art, Pilar paved for "many important discoveries and preservation of Hispanic art from all over the country," the CFA Department of Theory said in its Facebook post.
The Department described Pilar as "an astute art connoisseur, he pioneered the field of study at the College, where he taught for several decades."
Pilar started serving the University in 1977 as a lecturer in the field of humanities. Later, he moved to CFA where he taught basic and advanced courses in art history, art criticism, art research and connoisseurship in both the undergraduate and graduate programs.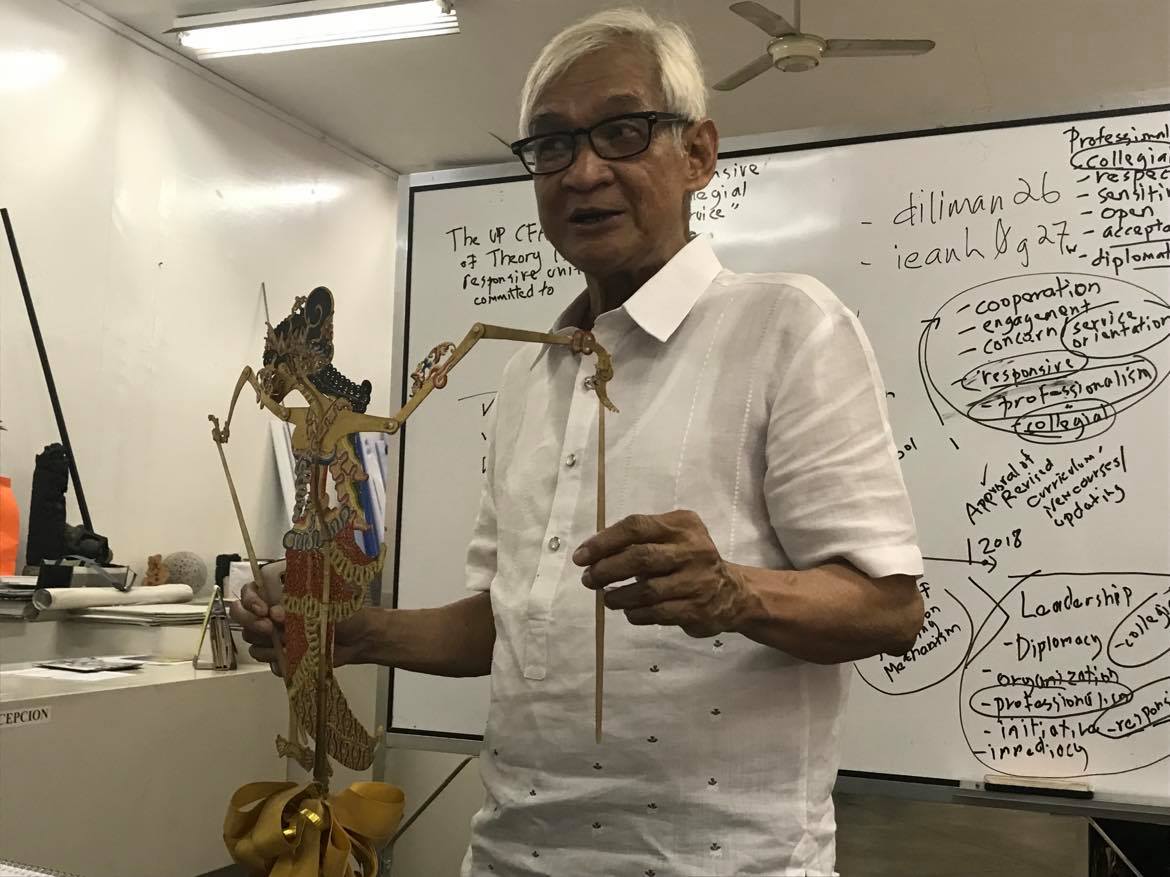 To his colleagues and students, he left a lasting legacy of "research excellence, unceasing passion and genuine concern for our artistic heritage."
He authored several books on Philippine Arts, the most known being "Juan Luna: The Filipino as Artist" (1980) which is an essential reference for the artist. Among his authored books are "Pamana: The Jorge B. Vargas Art Collection" and "A Harvest of Saints."
One of his advocacies is to introduce other Filipino artists not given the same recognition and prominence as Luna and Fernando Amorsolo.  His exhaustive research led to the publication of "The Life and Art of Isabelo Tampinco," "The sober realism of Domingo Celis: inspired calm," and "Fabian de la Rosa and his times," among other books.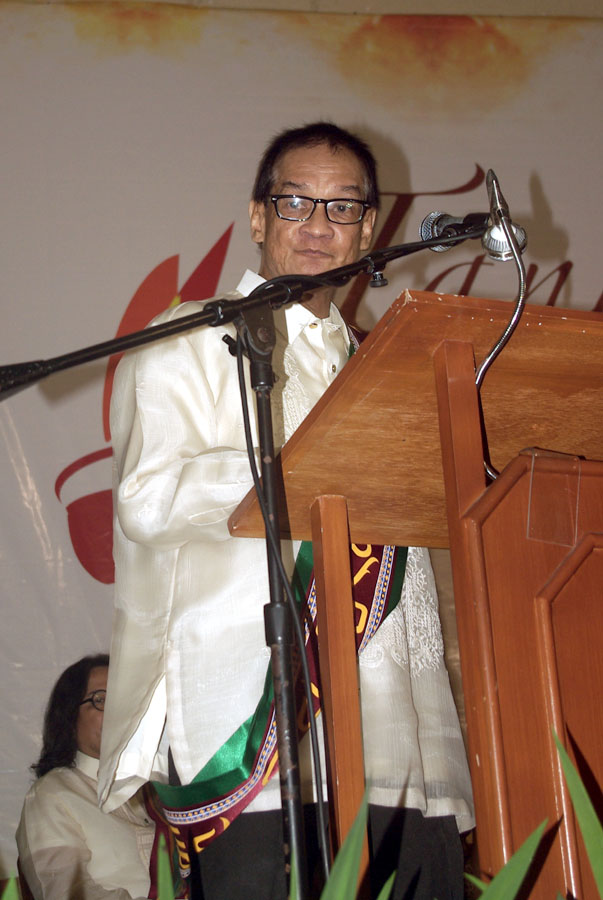 Several art galleries and museums, including Gateway Gallery, Leon Gallery Makati and Metropolitan Museum of Manila, paid tribute to Pilar, recognizing him as an art scholar "who committed himself to research and writing of the Philippines Hispanic art, religious art, and the lives and works of lesser-known Filipino artists."
For his works in art history, Pilar received the Ten Outstanding Young Men Award for Art History in 1980 and Araw ng Maynila Award: Tagapag-alaga ng Sining in 1996.
In UP, Pilar was conferred the Pura Kalaw-Ledesma Professorial Chair for the periods Oct. 1, 1992 to May 31, 1993 and Jan. 1 to Dec. 31, 1999, and the Ignacio Villamor Professorial Chair for the period Jan. 1 to Dec. 31, 2000.
He served as a consultant of exhibition projects at the Ayala Museum, Metropolitan Museum of Manila and Cultural Center of the Philippines (CCP). He was also the editor of the "CCP Encyclopedia of Philippine Art Volume IV: The Visual Arts."