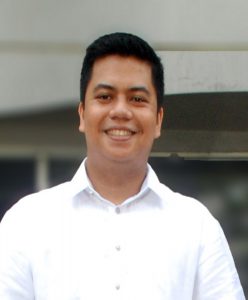 (OCT. 3)—Prof. Jerwin F. Agpaoa of the College of Social Sciences and Philosophy (CSSP) is the new Vice Chancellor for Student Affairs effective Oct. 1 succeeding Dr. Neil Martial R. Santillan who resigned earlier due to health reasons.
Agpaoa is an assistant professor at the Department of Philosophy. He earned both his BA Philosophy (2006, magna cum laude) and MA Philosophy (2011) from the CSSP.
Prior to his appointment as vice chancellor, he served as coordinator of the CSSP Office of Student Affairs from Sept. 1,2013 to Sept. 30, 2016.
He also served as CSSP assistant college secretary from Sept. 1, 2011 to Aug. 31, 2013.
Agpaoa joined UP Diliman in 2008 as instructor of Philosophy at the CSSP and became an assistant professor in 2012.
He was a faculty adviser of various student organizations such as the UP Philosophical Society (2011-2012 to present), UP UNESCO Club (2012-2013), UP PRO-CSSP (2011-2012) and UP Phi Delta Alpha Sorority (2011-2012).
He published a number of scholarly articles to various refereed journals, the most recent of which are: "Friends as second selves: An examination of friends' role in improving one's self-knowledge" published by The Pelican, a refereed annual official journal of the University of San Agustin, Iloilo City; "When rules turn loose: An Analysis of the Concept of Rules and Exceptions" published in 2013 by Social Science, Diliman, an internationally-refereed semi-annual journal for the social sciences published by the Office of the Vice Chancellor for Research and Development; and "Philo Henyo: An Analysis of Pinoy Henyo" published in 2013 by the Philippine Social Sciences Review,  a peer-reviewed journal and official publication of the CSSP.
Agpaoa also presented some of his researches to local and international conferences, the most recent of which are: "A Philosophy for Children Legacy" which he presented at the Philosophical Association of the Philippines Mid-Year Conference in October 2012, and "When rules turn loose: An Analysis of the Concept of Rules and Exceptions" at the Shanghai International Conference on Social Sciences in Shanghai, China in July 2013.
(Photo credit: http://web.kssp.upd.edu.ph/aboutcssp/administration/line-staff)