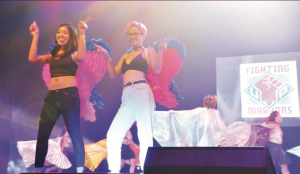 The UP Fighting Maroons kicked off the University Athletic Association of the Philippines (UAAP) Season 79 in style as they held the annual Pep Rally last Aug. 24 at the University Theater.
Twice that afternoon (3 p.m. and 6 p.m.), the University Theater was filled to the rafters with cheering athletes and fans as the varsity teams and five performing arts groups danced their hearts out.
The UP Ballroom Formation Team composed of members from the UP Filipiniana Dance Group, UP Pep Squad, UP Streetdance Club and UP Dancesport Society gave the audience a sneak peek of their competition routine at the inaugural UAAP Dancesport Competition on Sept. 3. The Pep Rally is an annual event held just before the UAAP season as a celebration and to inspire enthusiasm in the athletes before they compete.