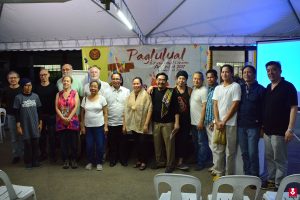 (NOV. 16)—Eight ceramic artists who are celebrities and icons of the ceramic art world graced the formal opening of "Paglulual: International Ceramic Art Project 2017" (Paglulual) on Nov. 7 at the UP College of Fine Arts (CFA).
Organized by the UP CFA Ceramics Studio, Paglulual is a project led by Prof. Ma. Rita Badilla-Gudiño. Now on its third year, it aims to "initiate a cultural exchange between nations and further develop this art within the country."
The event featured workshops, seminars, lectures, kiln buildings, demonstrations and exhibitions ended on Nov. 13.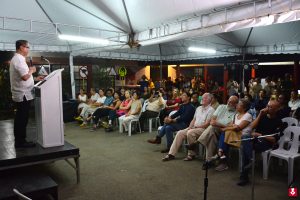 "Paglulual is coined after the creative work Lual, a sculptural birthing kiln built at the CFA grounds in 2012," Gudiño   said.
"We decided to name our project 'Paglulual' as it imbibes the emotion that goes with conceiving, nurturing and creating, something that is very close to the hearts of those who have worked with clay and this is what we choose to share to anyone who is drawn to this art form—an opportunity to inspire and progress our own individual and collective journeys in clay," she added.
Ceramic artists. Well-known ceramic artists Ryota Aoki (Japan), Pablo K. Capati III (Philippines), Joe Finch (UK), Noi Gonzales (Philippines), Jenny Mendes (USA), Jon Lorenzo Pettyjohn (Philippines), Smith Takroodkaew (Thailand) and Jezzel Wee (Philippines) were invited in this year's week-long event.
Aoki graduated from Tajimi City Pottery Design and Technical Center in Japan in 2002 and was invited as a trainee at Ecole de arts Decoratifs in Switzerland in 2004.  He won the special prize in the Taiwan International Ceramic Biennale in 2008 and a silver prize in the 4th World Ceramic Biennale held in Korea in 2007. His lecture, demonstration (demo) and workshop focused on stoneware glaze formulation.
Capati studied pottery in Kobe, Japan and the University of Southern California in Los Angeles, California, USA. He established the Capati Potter Studio in San Jose, Batangas in 2000 where he built the second Anagama kiln in the Philippines. He is a pioneer in the organization of international wood-firing festivals in the Philippines called "Tropical Blaze." He conducted a handbuilding sculptural techniques workshop for the Paglulual event.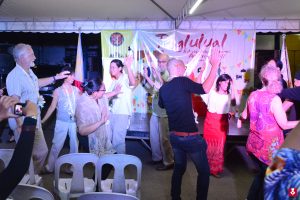 Finch, who started his pottery career in 1964, established the Kolonyama Pottery, the first pottery studio in Lesotho, Africa, and co-manages the Darlington Pottery Training Workshop in UK. He has exhibited in South Africa and Australia. He conducted a lecture, demo and workshop about slip decoration techniques for Soda kiln firing.
Gonzales is a visual artist, sculptor and painter. He uses terracotta as his medium for sculpture. He earned his bachelor's degree in painting at the La Consolacion College in Bacolod City in 2006. He participated in several group exhibits locally and internationally such as the "Tree of Life" at the 4th Southeast Asian Ceramics Festival held at the Ayala Museum in 2016 and "Iskultura" at the Pinto Gallery in 2012. He conducted a demo of his terracotta sculpture during the Paglulual.
Mendes use clay as her primary medium. She earned her Bachelor of Fine Arts degree in Ceramics from Washington University in St. Louis, Missouri, USA and has worked as a full-time studio artist since 1994.  She has exhibited her works in the USA. She conducted a demo and workshop on underglaze formulation and painting techniques for Paglulual.
Pettyjohn, a Filipino-American potter and his wife Tessie are well-known leaders in the Philippine Contemporary Ceramic Arts. He studied ceramic art at the Escola Massana, Barcelona, Spain in the early 1970s. He is a founding member of The Putik Association of Philippines Potters.  He facilitated "A Taste of Clay" lecture and demo during the event.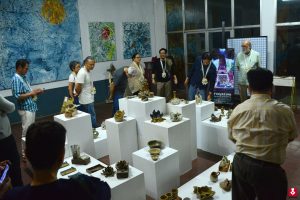 Takroodkaew is an associate professor at the Khon Kaen University Fine and Applied Art in Khon Kaen Province, Thailand. He is one of the founding members of the Bond Klay Keramics International Contemporary Ceramic Art Project in Thailand. He conducted a Raku glaze formulation workshop and handbuilding/wheelthrowing demo during the event.
Wee is an instructor at the UP CFA Ceramics Studio. She is the first Filipino apprentice that completed a 3-year apprentice program at the Tsugaru Kanayama Pottery, Goshogawara, Japan in 2014. She earned her Bachelor of Fine Arts major in Painting at the UP CFA in 2003. She participated in "Usapang Luad 1" as one of the lecturers.
Paglulual activities. The week-long event featured activities such as "Kathang Luad" featuring "Santigaman: Students' Exhibition Opening," Prof. Katti Sta. Ana's solo exhibit "Devour" and "Usapang Luad 1 and 2 Illustrated Presentation of Artist's Works: Inspiration, Processes and Techniques."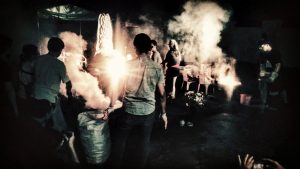 Also featured were "Likhang Luad" lectures and demo on soda kiln building and firing, handbuilding/wheelthrowing demo, underglaze paint, stoneware glaze and raku glaze formulation and application techniques, terracotta handbuilding demo and clay demo and workshop.
The culminating activities were "Pagbinyag ng Apoy," the highlight of which are the Miragama, Lual Raku and Soda Kiln firing and "Pasaway Sosyals" or the community firing socials; International Linkage Meeting; "Potters' Studio Tour" exclusive for guest artists only (Nov. 12); "Pintig Paalam: Closing Ceremony and Dinner" (Nov. 13), and "Kathang Luad: Sambukluran International Exhibition Opening" (Nov. 13). The unpacking of Soda Kiln and assessment of firing lecture by Finch was held on Nov. 13.
Other activities during the opening ceremony were the "Kab-otKamo't: Ceremonial Imprinting" led by Prof. Romanlito Austria and the opening of the "Anithing," a student exhibit made by the FA class of Prof. Jamel Obnamia.
The event was sponsored by the UP Office of International Linkages, UP Diliman Office for Initiatives in Culture and the Arts (UPD-OICA) and the Office of the Vice Chancellor for Research and Development.