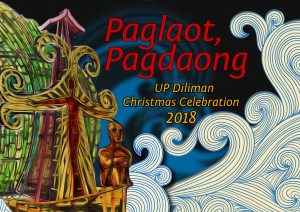 This Christmas, UP Diliman pays homage to its graduates, academics and personnel pursuing scholarly and advocacy works in the country in the festivities "Paglaot, Pagdaong."
The Christmas theme also celebrates the forthcoming 70th anniversary of the transfer of the Oblation from the UP Manila campus to its new home in Diliman.
Opening the season is Pag-iilaw at 6 p.m. on Nov. 29, the traditional ceremony staged in front of Oblation Plaza where the Christmas lights on campus are switched on for the first time.
The ceremony features performances from homegrown talents Louise Anne Manuel, Lorenz Edward Sarrondo and an orchestra composed of College of Music students. A mini concert featuring Bateria Brigada, an Afro-Brazilian percussion ensemble, Sunday Radio and Unit 406 caps the evening.
Kamalayag, a giant lantern in the form of a kumpit (traditional boat), is the centerpiece of the event as the Oblation, along with the adjacent Plaza, are temporarily not accessible to the public because of an ongoing renovation.
Toym Imao, the multi-media visual artist, sculptor and painter describes Kamalayag as "a vernacular portmanteau of the words malaya (free), kamalayan (awareness), alay (oblation/sacrifice) and layag (sail)."
"The sails are made of bamboo and visually reminds us of the blades of the talahib (wild grass) that was abundant during the pioneering years of the Diliman campus. The kumpit's mast is made of a cruciform structure that has an arrow on the tip like a compass' magnetic north pointer and represents members of the UP community's "paglaot" to the four corners of the archipelago.  The mast and the sail also depict a cavity in the form of a silhoutte of the Oblation statue," Toym said.
According to the artist, paglaot (setting out to sea) connotes a return to its origins, the village where it docks ("pagdaong") regularly. "Every paglaot carries the promise to return either physically – those who have safely navigated its waters and brought home the day's catch, or in spirit for those who are forever embraced by the sea, they come back as stories of inspiration and hope."
On Dec. 8, 7 p.m. the Philippine Philharmonic Orchestra will be holding "Pamaskong Handog ng UP," a free concert at the University Amphitheater featuring performances from George Frideric Handel's "Messiah." Performing artists are Jai S. Aracama, the UP Cherubim and Seraphim, UP Concert Chorus, UP Singing Ambassadors, UP Staff Chorale and UP Chorus Classes. 
Closing the year is the Lantern Parade, to be staged on December 14 at 5 p.m. around the Academic Oval and the University Amphitheater.
At stake in the competition for the best lanterns are three major prizes and two runners up with cash incentives of up to P50,000. Entries will be judged according to compliance with the theme, materials used, presentation and visual effects and eco-friendliness.
A mini concert by The CompanY, dubbed as Asia's premier vocal harmony act, will usher in the announcement of winners.