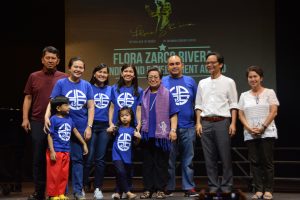 (MARCH 15)— A registered nurse and a music teacher received the first ever Flora Zarco Rivera Gender and Development Award (FZR-GAD) in a ceremony held at the UP College of Music (CMu) Abelardo Hall Auditorium on Mar. 12.
The GAD awardees are Grace G. Santos, a registered nurse at the UP Health Service (UPHS), and Ferdinand D. Medina, a guitar teacher at the CMu.
FZR-GAD is an annual award for community leaders who have advocated for women and empowerment and children's rights established by the CMu in cooperation with the Diliman Gender Office (DGO). It is also an important award among community members who have made inroads in arts and music initiatives for women and children.
Santos. CMu recognized Santos for serving "many sectors of the community: mothers and their children who have benefitted from the monthly mother's classes and in-house immunizations of the UPHS Public Health Unit that she organized; students of all ages and staff members of different offices in the University who have attended seminars on pressing health issues that she has facilitated; and women of the University who have participated in wellness and recreation activities that she actively spearheaded on their behalf."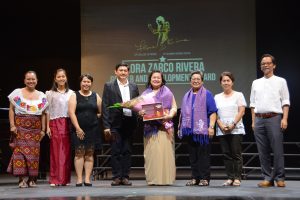 Santos was commended for advocating the empowerment of differently-abled children. She has worked with the AD/HD Society of the Philippines to raise awareness on this condition and has created a support group for parents and teachers of children with AD/HD and other disabilities.
Furthermore, Santos was recognized for being "an outstanding public servant who has dedicated her professional knowledge and skill as a health professional and her passion for performance and art towards the empowerment of women and children."
At the awarding ceremony, Santos expressed her happiness and gratitude for the recognition. She also said "Naniniwala ako na bilang isang nurse at isang babae, mayroon akong katungkulan na itaguyod ang kapakanan ng mga kababaihan, kabataan at ang may mga kapansanan."
Medina. Meanwhile, Medina who graduated with a Bachelor of Music at the CMu is also a community leader and the executive director of Sparrow Music Philippines (SMP).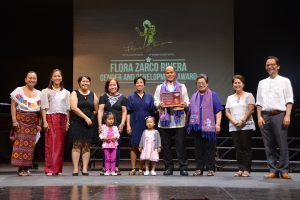 CMu commended Medina for "his work as a church missionary and his formal music education in guitar studies that led him to initiate volunteer programs in music education and music therapy in local communities, facilitating trauma counseling through music for survivors of various calamities and forming youth music groups that focus on values formation as follow-up activities."
He was also lauded for establishing SMP, a community-based music program for children, and giving the children of Payatas musical training that "allows them to reap the benefits that music can immediately give them—a sense of discipline and self-worth and a love for the truth and beauty that the arts can give."
Moreover, he was recognized "for his work as a passionate music educator who has dedicated his professional knowledge and skill towards the empowerment of children."
In his acceptance speech, Medina said "Leadership is not necessarily always being in a position. It is about inspiring others to follow and give them the capacity to translate a vision into a reality."
"Poverty makes people undernourished and underdeveloped. We cannot do everything but we can do something. The bottom line is we need to combat this problem. But, how would the children become the hope of this nation? We need to empower them. We have to be their example. Empower them by being an excellent example. We need to empower them to make the right choices and decisions for themselves," Medina also said.
CMu dean Dr. Verne Dela Peña, CMu Music Education Department Professors Jocelyn Guadalupe and Maria Sherla Najera, Dr. Nancy Kimuell-Gabriel, College of Arts and Letters assistant professor and the Diliman Gender Office coordinator, and Eva Cadiz, co-head of the CMu Gender Committee, gave the awardees a purple alampay or shawl weaved in Tinguian, Abra, a token of appreciation and PhP 25,000 from the GAD office as project assistance to their community initiatives.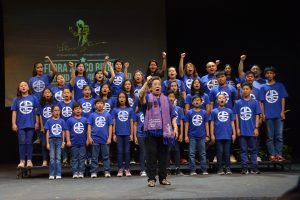 During the program, Dela Peña and Kimuell-Gabriel delivered the welcome remarks and message, respectively, while Guadalupe read the citation for the awardees.
Flora Zarco Rivera. The FZR-GAD award is named after Prof. Flora Zarco Rivera, former CMu choral conducting professor and founder of UP's official children's choir, the UP Cherubim and Seraphim.
According to the FZR-GAD's souvenir program, Rivera as a musician has "advanced the repertoire of children's choral music, encouraging Philippine composers like Lucio San Pedro, Antonio Regalario and Ramon P. Santos to write in the medium of children's choral music and formed a choir, the UP Cherubim and Seraphim to perform the works."
She was also the founding member of the National Music Competition for Young Artists. As a music teacher, she trained generations of music teachers at the CMu and worked with elementary schools near UP to create music education programs.
As a church musician, Rivera advocated the professionalization of the ministry of music in the Protestant Church. She also pioneered in organizing and conducting performances of joint choirs of faculty and students from the UPD Church of the Risen Lord and Parish of the Holy Sacrifice.
CMu honored Rivera with a short audio-visual presentation about her life and works.
Responding on behalf of the family for the honor given to Rivera was Prof. Robin Rivera of the College of Arts and Letters (CAL). Also present during the awarding ceremony were Rivera's children and grandchildren including Dr. Elena Rivera-Mirano, former CAL dean.
The program was emceed by Prof. December Valenciano. Intermission numbers were provided by the Dawani Women's Choir, Najera who was accompanied by Prof. Chona Noble (violin) and Guadalupe (piano), and the UP Cherubim and Seraphim.