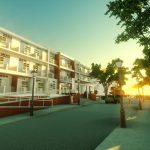 The UP Diliman (UPD) Housing Office will implement a new policy on Jan. 1, 2018 requiring all retiring employees occupying UPD housing units to file a one-time request of extension before they can be allowed to stay.
Approved in 2016, it also states that the extension will only last six months, after which the occupant must return the unit to the University.
Currently, retired UPD employees are automatically given a grace period of two years.
The request for extension is also tied to the retiree's clearance, which will be processed upon the signing of an Undertaking and posting of a housing bond and security deposit.
The housing (or rental) bond is equivalent to the length of the retiree's grace period multiplied by his/her monthly lease while the security deposit is equal to the retiree's average monthly water and average monthly electricity household consumption.
Both the housing bond and the security deposit can be deducted from their retirement benefits.
Undertaking. Retirees must also sign an Undertaking designating the University as Attorney-in-Fact with full authority to take possession of the housing unit without need of judicial or administrative action.
"Once they sign it, then we will sign the clearance and then at the end of the grace period we will remind them, amin na po yung unit," said Housing Office Director Jose Ernie Lope.
2014 provisions. These changes in the UP housing policy are aimed at optimizing the limited number of housing units in UPD. According to the Housing Office, these changes will allow active and qualified UPD employees the chance to enjoy the on-campus housing privilege earlier.
The latest policy provisions come after the 2014 revisions to the point system, which determines the priority an applicant gets for a housing unit.
The 2014 revisions state: new applicants will be screened before they are included in the master list; they must have served UP for at least seven years and their take home pay must be at least 20 percent of their gross monthly income.
Points are also given if an employee is working full time for the university and/or has children. In the old system, the more children an employee had, the more points s/he would be granted; in the new system, an applicant gets a fixed number of points regardless of the number of his/her children.
Part time employees (including professorial lecturers) are not entitled to housing privileges.
The points of spouses who are both UP employees will simply be added; no premium points will be awarded for just being married to another UP employee.
Another provision dated 2014 stated that Professors Emeriti occupying units can only stay in their units until the age of 70, after which they must give them back to UPD. In the old system, they were allowed to stay for life.
Housing in Diliman. According to the current housing rules and regulations, only regular personnel, "occupying a regular position item (as distinguished from a lump sum allotment) as a regular incumbent (as distinguished from a substitute)" are qualified to apply for housing.
UPD housing units fall into several types. Places like Hardin ng Rosas and Hardin ng Doña Aurora are known as walk-up type housing. Hardin ng Bougainvillea and the lucrative Area 2 where Laurel St. can be found are known as cluster and apartment types of housing, respectively.
The large lots and one-floor residences in Areas 1 and 3 surrounding the Shopping Center and the UP Health Service are known as bungalow-type housing.
The University also has several so-called "pioneer houses," homes built by the faculty members when UP was first established in the Diliman campus. Several such residences are located opposite The Marine Science Institute.
Of the 1,142 units under the Housing Office's jurisdiction, more than half are made up of low-cost housing in Pook Amorsolo and Amado Hernandez.
According to the Housing Office, they are granting an average of two housing units per month, but there are still some 500 employees waiting in line.
Meanwhile some 250 units are being occupied by overstaying retired employees or residents who are not regular employees.
A lessee is "overstaying" if s/he continues to occupy a University-owned housing unit beyond the allowable grace period set by the Diliman Housing Committee. An "illegal occupant" is a relative or friend of a University-recognized lessee who continues to occupy a housing unit even after the latter's death or separation from the University.
Lope said the longest overstaying occupants are perhaps the family of an employee who retired in 1981 and whose heirs are no longer connected with the University.
He pointed out that offenders are not limited to administrative staff.
"We [also] have former professors and former head of units who are overstaying. So hindi lang naman sabihin natin na mga low salary grades lang ang overstaying. Kaya hindi mo masabing may kinalaman ito sa kababaan ng salary grade. May faculty rin, may REPS (Research, Extension and Professional Staff) din," he said.
To recover the housing units, the Chancellor has authorized the filing of cases against the 10 longest overstaying/illegal occupants from the low-cost units as well as the bungalow/apartment units, which the Diliman Legal Office is acting on.
"Even though I feel for the retirees kasi syempre masarap ang buhay sa kampus, masarap ang hangin, it should always be clear na it is an award of lease. Not a title," he said.
Self-built units. The Housing Office's jurisdiction is limited to the 1,142 units under its care.
A larger number of residences in UPD including five barangays located on campus land as well as the houses in the UP Arboretum are self-built units. Self-built units are structures built on UPD land without the necessary permits from the UPD administration, regardless of whether they are occupied by UP or non-UP personnel.
A 2011 census conducted by the Office of the Vice Chancellor for Community Affairs revealed that at the time there were 15,484 people living inside UPD land. With a UP-to-non UP household ratio of 309:3,783, there were 12 times more non-UP households than there were UP households.
This included areas like Pook Palaris, Pook Ricarte, Pook Dagohoy as well as Barangay San Vicente, Barangay Botocan and Barangay Krus na Ligas.
In 1997, jurisdiction of self-built units was transferred to the UPD Office of Community Relations, now headed by Dr. Karen Jago-on.
Lope reiterated that all UP land is neither for sale nor distribution: "Kung dinistribute yan ng UP, si UP naman ang makokorte dahil nilalabag niya ang sarili niyang charter. UP land is UP land and you cannot sell a portion of that," he said.
New buildings. Which isn't to say the University isn't being proactive. Three new walk-up type buildings are currently under construction along Jacinto St. opposite the UP Centennial Dormitory.
They are the first of eight new structures funded through the Office of Design and Planning Initiatives (ODPI) in 2014. Each building will be composed of 30 two-bedroom units.
"Dapat siguro sabihin na initiative ito ng ODPI of former President [Alfredo E.] Pascual. I think it's his initiative. Naghanap siya ng funding," Lope said.
While it is still being discussed, there are plans to allot some of the new units for unmarried personnel.
"Kasi marami tayong single faculty and staff. Lugi sila dun. Hindi ba maganda na meron tayong specific for them?" he said.
Preparing for the future. Aside from the new units, UPD is actively encouraging employees to secure off-campus housing.
UP employees can also acquire a soft-loan payable through salary deduction that can supplement existing housing loans from other agencies.
The Housing Office is also thinking about conducting a housing fair and connect real estate developers with interested employees.
Lope said employees may want to change the way they think about residing in very urbanized Quezon City with the increase of high-rises in the area.
"The Housing Office encourages people to early on find alternatives outside the campus. Because we can only support you for as long as you are actively employed. Beyond that dapat napaghahandaan," he noted.
On July 31 the Housing Office released the latest ranking of applicants for UPD housing units.