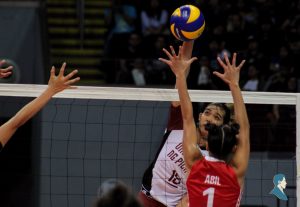 The UP Women's Volleyball Team survived the gritty University of the East Lady Warriors, 25-19, 25-13, 21-25, 16-25, 15-8, in their opening game of the UAAP Season 80 Volleyball Tournament at the Mall of Asia Arena in Pasay on Sunday.
The Lady Maroons, under new coach Godfrey Okumu, appeared to register a quick victory after winning the first two sets in a dominating fashion, but faltered down the stretch of the third set. Ahead by two points, 21-19, the Lady Maroons committed consecutive errors and faulty receptions giving the Lady Warriors the win in third frame of the game.
In the fourth set, the Lady Warriors continued its stellar performance, while the Lady Maroons lost steam and fell apart anew, to send the match to a decider.
UP recovered in the decider and established a commanding 8-4 advantage to keep UE at bay. A crashing attack by former rookie of the year awardee, Isabel Molde punctuated UP's win.
Diana Carlos, UP's team captain, paced the Lady Maroons with 22 points, while Molde chipped in 20 points. Justine Dorog also contributed 11 points with 18 digs and eight receptions.
UP's next game on February 10 is against the De La Salle University.