Joel Joseph S. Marciano Jr., PhD of the UP Diliman (UPD) College of Engineering (COE) was recently conferred an honorary doctorate degree by the Hokkaido University (Hokudai) for his significant contributions to science and technology in the Philippines, particularly to the development of microsatellites for scientific earth observation.
Hokudai is a national university of Japan based in Sapporo, Hokkaido.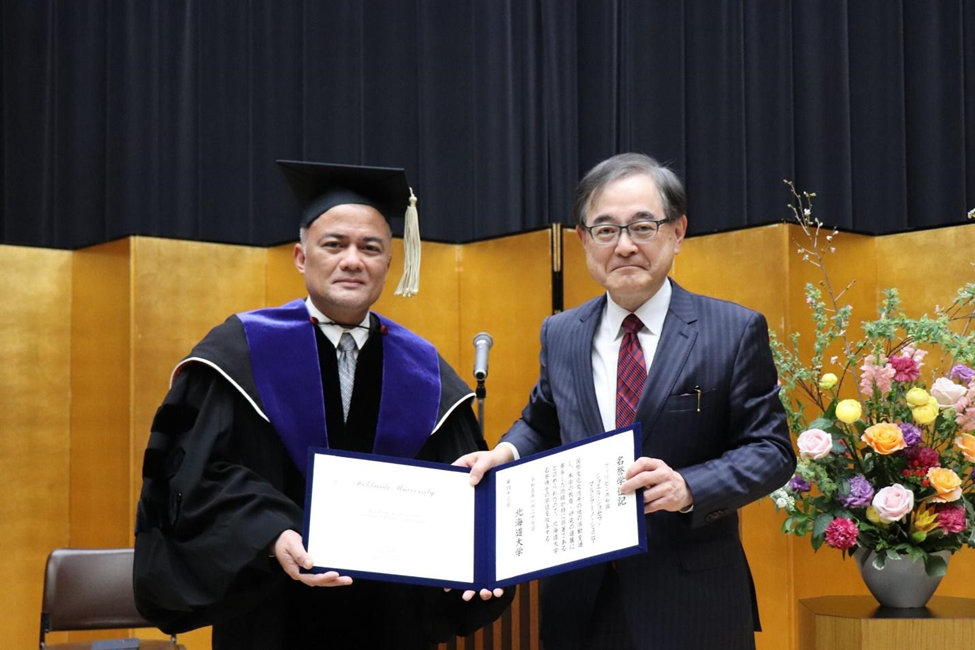 At the ceremony, Marciano delivered his lecture, Building the Space Value Chain in the Philippines: The Catalytic Role of Hokkaido University and International Cooperation.
In a Hokudai news piece posted on the University's website on Feb. 1, Marciano is said to have worked with the University to complete, launch, and subsequently operate the Philippine micro satellites.
The Hokudai news also stated that Marciano was a Hokudai ambassador from 2017 to 2022 and was an invited lecturer in 2016 at the Hokkaido Summer Institute. He was also instrumental in sending Filipino students and researchers for short-term exchanges to the University.
According to the same news, "In the context of the Memorandum of Understanding concluded between the University and the Philippine Space Agency (PhilSA) in March 2022, future exchanges and advancements between Japan and the Philippines aimed at the cultivation of human resources for the space industry at the University are also expected."
In January 2020, Marciano was appointed the first director general of PhilSA. He holds the rank of cabinet secretary and supervises the entire operations of PhilSA and its attached units.
Marciano is a professor of electrical and electronics engineering at the UPD Electrical and Electronics Engineering Institute of the COE. His research interests are in wireless communications, radio frequency, and microwave engineering. Marciano earned his PhD in Electrical Engineering at the University of New South Wales in Australia in 2001.
He was conferred his honorary doctorate degree on Jan. 27 in an official ceremony at the Hokudai Conference Hall attended by Hokudai university officials, faculty, and students, and Marciano's family.