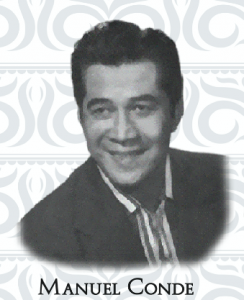 (MAR. 2)—It was fate that brought Manuel Conde, one of the seven National Artists for Film, to filmmaking.
When he missed the boat that will take him to Java, Indonesia to work as a junior geologist, he was invited by Carlos Vander Tolosa of LVN Pictures, Inc. (LVN) to be an assistant director.
Christened Manuel Pabustan Urbano, Conde was born on Oct. 9, 1915 at Daet, Camarines Norte. In 2009, he was posthumously named National Artist for Film and Broadcast by President Gloria Macapagal Arroyo.
Conde is acknowledged by the National Commission for Culture and the Arts having "contributed in no small measure to the indigenization of the cinema, specifically: by assigning it a history and culture of its own; by revitalizing folk culture with urgent issues, fresh themes and new techniques; by depicting and critiquing Filipino customs, values and traditions according to the needs of the present; by employing and at the same time innovating on the traditional cinematic genres of his time; and by opening the local cinema to the world."
Dr. Nicanor G. Tiongson, in the lecture entitled "Usapang Pambansang Alagad ng Sining: Conde" held at the Claro M. Recto Hall, Faculty Center on Feb. 2, said Conde was the youngest of three boys and two girls and was orphaned at an early age. He grew up poor and for him to be able to watch movies in cinemas, "Nagma-mop siya sa labas ng sinehan. Naglilinis siya para makapanood siya."
A professor emeritus and former College of Mass Communication (CMC) dean, Tiongson is a well-known critic, creative writer and academic scholar. His lecture discussed Conde's biographical highlights (early years, Manila to Hollywood, the LVN hits, the social-political films and the last years), four representative films and his contribution to the creation of a Filipino cinema.
Biographical highlights.  According to Tiongson, Conde went to Manila to study Geological Engineering at Adamson University. In 1935, he worked for Philippine Films without pay just for experience—sweeping the studio, cleaning the latrine, doing carpentry and performing as a stuntman for P0.60 a day.
He married Julita Salazar in 1938 and was blessed with seven children. Unknown to many, Conde's costumes for his epic movies were made by his wife.
Conde co-wrote his first ever film script with Carlos Vander Tolosa for LVN's first movie "Giliw" Ko in 1939.  Tiongson said for his directorial debut, LVN's Doña Sisang (Narcisa de Leon) gave Conde "Sawing Gantimpala" which is based on the story of Aurora Quezon. "It was a hit. He was chosen by a local newspaper as best director for three consecutive years for 'Maginoong Takas', 'Hiyas ng Dagat' and 'Caviteño'."
Conde became friends with Carlos 'Botong' Francisco when they evacuated to Angono with Botong's family in 1944 during the Japanese occupation in the Philippines. Then, instead of films, he directed plays such as "Kayumanggi," "Timbangang Bakal," "Bakya mo Neneng" and "Dadalisay" where he first collaborated with Botong who painted the stage backdrops.
Botong became his very important collaborator and bosom friend.
In 1983, Botong was named National Artist for Visual Arts.
In 1947, Conde established the Manuel Conde Productions and produced notable films such as "Juan Tamad" (1947) "Juan Daldal" (1948), "Vende Cristo" (1948), "Prinsipe Paris" (1949), "Siete Infantes de Lara" (1950), "Genghis Khan" (1950), "Krus na Kawayan"  (1956), "Juan Tamad Goes to Congress" (1959), "Juan Tamad Goes to Society" (1960), "Si Juan Tamad at si Juan Masipag sa Politikang Walang Hanggan" (1963) and "Molave" (1961).
He won four awards in the Philippines Herald's movie popularity polls (Most Popular Male Star, Most Popular Character Actor, Most Popular Director and his movie "Siete Infastes de Lara" as Most Popular Picture in the Philippines) with the help of Julita.
When Conde's internationally acclaimed film "Genghis Khan" was shown in the Consolidated Film Industries in Hollywood, USA, in 1951, famous scriptwriter James Agee saw the film and was so impressed by it that he called it a masterpiece.
According to Tiongson, Agee re-edited the film, wrote a narration in English and convinced Conde to join the competition in Venice, Italy. "Genghis Khan" competed for the Golden Lion Award in the 1952 Venice Film Festival and got rave reviews and special awards.
He produced the social and political films from 1959 to 1963, among them three Juan Tamad series which Tiongson considered "radical and very dangerous at that time" but were "commercial and artistic success and define Conde's image in Filipino cinema."
It was also during that time that his eldest son, Jun Urbano (popularly known as Mr. Shooli of the hit TV show "Mongolian Barbeque"), was already helping him with the script.
Four representative films. In his filmmaking career that spanned more than three decades, Conde directed about 40 films.
According to Tiongson, these films maybe categorized in four genres: romantic and musical comedies, costume epics, melodramas and political satires.
Tiongson said Conde's best romantic comedy is "Pilipino Kostum: No Touch" starring Mario Montenegro and Emma Alegre, "whose conflict is not only between the rich and the poor but also between urbanized and rural values, and between the modern American and traditional Hispanic traditions as embodied in the modern Arturo (Montenegro) and the conservative Adeling (Alegre).
Conde was also known for his ambitious costume epics.
"Conde's costume pictures derive stories from ancient narratives from Europe and other foreign countries usually focusing on the love between the princes and the princesses and the machinations of their rivals in love, the intrigues of court or between the leaders of two or more kingdoms," Tiongson said.
The film "Genghis Khan" is the most famous of Conde's costume epics. The costumes were designed by Botong Francisco.
Meanwhile, Tiongson cited "Molave" as an example of Conde's drama/melodrama films which he invested with socio-economic issues. The said genre "revolves around individuals and their personal relationships and conflicts with others. In view of the serious or even tragic tone, the melodrama has a convoluted plot with violent confrontations, betrayals and murders, all these in a Baroque narrative that nevertheless manages to end with good triumphing over evil."
Of all the film genres, the political satire is the genre identified with Conde "because it was he who pioneered and exemplified the imaginatively use of folklore for contemporary political commentary and specifically, the use of the pusong or trickster Juan Tamad as the mouthpiece of the people," Tiongson said.
"In defining Juan Tamad films, the pusong delivers the political messages. All the characters are caricatures being exaggerated representations of certain virtues or vices. Set 'pre-colonial times,' these films feature the campy native costume design by Botong Francisco and executed by Conde's wife, Julita," he said.
Of the Juan Tamad films, "Juan Tamad Goes to Congress" proved to be the most critical and financial success.
Defining cinema for the Filipino.  Films such as "Sietes Infantes De Lara," "Ibong Adarna" and "Prinsipe Teñoso" are example of how Conde invested local cinema with a distinct cultural history by translating to the silver screen the age old stories that lowland Filipinos passed on from generation to generation.
Conde also portrayed and revaluated in his films the contemporary manners and morals of the country as depicted in the movie "Pilipino Kostum: No Touch" (1955) which highlighted the collision between old Hispanic and the new Americanized culture.
Tiongson added that in transforming the traditional cinematic genres, Conde "constantly upgrade and update these genres according to the needs audience and the times."
For instance, he introduced a new form of romantic comedy called "sophisticated comedy" which "drew humor not from slapstick or physical deformities of comedians but from witty dialog and the humor inherent in or proceeding from the situation of characters. Such are the type of comedy in films like 'Señorito' where he played the role of Señorito with Delia Razon," Tiongson said.
He also opened doors of opportunities for local cinema to be known internationally with his films "Genghis Khan" and "Sigfredo." Tiongson said Conde went beyond the usual narrative, traditional genres and ventured into subject matter that would have been too monumental by the average producer.
The prolific director retired from the movies "because he could not stomach directing without a script. Kasi uso na noon, 1960s ito, iyung independent producers who made money from just the superstars they hired. Very often, walang script," Tiongson added.
He received many awards despite his retirement. He received the Natatanging Gawad Urian in 1978; the Philippine Artist Hall of Fame Award in 1980 and Walang Kupas Award in 1983.
Conde passed away on August 11, 1985 at age 69 from heart attack.
In retrospect, Tiongson said "it becomes evident that the contributions of Manuel Conde to the Philippinization of the cinema proceeds precisely from his character as a trickster who like all visionary artists must dismantle and demolish the here and now in order to build a new order of things that comes closer to the ideal. For his vision of a more equitable society, for his unwavering commitment to country and the filmic art, Manuel Conde deserves the title which his contemporary says attached to his name in the 1950s, Conde the Magnificent."
Also present during the lecture was Conde's son Jun Urbano who shared his thoughts on his father.
After the lecture, two of Conde's films, namely, "Señorito" and "Genghis Khan" were shown publicly at the College of Mass Communication Dap-ay on Feb. 3 and Feb. 4, respectively, as part of the "UPD Month 2016: Panahon ng Luwalhati" celebration.