By Benito V. Sanvictores Jr.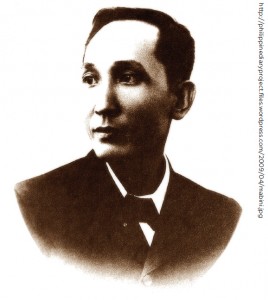 (July-August)—He is an underrated Philippine hero despite his progressive views on the Catholic Church, women's right to vote, the rights of persons with disabilities and support for public education.
Apolinario M. Mabini was humble and did not seek attention or appreciation of others. He was satisfied to see the fulfillment of his aspirations without seeing the need to attribute those accomplishments to him, Dr. Zosimo E. Lee of the Philosophy Department said.
For Dr. Ma. Luisa T. Camagay of the History Department, Mabini is a man ahead of his time, "His views were not readily accepted by his peers in the government because those were unpopular, different from the norms of the time."
Mabini was born on Jul. 23, 1864 in Tanauan, Batangas to Inocencio Mabini, an illiterate farmer, and Dionisia Maranan, a market vendor. From humble beginnings he rose to become the 'brains of the revolution,' a title he earned for serving as counsel to Emilio Aguinaldo.
This year is Mabini's 150th birthday.
Camagay said Mabini's writings as Prime Minister and Foreign Minister served as one of the voices of the First Philippine Republic, while simultaneously giving voice to the oppressed, marginalized and underprivileged.
The Filipino National Church. It was Mabini who suggested the establishment of the Filipino National Church, giving voice to the Filipino priests suffering under their Spanish superiors. In the 1870s to 1890s there was widespread abuse in the Roman Catholic church.
"He was not against the Church but how the Church was being administered by the Spanish friars. Mabini believed that a group of believers should have compassion and cooperation among themselves. [but] he did not see it from them [the Roman Catholic church]," Lee said.
"For Mabini, God constantly communes with His creation through conscience and reason which was stipulated in his work 'El Verdadero Decalogo' ('The True Decalogue')," Camagay said. "The True Decalogue" was written as an introduction to the Malolos Constitution. It is a set of rules which serves as a guide for Filipinos on how to be better citizens. However, it was not included in the Malolos Constitution ratified in 1898.
While his proposed nationalistic church did not materialize because of the Philippine-American war in 1899, "The True Decalogue" laid the foundation for the establishment of the Philippine Independent Church, or Iglesia Filipina Independiente (IFI), also known as Aglipayan Church. It was formed in 1902 to protest the Spanish clergy's control of the Roman Catholic Church in the Philippines. Today, IFI has at least two million members.
Women's rights. Mabini saw that the 1898 Malolos Congress was represented wholly by male Filipinos. Thus, in Article 17 of the Malolos Constitution he drafted, he included a provision stating the right of the women to vote and to study in public institutions of learning.
"He bel ieved that wisdom and reason are not monopolized by the male gender," Camagay said. "This article on women's right to suffrage was however turned down by the conservative members of the Congress."
Mabini's provision inspired the feminist movement in the Philippines in the early 1900s. After the feminist organizations' years of lobbying in the Congress, a plebiscite on women's suffrage was held on Apr. 30, 1937 through Commonwealth Act No. 34. According to the Official Gazette of the Philippines, the result was overwhelming: 90 percent agreed that women have the right to vote. In December of the same year, Filipino women voted in the national elections for the first time.
Icon for persons withdisabilities. Mabini was not born a paralytic. "He contracted polio in the first quarter of 1896 which caused his paralysis. He was only 31. It was an experience that depressed him because it happened in his prime and he sought to actively help in the revolution but his disability hampered him," Camagay said.
After being arrested by Spanish authorities in 1896, he went to Laguna to seek the curative properties of the hot springs of Los Baños. In Laguna he wrote "El Verdadero Decalogo" and "Ordenanzas de la Revolucion" ("The Ordinances of the Revolution").
Mabini's appointment in January 1899 as president (now Chief Justice) of the Supreme Court was opposed by some members of the Malolos Congress, particularly Ambrosio Rianzares Bautista. Using the pseudonym Zerzarian in the September 1899 issue of "La Independencia," Bautista asked how a handicapped person, a man without feet, can be appointed or elected to such high office.
Mabini replied in writing, "Does the job of Chief Justice of the Supreme Court require constant walking? No? Therefore, he can be a man without feet, as long as he possesses the brains and able hands for the office."
Mabini's achievements despite his physical condition made him an icon for persons with disabilities (PWD). In his honor, the Philippine Foundation for the Rehabilitation of the Disabled, Inc. (PFRD) launched the Apolinario Mabini awards on the occasion of its Silver Anniversary in 1974. It was conferred by the Philippine President to individuals, groups and institutions whose work and accomplishments in the last five years promoted the human rights and dignity of Filipinos with disabilities.
PFRD, founded in 1949, is the oldest non-governmental organization addressing the needs of PWD.
Mabini's life inspired the signing of two proclamations: No. 1870 (1979) and No. 361 (2000), declaring the third week of July as the National Disability Prevention and Rehabilitation (NDPR) Week.
Support for public education. "Mabini valued his education very much," Camagay said.
He experienced hardships in his entire student life. In his elementary days and first years in high school, Mabini used to walk to traverse mountains, approximately six kilometers, to go to school in the town proper of Tanauan, Batangas. While studying at Colegio de San Juan de Letran, he needed to stop several times due to financial constraints. In 1888, he enrolled in the University of Santo Tomas to study law and finished his course in 1894.
To support himself, he worked as a houseboy in elementary, a tailor in high school and a court typist and part-time instructor in college.
He opened a school in 1893 which only operated for two years. D. Manuel Arellano, then Instructor of Schools, remarked Mabini's venture was "ranked among the best of that period."
These experiences moved Mabini to help in drafting a decree establishing the Universidad Literaria de Filipinas. This university would offer courses in the fields of law, medicine, surgery, pharmacy and notary public. The university operated for only a year because of the war.
In a league of his own. "These contributions to society made Mabini a distinct man, someone in a league of his own," Camagay said. "His voice served as hope to the Filipinos longing for a better life."
Both Camagay and Lee believe that Mabini's need to support his family led him to a bachelor's life. "Also, Mabini was a nationalist. It seemed that Mabini got married to the country," Camagay said. "He became engrossed with the country's welfare, it seems he forgot his own welfare," Lee said.
After the fall of the Aguinaldo government in 1899, Mabini fled to Nueva Ecija where he was captured by December. He was released in September 1900 but was rearrested due to an article he wrote in January 1901 entitled "El Simil de Alejandro" ("The Resemblance of Alejandro"). That month, he was deported to Guam for refusing allegiance to the United States.
During his exile, he wrote "La Revolucion Filipina," a memoir. Wary of his deteriorating health, he reluctantly agreed to take the oath of allegiance in February 1903 and returned to the Philippines.
Mabini died of cholera on May 13, 1903, aged 38.
"He was so revered by Filipinos that during his funeral procession, hundreds paid their last respect. According to a newspaper report, this was even documented by an American lady in her diary and was published in an American newspaper," Camagay said.
Both professors believe Mabini's life and works should be studied more for he deserves more recognition than what is presently accorded him. "More than being acknowledged as a 'sublime paralytic,' let us do more research on his works and use this knowledge in helping our country move forward [for] we will learn many things from this man known as the 'brain of the revolution,'" Lee urged.