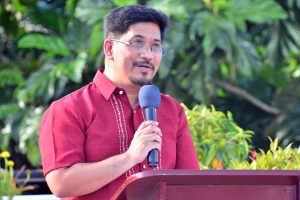 (OCT. 29) – Prof. Giovanni A. Tapang, PhD was formally installed as the 7th dean of the UPD College of Science (CS) with his affirmation on Oct. 8 at the CS Administration Building.
In introducing Tapang, former CS dean Prof. Jose Maria P. Balmaceda, PhD said if fate had been kinder, he would not be the person doing the turnover and Tapang's introduction as CS dean. "I know that Dean Perry Ong is in our thoughts today and I am sure he is with us in spirit."
Tapang's many years in CS administration and his march out in the streets have helped him grow both professionally and personally. Tapang served as CS Associate Dean for Research, Innovation, Development and Enterprise (2018-2019) and Associate Dean for Student, Alumni and Public Affairs (2012-2018).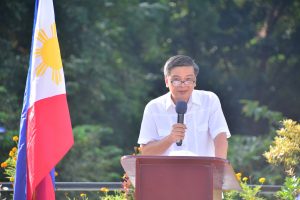 Balmaceda said Tapang related well with students and student organizations, efficiently handled disciplinary and administrative cases and conflicts in the College and engaged proactively with the alumni, media and industry. "May malasakit, but firm and fair."
"For Dr. Tapang, 'science for the people' is not a slogan, but a passion and mission. I believe that Dean Perry is smiling and happy to turnover the administration of the College and his 'tsinelas' to a worthy successor," said Balmaceda.
An expert in sensors, optics and signal processing, and networks and information, Tapang is Professor 3 at the UP National Institute of Physics.
His research project VISSER, a low-cost and portable handheld science kit that allows a student to conduct 120 experiments in biology, chemistry, engineering, environmental science and physics, addressed the severe lack of science educational equipment and laboratory modules in the Philippines.
Using CS' green spaces as his background, Tapang outlined his plans for the College. Top on his list is the welfare of CS constituents (students, both the undergraduate and graduate, the administrative staff, REPS and faculty members).
"We open our doors and our facilities to our students. Hanggang kaya, libre po lahat ng paggamit nila ng CS facilities sa ilalim ng Dean's Office. We believe that the College should not only produce excellent researchers and scientists but also build leaders both in science and in society."
Tapang added that he would enhance the 24/7 study nook that Ong initiated during his deanship. His team is also finding or looking for mechanisms to address the delayed Department of Science and Technology stipends, or at least reduced the processing time of release of the stipends, and for additional thesis or research support for CS undergraduate students.
Addressing the concerns of research assistants (RAs), Tapang and his team are initiating a dialogue with RAs, project leaders, UP and the funding agencies to an envisioned Concordat for Researchers which will outline the privileges, rights and guidelines for researchers in projects within the University.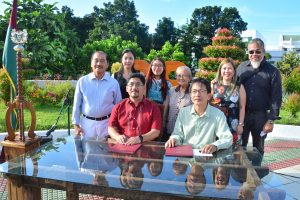 For the College to reach a mentoring target of at least one PhD student for each professor, Tapang plans to expand the number of CS graduate students by increasing the recruitment from other higher educational institutions and state universities and colleges. He also plans to aggressively recruit more applicants from their bachelor programs to eventually pursue graduate studies in the College.
Tapang said he and his team are finding more forms of funding for new professorial and mentoring awards to enable faculty members to produce more MS and PhD graduates. His team also plans to give maximum support for locally-trained faculty members to go on post-doctoral work and professional development. Tapang, however, was quick to point out that CS will continue to hold on to their high standards in faculty recruitment and in their tenure policies. "While providing them with much needed support, we expect a higher bar from them—publications in international peer-reviewed journal, mentoring and other extension work."
CS is known for producing groundbreaking and relevant research, and to put more premium on those research endeavors, Tapang encouraged and challenged his colleagues in the College to pursue synergistic initiatives for different disciplines such as the Research Institute for Materials Science, the Center for Complexity Studies, the Institute for Science and Society and the Center for Data Science which will house the PhD in Data Science program. "This interdisciplinary research collaboration should also extend to other colleges, other UP units and universities."
For these researches to be translated into market-ready products, Tapang said a College Business Development Office should be set up for documentation and disclosure, and help researchers from the early phase of their research up to commercialization, should the researchers choose. "We plan to sustain partnerships with the OVCRD, DOST-PCIEERD and ISSI with regard to developing ways to give our researchers institutional support for innovation activities. The planned implementing rules and regulations for the Technology Incubation Park of the National Science Complex includes mechanisms to provide these kinds of support."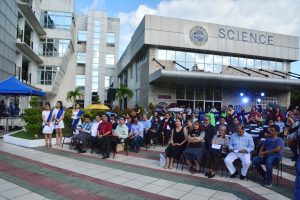 Citing his experiences in his research project VISSER, Tapang said there is really a shortage of science equipment and necessary teaching materials in science and technology all over the country. Given the situation, the new dean asserted that CS should be at the forefront of effecting knowledge transfer through improved mentoring and pedagogy based on data, the use of technology in the classroom and in Science, Technology, Engineering and Mathematics (STEM) education research. 
"We should work closely with NISMED and the College of Education for teacher training. We should institutionalize these teachers training programs for STEM teachers and strengthen existing MA programs in the CS."
In fulfilling UP's public service, Tapang plans to create a dedicated media team that will promote new scientific discoveries through the use of social media and push for a regular content such as podcast version of "Sciencia na Kayo." "Sciencia na Kayo" is a DZUP radio program featuring CS scientists who discuss and popularize science, educate listeners on basic concepts and latest trends/news in science, the role of scientists in Philippine society and other disciplines, and promote environmental issues. 
To further bring science and technology to the people, Tapang said he is planning to hold regular training sessions on science communication with the College of Mass Communication and science journalists to help researchers put across their "science message" and be more understandable to the general public. "It is not only a problem of making our researches understandable. In the larger scheme of things, the main question is always for whom?"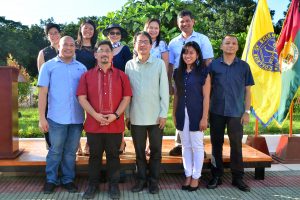 Tapang also introduced his Executive Staff. They are Prof. Ma. Nerissa Abara, PhD (College Secretary), Prof. Eizadora Yu (Associate Dean for Mentoring, Academic Progress and Advancement), Prof. Ricky Nellas, PhD (Associate Dean for Research, Innovation, Development and Enterprise), Prof. Lilian Jennifer Rodriguez, PhD (Associate Dean for Student, Alumni and Public Affairs), Prof. Marian Roque, PhD (Associate Dean for Facilities and Resource Management), Prof. Johnrob Bantang, PhD (Coordinator, Computational Science Research Center), Prof. Elmer Estacio, PhD (Program Director, Materials Science and Engineering Program), Prof. Rene Rollon, PhD (Program Director, Science and Society Program) and Prof. Diane Pelejo, PhD (Assistant College Secretary).
UPD Chancellor Michael L. Tan congratulated the new dean by reading Irish poet John O'Donohue's poem "For one who holds power," copy of which was given to Tapang as a present.
At the Affirmation Rites were UPD and UP System officials, CS faculty members, REPS, students and administrative staff. — Bino Gamba, images by Jefferson Villacruz