By Mariamme D. Jadloc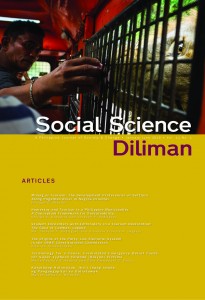 (JUL.1) Volume 11 No. 1 of "Social Science Diliman" for the year is now online.
The journal features six articles: three on tourism and its intersection with development and culture, and the rest on the "sociality of food science," the "contest of views of framers of the party-list system" and an article that "examines place as a social text," editor-in-chief Eulalio R. Guieb III writes.
The articles are "Mining or Tourism: The Development Preferences of Settlers Along Pagatban River in Negros Oriental, Philippines" by Enrique G. Oracion; "Homestay and Tourism in a Philippine Municipality: A Conceptual Framework for Sustainability" by Shirley V. Guevarra and Ma. Corazon P. Rodriguez; "Student Encounters with Philippine Embroidery in a Tourism Destination: The Case of Lumban, Laguna" by Ma. Corazon P. Rodriguez and Giovanni Francis A. Legaspi; "Technology for a Social Cause: Formulated Emergency Relief Foods for Super Typhoon Yolanda (Haiyan) Survivors" by Maria Patricia V. Azanza and Emil Emmanuel C. Estilo; "The Origins of the Party-List Electoral System in the 1986 Constitutional Commission" by Crisline Torres-Pilapil; and ""Kakaibang Halimuyak: Iba't ibang Imahe ng Pangangapital sa Balintawak" by Mariah Amour C. Miranda.
Oracion's article addresses the tension between mining and tourism. This "examines how differences in sex, farm access, income, experience with mining, and geographic variations impact on the choices of riverine community dwellers to restore mining or promote tourism." Guieb writes in the Editor's notes.
Guevarra and Rodriguez's article presents the reworking of the homestay program into an emerging tourism brand that considers the empowerment of local communities through consultative interaction between university tourism students and selected homeowners in Sariaya, Quezon.
Rodriguez and Legaspi's article focuses on the interactive experiences to a place of both the tourists and its dwellers. Guieb writes, "Such encounters with place, framed within and outside the confines of pre-encounter and post-encounter mental maps of destinations, serve as important tools in proposing an alternative approach to the design and implementation of tourism activities that place a premium on shared affect with artifacts—embroidery in this case—between locals and nonlocals."
Meanwhile, Azanza and Estilo's research according to Guieb, "illustrates how university-based laboratory trials of ready-to-eat and rice-cornstarch noodle products were formulated and packaged as emergency relief foods." As Pilapil's article "details how the framers of a controversial constitutional provision advanced and shifted their views and proposals about proportional representation in electoral politics."
Finally, Miranda's article "explores the divergent iterations of the lived contradictions of a place."
In related news, Guieb also announced this is his last issue of "Social Science Diliman" as editor-in-chief.