Humanities Diliman (Vol. 20, No. 1) is now available online.
In her note, editor Ruth Jordana L. Pison, PhD, wrote, "This issue features studies addressing a range of cultural practices and textualizations that require different methodological stances and critical tools for reading."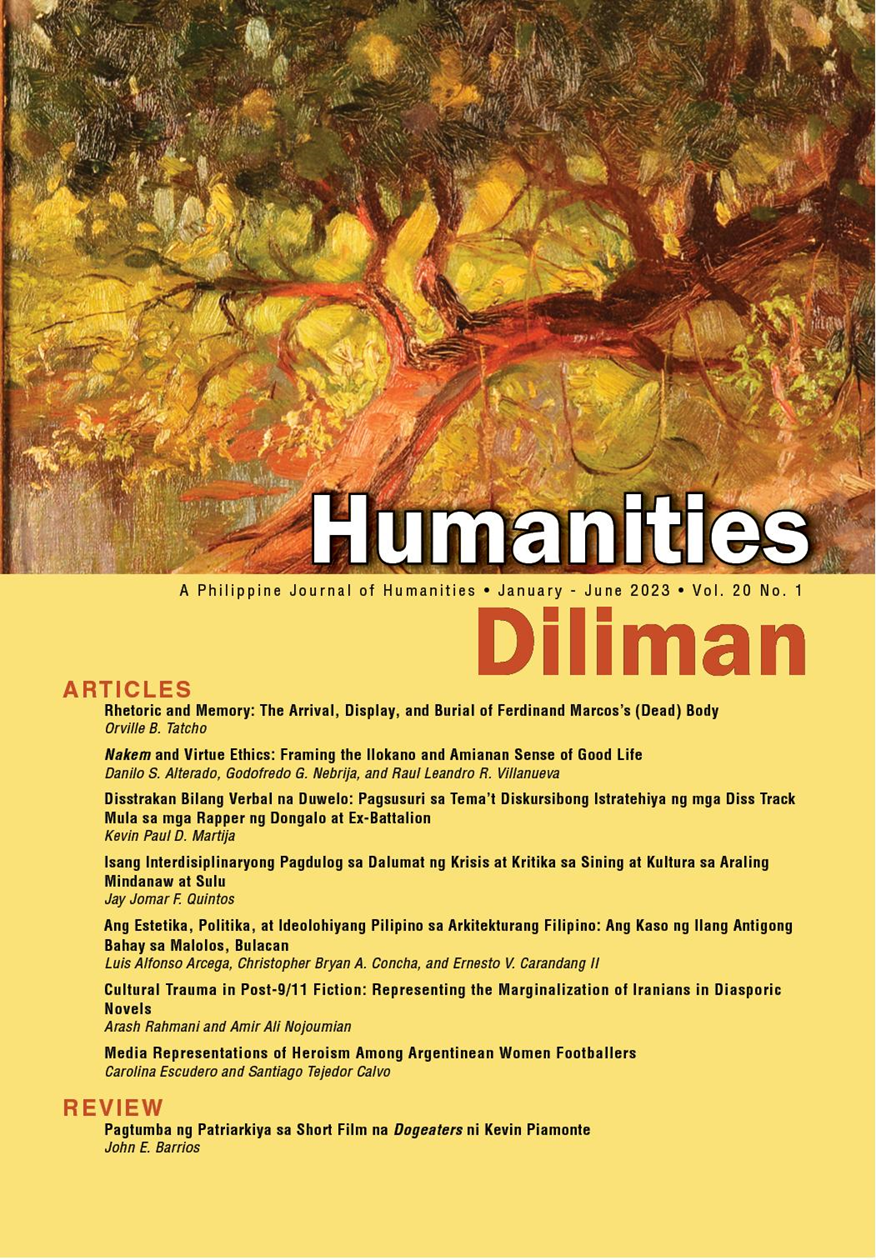 The journal's January to June 2023 issue contains seven articles written by scholars in communication, philosophy, literature, architecture, music, and sports.
The articles are Rhetoric and Memory: The Arrival, Display, and Burial of Ferdinand Marcos's (Dead) Body by Orville B. Tatcho; Nakem and Virtue Ethics: Framing the Ilokano and Amianan Sense of Good Life by Danilo S. Alterado, Godofredo G. Nebrija, and Raul Leandro R. Villanueva; Disstrakan Bilang Verbal na Duwelo: Pagsusuri sa Tema't Diskursibong Istratehiya ng mga Diss Track Mula sa mga Rapper ng Dongalo at Ex-Battalion by Kevil Paul D. Martija; Isang Interdisiplinaryong Pagdulog sa Dalumat ng Krisis at Kritika sa Sining at Kultura sa Araling Mindanaw at Sulu by Jay Jomar F. Quintos; Ang Estetika, Politika, at Ideolohiyang Pilipino sa Arkitekturang Filipino: Ang Kaso ng Ilang Antigong Bahay sa Malolos, Bulacan by Luis Alfonso M. Arcega, Christopher Bryan A. Concha, and Ernesto V. Carandang II; Cultural Trauma in Post-9/11 Fiction: Representing the Marginalization of Iranians in Diasporic Novels by Arash Rahmani and Amir Ali Nojoumian; and Media Representations of Heroism Among Argentinian Women Footballers by Carolina Escudero and Santiago Tejedor Calvo.
Pison explained that Tatcho's work covers "images of the burial and explains how these constituted, together with other writings, the 'postmortem career' of the former president."
She added that the study illuminates the intersections of history, memory, remembrance, and politics.
The second article by Alterado, et. al., "elaborates on the scaffolding of the Ilokanos' sense of good life embedded in the nakem philosophy," Pison wrote. She added that "A constellation of concepts and values related to nakem is unpacked in the process of showing the readers the importance of appreciating the Iloko language as source of knowledge of the region's cultural life."
Meanwhile, the third article looks at disstrakan or the exchange of diss tracks among rappers. Martija explained, "Ang papel na ito'y susuri sa nilalaman ng mga diss track na nailabas sa panahon ng kanilang tunggalian. Susuriin sa isasagawang saliksik ang mga pangkalahatang tema at diskursibong istratehiyang ginamit ng bawat kampong kalahok. Gayundin, ang implikasyon nito sa pagiit ng awtentisidad at inaasam na respeto sa komunidad ng mga hip-hop kung saan sentral nga ang gampanin ng paglahok sa 'disstrakan' bilang espasyo ng verbal na duwelo."
Quintos's research, Pison explained, "illustrates a way of engaging with contesting discourses, myths, and false assumptions about Mindanao and Sulu." Furthermore, as Quintos wrote in his abstract, "Iminumungkahi ng sanaysay na ito ang paggalugad sa iba't ibang paraan kung papaanong ang dalumat ng 'krisis' at 'kritika' ay maaaring gamitin sa pagsisiyasat sa mga usapin sa Mindanaw at Sulu."
The research of Arcega and company, meanwhile, holds that architectural structures are carriers of particular ideologies and identities.
"The study investigates the aesthetics and milieu that produced three heritage houses in the Malolos Historic Town Center," Pison wrote in her editor's note.
"Identity is likewise embedded in forms of narrative such as fiction," Pison wrote in describing the work of Arash Rahmani and Amir Ali Nojoumian.
According to the authors, their paper "argues that post-9/11 narratives by writers of the Iranian diaspora assign a new meaning to 9/11 and reconstitute the identity of their ethnic collectivity around this event."
The last article was that of Escudero and Calvo.
"This essay analyzes the relations of gender and culture portrayed in the media surrounding Argentine women's football," the authors wrote in their abstract. Pison explained the study provides readers with a "substantial historical and cultural context to comprehend the intersection of sports and national identity in Argentina, thus contributing to the growing interest of scholars in sports as part of studies on gender and nationhood."
Aside from the articles, the journal also features John E. Barrios' review Pagtumba ng Patriarkiya sa Short Film na Dogeaters ni Kevin Piamonte.
The issue may be accessed at https://journals.upd.edu.ph/index.php/humanitiesdiliman/issue/view/928
Humanities Diliman is a Scopus-indexed, peer-reviewed, open-access journal published semi-annually by the UPD Office of the Vice Chancellor for Research and Development (OVCRD).