The January to June 2022 issue of Humanities Diliman (Vol. 19, No. 1) is now available online (https://journals.upd.edu.ph/index.php/humanitiesdiliman/issue/view/878).
Humanities Diliman is a Scopus-indexed, peer-reviewed, open-access journal published semi-annually by the UP Diliman Office of the Vice Chancellor for Research and Development.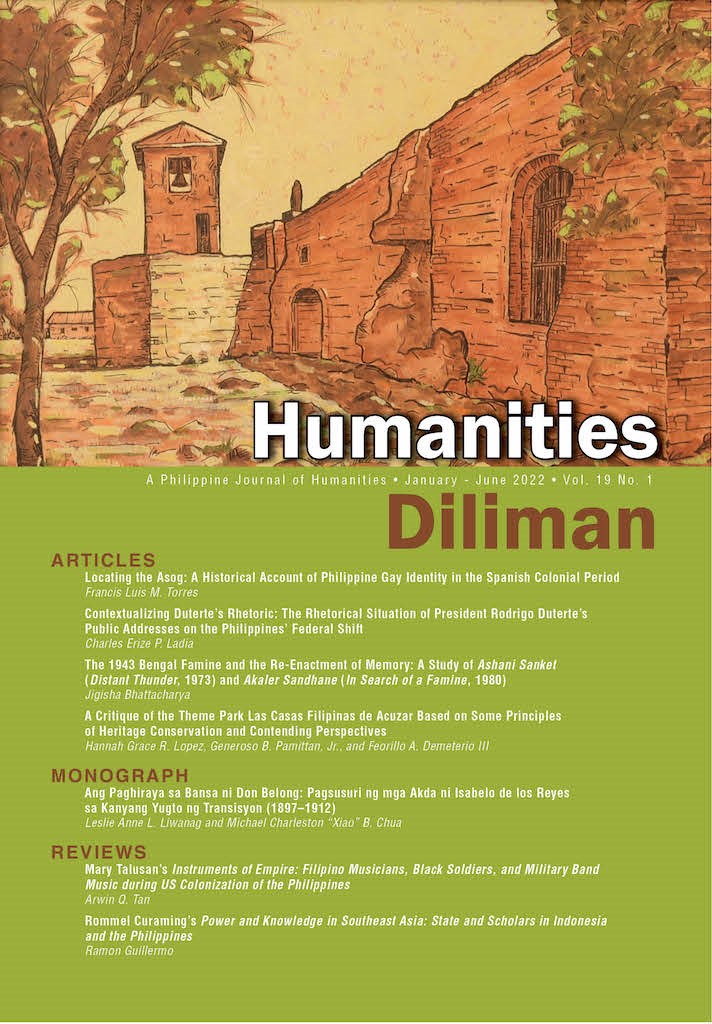 The journal's first issue for the year contains four articles, a monograph, and two reviews.
It features the articles "Locating the Asog: A Historical Account of Philippine Gay Identity in the Spanish Colonial Period" by Francis Luis M. Torres, "Contextualizing Duterte's Rhetoric: The Rhetorical Situation of President Rodrigo Duterte's Public Addresses on the Philippine's Federal Shift" by Charles Erize P. Ladia, "The 1943 Bengal Famine and the Re-Enactment of Memory: A Study of AshaniSanket (Distant Thunder, 1973) and AkalerSandhane (In Search of a Famine, 1980)" by Jigisha Bhattacharya, and "A Critique of the Theme Park Las Casas Filipinas de Acuzar Based on Some Principles of Heritage Conservation and Contending Perspectives" by Hannah Grace R. Lopez, Generoso B. Pamittan Jr., and Feorillo A. Demeterio III.
Torres' article investigates within the Spanish colonial period, the asog, the earliest representation of the Cebuano gay identity in the Philippines.
According to Torres, the "paper intends to rearticulate the effects of writing and colonialism that influence current attitudes and perceptions toward Filipino gays."
Ladia's article focuses on "the rhetorical strategies of a popular and populist public figure" and addresses the question: "how did President Rodrigo Duterte respond to and recreate rhetorical situations in persuading the Filipino public to support his federal proposal?"
Meanwhile, Bhattacharya's article centers on the cinematic memorialization of the 1943 famine in Bengal in colonial Indian subcontinent. "In foregrounding the cultural politics of memorialization through cinema," the "paper seeks to highlight the dichotomy between the archive and its absence which characterizes much of South Asian history."
Lastly, the critique of Las Casas Filipinas de Acuzar (LCFdA) by Lopez, Pamittan, and Demeterio argues "that LCFdA has at least five strategies for the building/rebuilding of its architectural collections." The paper "contains three substantive sections: an elaboration of each of these five building/rebuilding strategies, an overview of the selected pertinent documents on heritage conservation, and a critique of each of the five building/rebuilding strategies."
The issue includes the monograph "Ang Paghiraya sa Bansa ni Don Belong: Pagsusuri ng mga Akda ni Isabelo de los Reyes sa Kanyang Yugto ng Transisyon (1897–1912)," by Leslie Anne L. Liwanag and Michael Charleston "Xiao" B. Chua.
Reviews of Mary Talusan's "Instruments of Empire" by Arwin Q. Tan and on Rommel Curaming's "Power and Knowledge in Southeast Asia" by Ramon Guillermo complete the issue.Humanities Diliman promotes scholarship in the arts and humanities in the Philippines, as well as international synergies, especially with scholars of Southeast Asian studies. –With a report from the Humanities Diliman editorial board