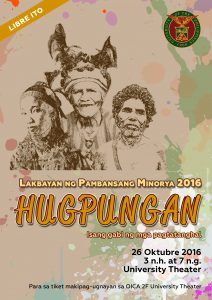 Minority groups, UP Diliman performers together for concert
On Oct. 26, members of national minority groups, and UP Diliman (UPD) performing arts groups will share the stage for the first time to echo the call for right to self-determination in a concert called "Hugpungan" at the University Theater.
Chanters and performers from five national minority groups, or Lakbayanis, from all over the country—including the Mangyan, the Aeta and Dumagat from Luzon and Visayas and the Lumad and Moro from Mindanao—will join forces with the UP Dance Company and the UP Kontemporaryong Gamelan Pilipino (Kontra-GaPi).
Organized by the Office of the Chancellor and National Minorities Alliance (SANDUGO), the concert will showcase the interplay of performances from various national minority groups, as well as from the University's very own resident performers, as a symbolic convergence of dreams, talent and artistry. Two performances are slated at 3 p.m. and 7 p.m.
The concert is part of Lakbayan 2016: Kampuhan sa Diliman, a caravan of over 20 national minority groups from Luzon, Visayas and Mindanao who have trooped to Manila to voice out their situation to a larger audience of faculty, students, staff and communities.
Around 3,000 Lakbayanis have gathered in UPD since Oct. 12 to protest and oppose what UP professor Sarah Raymundo calls "imperialist intrusion in their land, in particular the deployment of US military troops all over the country."
Raymundo is part of the Save Our Schools Network, a major contributor in the Kampuhan.
UPD and the Lakbayanis have organized various activities for the duration of the Kampuhan, such as workshops, a peace forum, nightly cultural activities and engagements with various government agencies.
This is the second time UPD has hosted the national minorities. The first one was in October 2015 entitled Manilakbayan where the University hosted some 700 members of minority groups from Mindanao on campus for a week.
SANDUGO is an alliance of indigenous peoples and Moro for self-determination formed last Oct. 18 at the Asian Center with a gathering of leaders from Kampuhan.
The University Theater lobby will also be home to a photography exhibit by UPD professors and students who participated in an exposure trip to a Lumad community in Sitio Malungon, Bukidnon organized by the Save Our Schools Network advocacy group.
Limited control tickets are available for free at the Office for Initiatives in Culture and the Arts (OICA) at the 3rd Floor of the University Theater starting Monday, Oct. 24. For inquiries, please call the OICA at 981-8500 local 2659.