By Pearlyn Manalo, images by the Rushurgent Working Group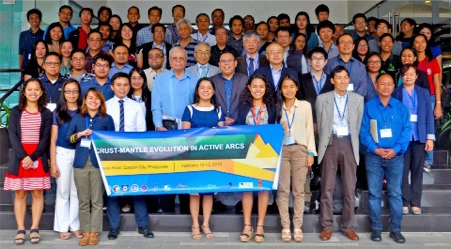 (FEB. 23)—Local and foreign experts from different fields of the earth sciences gathered to discuss new findings and innovations in the international symposium "Crust-mantle evolution in active arcs" convened by the Rushurgent-Working Group (RWG) of the University of the Philippines – National Institute of Geological Sciences (UP-NIGS), on Feb. 12-13 at Sequoia Hotel in Quezon City, Philippines.
The 2-day event was divided into two parts: the first day on hard-core science and the second day on industry applications, with emphasis on the latest scientific achievements in the mining, exploration, oil and energy sectors. Eighteen papers were presented on the second day.
There were also 11 poster presentations with varied topics such as watershed landscape, use of decision support system, geo-hazard monitoring and warning systems, as well as geophysics and sedimentary geology.
The symposium was organized by the RWG led by Dr. Carla B. Dimalanta, a professor at UP-NIGS and Assistant Vice President for Academic Affairs (Research) of the UP System. The UPLB School of Environmental Science and Management, led by Dr. Decibel V. Faustino-Eslava, co-organized the event.
Foreign participants came from Taiwanese universities (National Central University, National Taiwan University, Jinwen Institute of Science and Technology), Japanese universities (Kanazawa University, University of Tokushima, Okayama University and Tsukuba University), as well as from the University at Buffalo, New York, USA.
Local presenters from UP Diliman, UPLB, UP Manila, Mapua Institute of Technology, TVI Resources, Philippine Geothermal Production Company, Inc., Macro Asia Corporation and Energy Development Corporation presented high-caliber scientific advancements from different study areas including the different islands of the Philippines, Taiwan, Myanmar and Cyprus.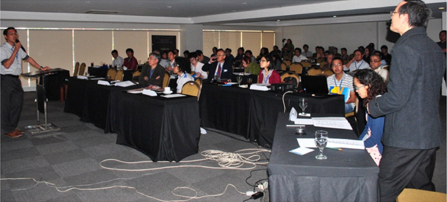 Representatives from government agencies, mining and exploration industry, oil and energy sector, academe and funding agencies were also present in the event.
The event was supported by Apex Mining Company, Inc.-Monte Oro Resources and Energy Inc., San Miguel Corp., Oceanagold (Philippines) Corp., Nickel Asia Corp., Macro Asia Corp. and the UP System.