Delegates from the Indiana University Southeast (IUS) led by Faye Marsha G. Camahalan, PhD recently paid a courtesy call to Chancellor Edgardo Carlo L. Vistan II as guests of the UP Diliman (UPD) College of Education (CEd).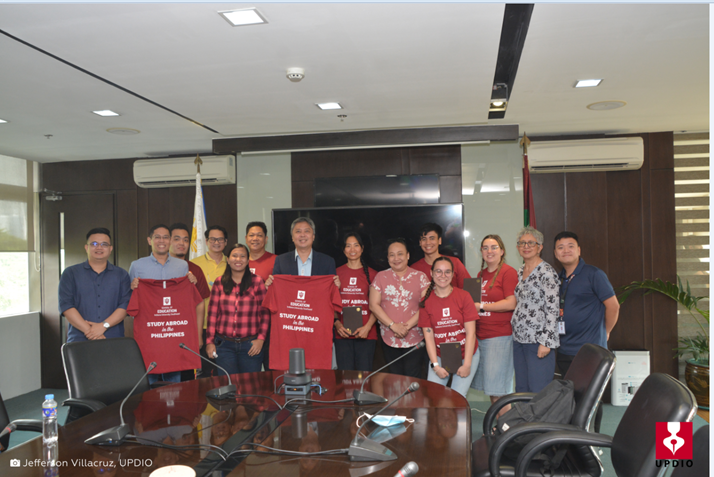 Camahalan, who is dean of the IUS School of Education, is a former assistant professor at CEd. She is also a UPD alumna, having earned her Doctor of Philosophy in Educational Psychology, Master of Science in Education (curriculum and instruction), and Bachelor of Science in Education (mathematics) degrees at CEd.
Camahalan discussed with Vistan the Study Abroad in the Philippines program of IUS.
"The Study Abroad in the Philippines is the first at IUS," Camahalan said.
According to the IUS website accessed on May 18, 2023, IUS students will have an international learning experience by traveling to the Philippines to observe, teach a lesson to selected K-12 classes and communities, and participate in a conference in the Philippines.
"This is just the start. We really want to have more projects with UPD with the help of CEd, who is our host. Other things we're thinking about is to offer a course and then later on a teacher certification where we can exchange students. Some of your [UPD] students will attend our classes, maybe online or in person, or whatever they prefer. The same thing for us. Maybe our [IUS] students can attend CEd classes either online or maybe a trip like this can be a part of that course where they can come and visit," Camahalan said, identifying the philosophy of education course taught by Maricris B. Acido-Muega, PhD as an option. Acido-Muega is an associate professor at CEd.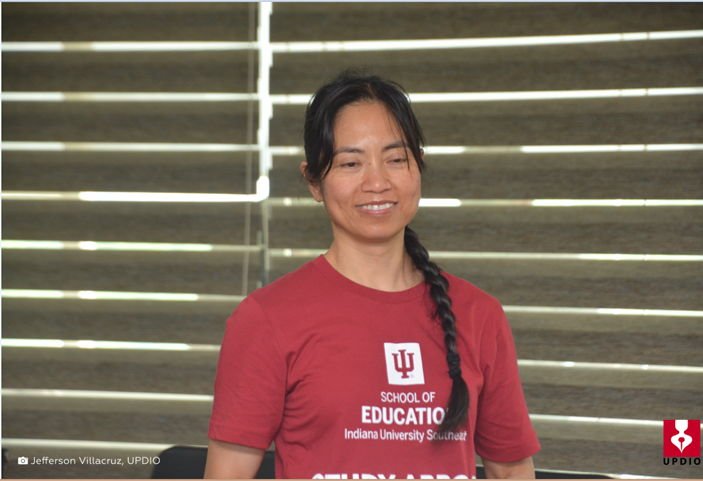 Camahalan also added that UPD, through CEd, and IUS can also collaborate with setting up a program and teacher certification for teaching English as a second language.
"This is for graduate students, because a lot of our in-service teachers are seeking additional teaching licensures for teaching English as a second language, because the demographics over there are changing. We are having K-12 students whose native language is not English and then the teachers just don't know what to do with that and they need to be skilled with pedagogy and content," Camahalan said.
Vistan appreciated the offers given by IUS and said he looks forward to a memorandum of understanding and eventually a memorandum of agreement between the two universities.
"On our part, that will be more than welcome," Vistan said.
Camahalan was with three inaugural Study Abroad in the Philippines student participants: Trisha K. Fisher, Jeremy R. Huff, and Taylor Klumb; and IU-ASEAN Gateway academic director, Faridah Pawan, PhD.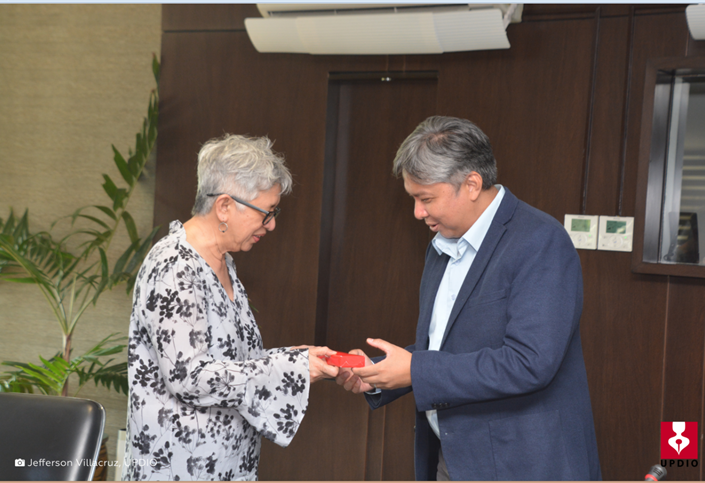 Pawan presented Vistan with a gift from the IUS as the chancellor gifted the IUS delegate with institutional gifts from UPD.
Also present at the courtesy call were CEd representatives among them Acido-Muega, Michael Arthus G. Muega, PhD, a professor of education, and Leander P. Marquez, an assistant professor of philosophy at the UPD College of Social Sciences and Philosophy; and Justin Noel Alcantara, international programs officer of the Office of International Linkages Diliman.