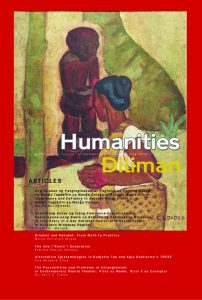 (JUL. 4)—The latest issue of the official internationally-refereed journal of UP Diliman in the Arts and Letters cluster has six articles, namely: "Ang Talaban  ng Pangingibabaw at Pagtutol sa Pangingibabaw sa Manga Tagobilin sa Manga Dalaga ni Antonio Maria Claret (Dominance and Defiance in Antonio Maria Claret's Manga Tagobilin sa Manga Dalaga) by Pauline Mari Hernando; "Kuwentong Buhay ng Isang Pambansa-Demokratikong Rebolusyonaryong Bakla sa Rehiyon ng Katimugang Mindanao (A Life Story of a Gay National-Democratic Revolutionary in Southern Mindanao Region)" by Rowell D. Madula; "Binukot at Nabukot: From Myth to Practice" by Maria Christine Muyco; "The Ube ("Roots") Generation" by Tabitha Espina Velasco; "Alternative Epistemologies in Budjette Tan and Kajo Baldisimo's TRESE" by Ana Micaela Chua and "The Possibilities and Problems of Entanglement in Contemporary Manila Theater: Pista as Model, Rizal X as Exemplar" by Sir Anril P. Tiatco.
According to Dr. Reuben Ramas Cañete, the journal's Editor-in-Chief, the current issue revisits the "six sites of hybridity that underlie the links and nodes that defined empire and colony, nation and migration, domination and resistance, homogeneity and difference, and ritualized carnivals as spaces of critical reflection and imagination."
Hernando's article focuses on the study of colonial domination over the Filipina body and her performativity as docile. According to her abstract, "The paper seeks to deliberate the actuality of colonial power and social order in the context of the rules directed at women. Through Claret's Mga tagobilin sa manga dalaga, this paper will present how the dialectical status of women, at the bottom of the social hierarchy based on the new discourse on social power, was constituted and established through the imposition of colonial authority."
Madula's paper attempts to analyze the life and experiences of a gay member of the Communist Party of the Philippines-New People's Army-National Democratic Front of the Philippines (CPP-NPA-NDFP) from the Southern Mindanao Region.
"Highlighting this revolutionary army's sexual liberalism as an extension of its struggle against imperialism, bureaucrat-capitalism, and feudalism in the cultural sphere, Madula situates the bakla both as distinct voices that articulate their own life experiences and self realization, as well as participants of a larger social struggle against oppression and indiscriminate violence, whose victimhood inscribed their own membership into the movement," Cañete notes.
Muyco's paper, as described in her abstract, talks about "the binukot's actual practice, including her present life living as a nabukot, a transformed status she gains when she gets married" and interlaced her "ethnographic observations regarding these states as part of a reconsideration of feminism from both Western and indigenous perspectives."
The editor notes that Muyco's study "shows the continuities of the precolonial preciousness that privileged daughters of highland communities once enjoyed, not only as heirlooms to be protected (thus their status as binukot, meaning "to be secluded" indoors); but also as inheritors and sources of communal cultural knowledge through their imbibing and mastery of epic chants (sugidanon), women's dance (tigbabayi), and embroidery (panubok)."
Espina-Velasco's study explores her Guamanian-Filipino heritage, using the word "ube" to characterize the generation of her grandmother—the initial generation in their families to immigrate to Guam from the Philippines, after the post-WWII migration surge.
Cañete said Espina-Velasco's "activation of multiple levels of meaning as a result of this 'digging up at the roots' can be argued as a form of adaptation of contemporary Western theoretical models of ethnography to suit a more postcolonial site, in which the postcolonials themselves are being assessed, as well as the ones doing the digging."
Chua's essay presents a reading of Budjette Tan and Kajo Baldisimo's Trese "as a text grounded in particular social epistemologies, which allows the text to speak of Metro Manila as a unified entity where people share realities and myths."
The editor notes that by invoking the postcolonial critique of postmodernism by Kumkum Sangari, "Chua inveighs against the insistence of postmodernism's pessimism of grand narratives by invoking an imaginative unity between reality and fantasy that is found in the Trese series, in which the main protagonist is a "spiritual detective" whose task is to "scientifically decode" clues of crimes committed by the otherworld within the urban (and thus "real") space of Manila."
Tiatco's study utilizes the postmodern theory of entanglement in arriving at a conceptual idiom for the understanding of contemporary theater in Manila where pista (fiesta) is used as model and the play Rizal X as example. In his abstract, the author mentioned that "Rizal X is treated as a microcosm of the pista because it has entangled representations, histories, relationships, and genres in the same way that the pista performs such entanglement."
Cañete said "These entanglements are specified within the cultural and practisanal environment of theater performance in Manila, where the convolutions of colonial history, modernity, and postcolonial reckonings of theater practice all contribute elements that "entangle" the textuality of Rizal X within the praxis of the pista mindset that typifies historical celebrations of heroism in the Philippines."
Cañete was appointed as Humanities Diliman's editor-in-chief in 2015. He previously served as one of its associate editors from 2012-2014.
Other members of the editorial board are:  associate editors Prof. Patrick F. Campos, Dr. Ramon G. Guillermo, Dr. Ruth Jordana L. Pison, Dr. Helen Yu Rivera and Dr. Matthew M. Santamaria; managing editor Dr. Gonzalo A. Campoamor II, editorial assistant Epifania M. Domingo, layout artist Dercylis G. Mararac, and copy editors Arvin A. Mangohig and Eilene Antoinette G. Narvaez.
For the list of the members of the international advisory board, click here.
The printed version is now available at the Office of the Vice Chancellor for Research and Development (OVCRD). For more information, please contact the OVCRD at (02) 981-8500 local 4048 or (02) 436-8720.