The latest issue of Humanities Diliman is now available online.
The July–December 2022 issue (Vol. 19, No. 2) of the Scopus-indexed, peer-reviewed, open-access journal features six articles and one review.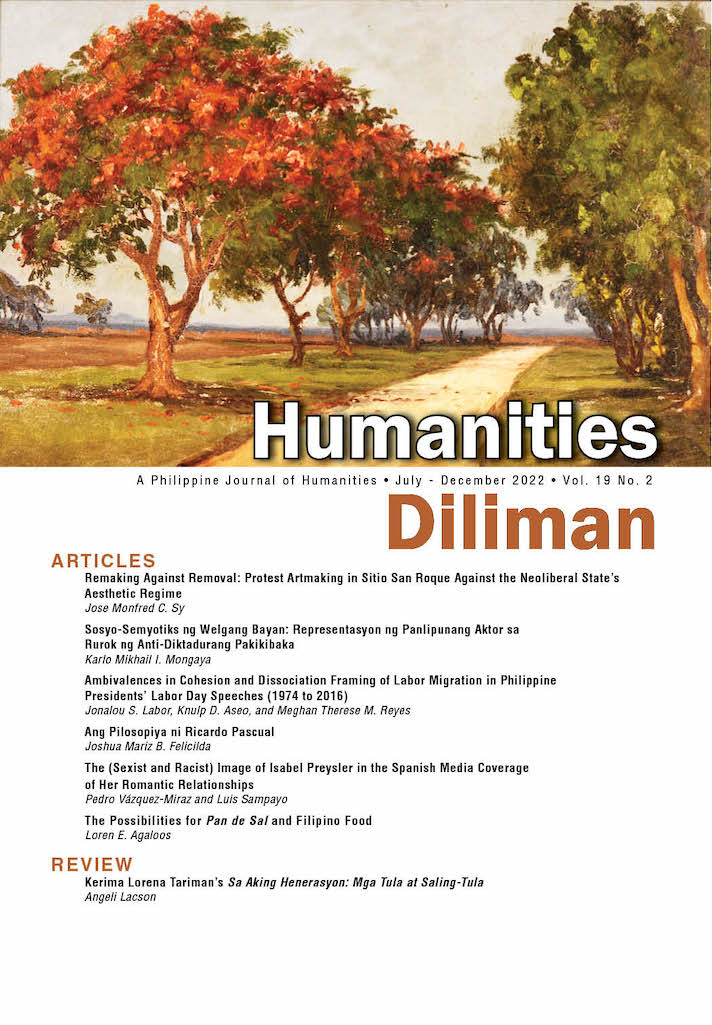 Remaking Against Removal: Protest Artmaking in Sitio San Roque Against the Neoliberal State's Aesthetic Regime by Jose Monfred C. Sy is about the construction of the Quezon City Central Business District that caused the forced eviction of the urban poor community of Sitio San Roque in Quezon City.
In Sosyo-Semyotiks ng Welgang Bayan: Representasyon ng Panlipunang Aktor sa Rurok ng Anti-Diktadurang Pakikibaka, Karlo Mikhail I. Mongaya examined the representation of national actors with regard to the launching of national protests cited by the six articles published from 1984 to 1985 in Ang Bayan, the official publication of the Central Committee of the Communist Party of the Philippines. Mongaya said the representation of national protests highlights the need to unite the different classes and sectors as a nation resisting oppressive and exploitative forces.
Meanwhile, Ambivalences in Cohesion and Dissociation Framing of Labor Migration in Philippine Presidents' Labor Day Speeches (1974 to 2016) by Jonalou S. Labor, Knulp D. Aseo, and Meghan Therese M. Reyes is a study on how Philippine presidents frame their Labor Day speeches and the strategies they employ to address the concerns of labor migrants.
Ang Pilosopiya ni Ricardo Pascual by Joshua Mariz B. Felicilda aims to impart the ideas and thoughts of Filipino philosopher Ricardo Pascual.
The (Sexist and Racist) Image of Isabel Preysler in the Spanish Media Coverage of Her Romantic Relationships by Pedro Vázquez-Miraz and Luis Sampayo reviews articles related to Isabel Preysler. According to the authors, Preysler is a celebrity of Filipino origin in Spain who was often covered by the Spanish media because of her romantic relationships, and "through an analysis of issues related to racism and sexism in different press releases, the objective of this paper is to determine whether significant temporal and historical changes affected the way the articles about this celebrity were framed."
Finally, the article The Possibilities for Pan de Sal and Filipino Food by Loren E. Agaloos examines pan de sal through cultural studies while considering the overlapping concerns with food studies.
Completing the issue is a review by Angeli Lacson of Kerima Lorena Tariman's Sa Aking Henerasyon: Mga Tula at Saling-Tula.
Humanities Diliman is published semiannually by the UPD Office of the Vice Chancellor for Research and Development. To access the issue, click here: https://journals.upd.edu.ph/index.php/humanitiesdiliman/issue/view/892.