Hope springs eternal.
This was the theme of the art exhibit, Soon There Will Be Flowers, that showcased 11 recent abstract works of acrylic on paper and canvas.
An exhibit that aims to celebrate life after the pandemic, it is the solo art exhibition of Dakila A. Fernando.
Fernando is an associate professor of theory and chair of the Department of Theory of the UP Diliman College of Fine Arts (CFA).
Soon There Will Be Flowers, according to Fernando, is a title of an English magazine in Florence, Italy produced during the height of the pandemic.
It was also what Piero Bargellini, former mayor of Florence, uttered in the aftermath of the 1966 flood of the Arno in Florence that killed 101 people and destroyed millions of art and rare books.
"It's a title that I adopted because the works here were produced during the pandemic. It's a message of hope and being positive in life and hoping that there will be good things happening in the future," said Fernando.
According to him, all the artworks at the exhibition are part of a very personal journey since these were done during the pandemic.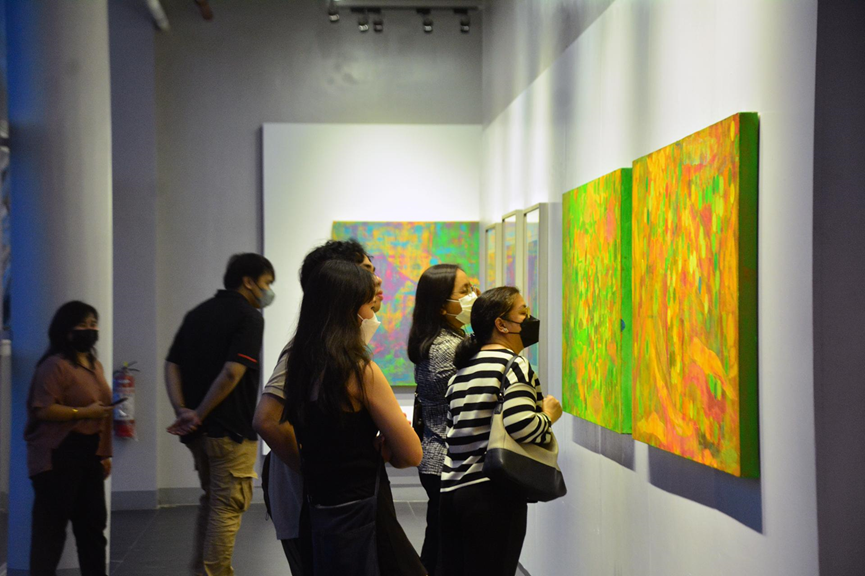 According to the exhibition notes written by Wilson Lumbao Jr., Fernando's works are "presented through colors that echo the lush(ness) of gardens, though in a subdued manner, leaving warm-almost tropical traces of green and orange."
Lumbao added, "Fernando, through his depiction of 'flowers blooming,' resorts instead to the purification of painting; and through the formalist prescriptions of abstraction and composition, generates a more compelling image for understanding of efflorescence. "
The exhibit also featured a three-minute and 20-second audio-visual presentation (AVP) that conveyed Fernando's message about the exhibition. The AVP's original music is by Eliraz Heidman, an Israeli sound artist, and animation by Lester Quintos.
In explaining the AVP, Fernando said, "It's about man who destroys the universe, but nature fights back. In the end, nature is kind to rebuild, to regenerate, and nature is still there very kind enough to bring back life."
The exhibition opened on Jan. 19 at the Gallery Two of the CFA Gallery and will run until February 3.