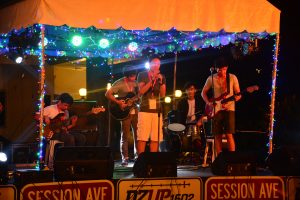 (DEC. 7) — The rain before the show started did not dampen the mood of performers, crew and spectators alike as "Session Avenue" puts the spotlight on homegrown UP Diliman talents last Dec. 1.
The show which lasted about three and a half hours featured bands, duos, solo artists and spoken word artists.  Most of the performers at Session Avenue were previously introduced at DZUP 1602.
Fourteen year-old Jacquilyn Rose Bariatos opened the event with Kitchie Nadal's "Bulong" and Vehnee Saturno's "Hulog ng Langit" popularized by Donna Cruz.
She was followed by Tripolar, a homegrown band of Senior High School students from the UP Integrated School, performing two original compositions.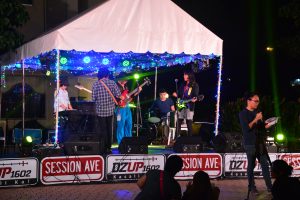 Occident from the College of Mass Communication performed original compositions right after.  Following Occident was the band Z who had a strong fan base that supported their performance that night.
Other artists at Session Avenue were bands Kamara, Munimuni and Never the Strangers, and individual artists JM Espiritu, Tristan Ortega and Sofia who did spoken word performances.
Session Avenue was also a taped-as-live music segment for the program Soundtrip of DZUP 1602.  Held at the Carillon Plaza, Session Avenue is part of DZUP 1602's celebration of its 60th anniversary and a kickoff celebration of Philippine radio's 100th year.