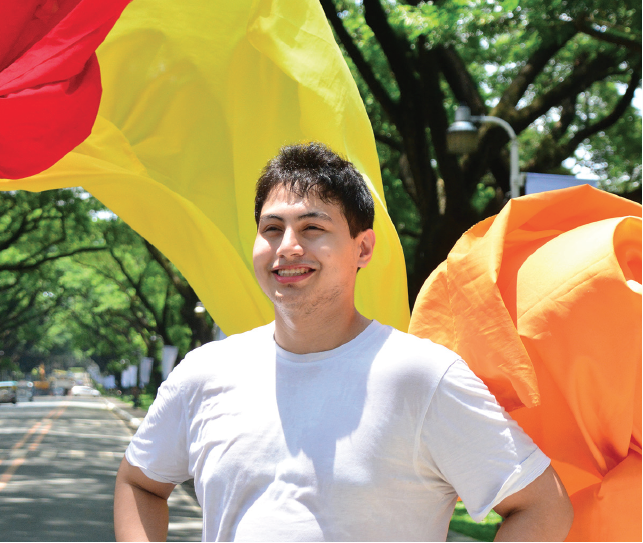 "I am a grade conscious student, but I am the balanced type," Arman Ali Ghodsinia said. He was the class representative at the 106th General Commencement Exercises held June 25. Ghodsinia, a summa cum laude (SCL) graduate of Molecular Biology and Biotechnology (MBB), has a weighted average grade of 1.173.
Ghodsinia is the first Maranaw Muslim to receive said honor. His father is an Iranian who became a naturalized Filipino. His mother is a Maranaw from Marawi City and is from the "Ali clan, one of the four Royal Houses of Lanao," he explained. He was born and raised in Manila and spent only a brief time in Marawi during his childhood.
Best education possible. His parents wanted to give him, sister Farah and brother Iman, the best education so they sent them to the best schools possible. "It just happened that these schools were Catholic schools. I studied in Our Lord's Grace Montessori, La Salle Greenhills (LSGH) and Ateneo Grade School. Farah studied at Miriam College while Iman studied at LSGH. In high school, I studied at the Philippine Science High School."
He was not sure if he could be excused from masses and attending Christian Living Education (CLE) classes but "I went to the masses and CLE classes. I was only sure that I never partook of the Eucharist or Holy Communion," Ghodsinia explained. He was also surprised to know that he was topping the CLE classes.
Study habits. To prepare for the daily lessons, he read's the book chapters in advance to have an overview of the lecture. This helped him understand the topics better and anticipate difficult lessons. "I tried not to cram but it is inevitable especially when we have several projects to accomplish, papers to submit and exams to take."
"I am also not the type who will cheat just to get high grades," Ghodsinia continued. "I do not dwell too much in my failures as well. If I get a low grade in an exam or a project, I will seek the advice of my professor so that I know how I can improve my performance the next time and get a higher grade." Ghodsinia is also not excellent in memorization unlike some of his classmates, thus, "I got a low grade in Biology 12 (Fundamentals of Biology II)," he said.
He needed to study hard to be able to stay in the program as he just appealed his case. "I did not meet the cut when the admission test (UPCAT) results were released. I appealed to be accepted in the program and was thankful that it was granted." Due to that, he needed to maintain good grades to finish the program.
The need to focus on his studies also prevented him from being active in college organizations. "I initially planned to join the UP Muslim Students Association (MSA) but when I learned that student organizations might take most of my time, I did not continue with my plan," he explained. Later, he joined UP Scientia, the official student publication of the College of Science. "But I was not an active member. I am still working on an article that I need to submit to them," he said.
Support groups. "It is also important that you surround yourself with people who can help you succeed," Ghodsinia said. These people will help you realize your dreams and attain your highest potentials.
"I was blessed to have parents who provided all our needs so we can focus on our studies. They worked hard so we, their children, can do the best in all that we do. I am also blessed to have my sister Farah who motivated me and gave me advice whenever I am faced with difficult decisions. I am blessed to be guided by excellent college professors like MBB Prof. Rey Garcia who believed in me and challenged me to do my best, and studious friends who inspired me to study well and lent me lecture notes if I am absent in our classes," he continued.
Relax regularly. He also takes time to rest and relax to help the body rejuvenate. "I like movies which have sense, lesson and humor." Among his favorites are White Chicks, considered by some critics as the funniest ever; Forrest Gump because of the lessons; The Kite Runner; and the Slumdog Millionaire.
He also likes the NBA a lot and is a San Antonio Spurs fan. "I like the attitude of basketball players especially the competitive ones. They will put in extra hours in practices to be the best. They are the first in and last out in gyms. I admire that attitude which became my attitude too – putting in extra hours to be better in what I am doing."
His favorite hangout is the Disease Molecular Biology and Epigenetics Laboratory. "It is odd but I and my friends will talk about anything in the lab. We just sit there and discuss different things there aside from our subjects."
Steadfast faith. For him, a Muslim will always be a Muslim. "How a person practices his faith is between him and God. It is a personal thing," he said. In Ateneo, he was surrounded by people from different religions thus "I had a better understanding of people and their faith. My Ateneo years helped me to respect people from different backgrounds."
Ghodsinia is grateful to God for the honor he received. "I believe that the SCL honor can only be possible because God wills it to happen."
In the future, he plans to go to Mecca which is the birthplace of Muhammad, the holiest city of Islam and a pilgrimage site for Muslims.
Advocacies. "I am helping with my sister's advocacy program, Children of Mindanao, which provides Mindanaon children access to good education." His valedictory speech also was an advocacy against stereotyping Muslims. "People should know that Muslims can be friendly and sociable as well as excel in study and research."
He also dreams of building a biotechnology industry in the country. "I dream of having my own laboratory for cancer research which will have Filipino scientists as officers and staff. It is my goal to find a way to prevent or cure cancer."
"I am very grateful to UP Diliman for the learning experience. I learned a lot about MBB and life here in the campus. It is my goal to give back to Filipinos since they invested on me and the 2017 UPD graduates," Ghodsinia said. u