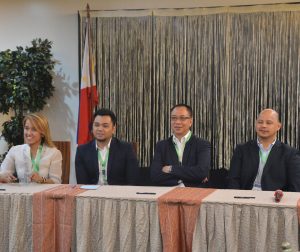 (NOV. 8)— Four technologies generated from researches were officially launched as spin-offs and licensed technology by UP Diliman and the Department of Science and Technology-Philippine Council Industry, Energy and Emerging Technology Research and Development (DOST-PCIEERD).
The three technologies that were introduced as spin-offs are Fish-i, CharM and Smart Surface, while the lone licensed technology is the Ready-to-Drink Sweet Potato Leaf Extract (SPLE) Beverages.
Spin-offs or start-ups are technologies deployed to the market through the companies established by the researchers themselves. Licensed technology on the other hand is putting the research product into commercial use through partnership with an established business group.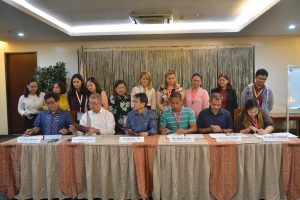 Fish-i is a fish census hardware-software technology that could speed up or allow rapid reef fish assessment to quickly come up with a decision for a management scheme. Data collection could be done in less than an hour and it could also precisely count and identify fishes within the 50-meter distance. The technology, developed by Prof. Prospero Naval, PhD and Prof. Laura T. Davd, PhD, is intended for fish species identification and population density, and biomass estimation system for conducting underwater visual census (UVC) by divers without marine science domain expertise.
The technology is now licensed to Fish-i, Inc., a company put up by the researchers.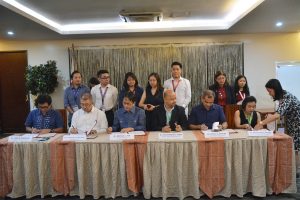 CharM or Charging in Minutes is a system for fast charging electric vehicles (EVs) that are using the Lithium-ion battery storage technology. CharM provides an alternative charging strategy that eliminates the need for several hours in order to fully charge an EV. The conventional four to six hours slow-charging is reduced to less than an hour or even a matter of minutes for smaller vehicles.
Developed by researchers from Electrical and Electronics Engineering Institute (EEEI) led by Prof. Lew Andrew Tria, PhD, the technology was licensed to CHRG EV Technologies, Inc.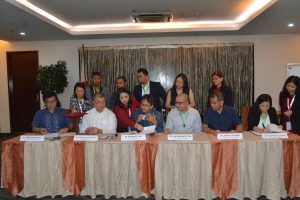 Smart Surface is an electronic sensor system that can convert virtually any flat surface into an interactive interface.  It is also a system composed of a number of sensors and a central controller. It is more affordable and robust than Smart board. Smart Surface boasts for its distinct features that can compete with the already existing products in the market. Its content can be customized according to the client's preference; it is portable; it can be installed in existing surfaces; and most importantly, it is low-cost with speedy after-sales support in cases of replacement, repair services, or technical help.
The technology was developed by Prof. Nestor Michael Tiglao, PhD and his students at the EEEI, and is now licensed to Adapsense Technologies, Inc.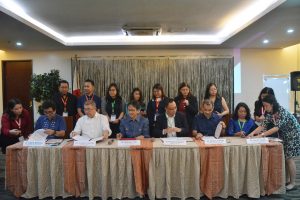 Meanwhile, the Ready-to-Drink SPLE Beverages, also called KamoTea, is a healthy alternative to artificially-flavored juice drinks. It has no artificial flavors and uses natural ingredients. The main ingredient is the extract of sweet potato leaves that is known to contain vitamins, minerals, dietary fiber, antioxidants and essential fatty acids. KamoTea come in four variants namely SPLE Inubi Black Tea, SPLE Inubi Original, SPLE Red Black Tea and SPLE Red Original. Prof. Casiana Bianca J. Villarino, PhD and her team from the Department of Food Science and Nutrition, College of Home Economics developed KamoTea.
The innovators partnered with Fresh Q Enterprise Corporation, an mSME based in Angat, Bulacan, to commercially produce and deliver the products to local market.
Funding support for the development of the technologies were provided by the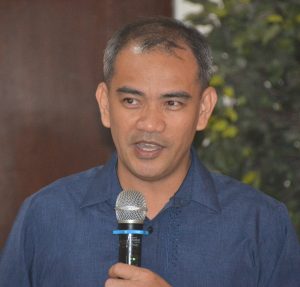 Funding Assistance for Spinoff and Translation of Research in Advancing Commercialization (FASTRAC), a "researcher/technology-focus" program established by DOST-PCIEERD to bridge the gap between R&D and commercialization of DOST PCIEERD-funded technologies. FASTRAC is also designed to translate research outputs into market-ready products or simulate a startup operation thru a spin-off project for a period of one year.
PCIEERD Executive Director, Dr. Enrico C. Paringit said the launching is a milestone event and the accomplishments of the researchers serve as inspiration for other technology generators. "The technologies presented are special in a sense that they are actually products of the dedication, hardwork and the fruits of the labors of our researchers."
"The University is very proud of you, because this where we want to bring the technologies, out of our laboratories, to the communities, to the market and to the people who will use and benefit from these innovations," said Fidel R. Nemenzo, Vice Chancellor for Research and Development. — Bino Gamba, images by Jefferson Vilacruz