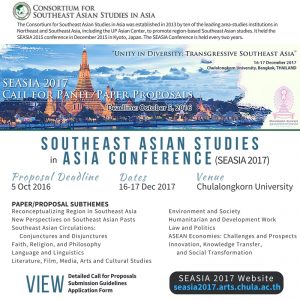 The Consortium for Southeast Asian Studies in Asia (SEASIA), of which the UP Asian Center is a member, will be holding the 2nd Southeast Asian Studies in Asia Conference (SEASIA 2017) from
16 to 17 December 2017
in Chulalongkorn University, Bangkok, Thailand.
The deadline of paper and panel proposals is on

5 October 2016
.
With the theme, Unity in Diversity: Transgressive Southeast Asia, SEASIA 2017 welcomes panel and individual presentations on the following subthemes:
 

| | |
| --- | --- |
|  Reconceptualizing Region in Southeast Asia |  Literature, Film, Media, Arts and Cultural Studies |
|  New Perspectives on Southeast Asian Pasts |  Language and Linguistics |
|  Southeast Asian Circulations: Conjunctures and Disjunctures |  Faith, Religion, and Philosophy |
|  Environment and Society |  Humanitarian and Development Work |
|  Law and Politics |  ASEAN Economies: Challenges and Prospects |
|  Innovation, Knowledge Transfer, and Social Transformation | |
Submission Guidelines and Application Form
Learn more about these subthemes and read the submission guidelines at the Call for Proposals page. This page includes the application form.
Registration fees and methods will be uploaded to the registration portal of the SEASIA 2017 website. Please visit the site from time to time.
Other Information: Fees, Venue, Important Dates
Please visit the website of the SEASIA 2017 conference to learn about the following:
Information about the conference

Sponsors and partners

Registration fees and payments

Transportation and accommodation in Bangkok

Deadlines and important dates
The conference is organized and hosted by the Chulalongkorn University Conference Committee, comprised of the Institute of Asian Studies, Faculty of Arts, and Faculty of Political Science.  Chulalongkorn University will mark its 100th anniversary in 2017.
The Consortium for Southeast Asian Studies in Asia was "established in ten of the leading area-studies institutions in Northeast and Southeast Asia to promote region-based Southeast Asian studies." Its first major activity was the SEASIA 2015 conference, which was held in December 2015 in Kyoto, Japan. The SEASIA Conference is held every two years. The Asian Center's representative to the Consortium is Dr. Antoinette Raquiza, Associate Professor.
Contact Information and Inquiries
For inquiries, you may contact the SEASIA 2017 Conference Secretariat at: seasia2017@chula.ac.th