The 2022 national election is merely two months away. To help voters evaluate the candidates, the UP Diliman Department of Speech Communication and Theatre Arts (DSCTA) launched the seven-part webinar series "Persuasion and the Polls" on March 8 on the DSCTA website and social media pages.
The webinar series feature panel discussions with UP faculty members from different departments and disciplines that explore and explain the explicit and implicit persuasive strategies employed by the presidential candidates — from their fashion style to their campaign jingle and social media posts.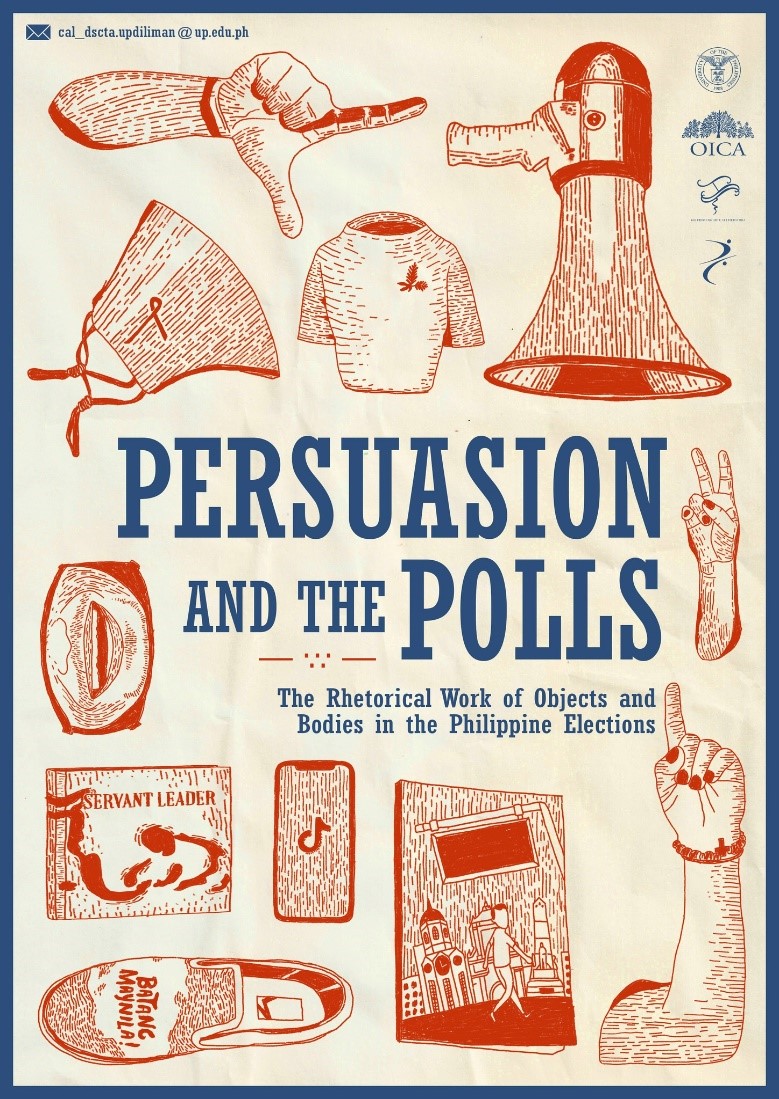 "Politicians and their campaign teams no longer just rely on verbal communication to connect to the voting public. Now more than ever, their persuasive strategies involve a web of visual and sonic materials, embodied practices, and Internet-based activities that seek to cast candidates in a particular light and evoke various responses from their followers and supporters," said Prof. Oscar T. Serquiña Jr. of the DSCTA.
He emphasized the need for informative discussions on voter education.
"'Persuasion and the Polls' is a platform where academics in the arts and humanities can collaborate in offering insightful, systematic, and free discussions about the changing rhetorical dimensions of Philippine elections," Serquiña said.
According to a post on the DSCTA's Facebook page, in the first part of the series, "The Role of Persuasive Communication in Philippine Political Campaigns," Serquiña and fellow DSCTA faculty, Prof. Jose Carlo G. de Pano, PhD, discussed "an analytical method for understanding and evaluating how politicians, their campaign teams, and their supporters deploy rhetorical artifacts and practices to achieve various ends."
"The rhetorical landscape online has become so polarizing and polarized that it feels like people are just talking to their camps or echo chambers… People are just expecting [others] to agree with them, but what's being neglected in this rhetorical landscape is our capacity to inhabit the mindset or the context of the 'other.' Or even to inhabit how certain publics find so much appeal in a particular candidate that is not our candidate," Serquiña said.
For his part, de Pano said, "When we talk about persuasion and politics, we should also talk about the available platforms to different participants. It's not just about the strategies you use or the messages you deliver, or how you construct your arguments. If you don't have the platform that will allow you to communicate those messages effectively, it might be challenging."
The episode "Political Campaign Jingles" was presented on March 15 with Prof. Raul C. Navarro, PhD of the UP College of Music and DSCTA's Christine Joy A. Magpayo. According to a post on the DSCTA Facebook page, they discussed the "importance of framing campaign jingles and music not only as products that can cultivate the popular imagination of the Filipino people but also as potent means to boost (or deflate) the status of candidates during and even beyond electoral seasons."
"Ano nga ba ang kulturang popular [pop culture] ng Pilipinas ngayon? Once we understand it, mas madali nating maiintindihan 'iyong musika bilang isang commercial enterprise. And since it's a commercial enterprise, ang role mo ay magbenta ng produkto. Pero hindi tayo nagbebenta ng label. Hindi tayo nagbebenta ng album ngayon. Ang binebenta natin ay 'iyong kandidato natin," Magpayo said.
In discussing the nature of jingles, Navarro said "[Ang] totoong jingle [ay] catchy, paulit-ulit ang mensahe, madaling tandaan, at maikli. Ang mayroon tayo ngayon ay buong kanta na may haba[ng] mula tatlo hanggang limang minuto. Karaniwang nasa estilo na rin ito ng music video o MTV na may orihinal na pakay na magbenta ng mga album ng mga recording artist. Ngayon, kasama nang binebenta ang mga pulitiko."
"Persuasion and the Polls" also tackled "Campaign-related Visual Narratives" (March 22) and will feature "Campaign-related Texts" (March 29), "Political Outfits/Attires" (April 5), "Gestures and Bodily Behaviors" (April 19), and "Political Accounts on Social Media Platforms" (April 26 ).
To know more about the "Persuasion and the Polls" series, visit the DSCTA website (https://www.dscta.kal.upd.edu.ph/), Facebook page (https://www.facebook.com/UPDepartmentofSpeechCommunicationandTheatreArts), or YouTube channel (https://www.youtube.com/channel/UCaOcaYBd47j3ShZxUsEaLPg).