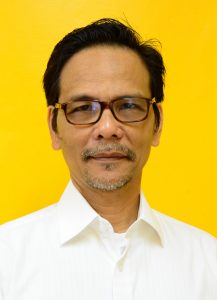 (NOV. 6)— Dr. La Verne C. Dela Peña is the UP College of Music's (CMu) new dean. The UP Board of Regents approved his appointment at its 1331st meeting effective Oct.18. 
The 14th CMu dean will serve until Oct. 17, 2020.
An associate professor, Dela Peña teaches courses in music of Asia and Oceania, 20th century western art music and ethnomusicology.
His areas of research center on the discursive elements of music in sung narratives, repartee and ritual of the Kankana-ey of Benguet, Iraya Mangyan of Mindoro Island, Tagalog of Sariaya, Quezon and Yakan of Basilan Island, Pinoy folk in the Marcos years, multicultural church music and Pinoy hiphop culture.
He earned his Doctor of Philosophy in Ethnomusicology from the University of Hawai'i in 2000 as an East-West Center Degree Fellow. He obtained both his master and bachelor degrees in Music major in composition from UP in 1991 and 1983, respectively.
He was appointed as the director of the UP Center for Ethnomusicology in 2016 and has been serving as chairman of the Musicology Department since June 2004.
He is an advisor at the C-ASEAN Consonant (Ensemble comprised of musicians in 11 ASEAN nations based in Bangkok, Thailand from 2015 to present.
Dela Peña was ranked UP Artist II through the UP Arts Productivity Award in 2015-2017 and UP Artist I in 2011-2013.  He was also a recipient of the Metro Manila Commission Professorial Chair (Aug. 2016 to June 2017).
Dela Peña also shares his expertise in Philippine music through paper presentations and public lectures locally and internationally.
Some of the papers he presented were: "An Overview of Philippine Music" at the Center for Southeast Asian Studies, University of California at Berkeley, USA on Apr. 5, 2016, "The Kundiman and the Kulintang and the Crafting of a Philippine Art Music Imaginary at the Association for Asian Studies Annual Conference, Washington State Convention Center, WA, USA from Mar. 31 to Apr. 3, 2016, and the "Crossing Borders: the Migration of the Mindanaoan Kulintang" at the "Restoration of Asian Unity: A Search for New Directions in the Development of Asian Traditional Music" held at the UP Balay Kalinaw on Apr. 7, 2015.
For Dr. Dela Peña's full bio, click here.