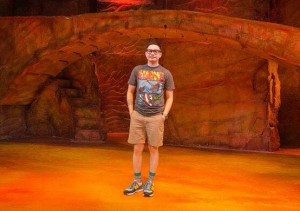 (JUL. 22) — Dulaang Unibersidad ng Pilipinas (DUP) elected Department of Speech Communication and Theatre Arts assistant professor Dexter M. Santos as its new artistic director.
Santos is DUP's youngest artistic director. He has staged notable plays for the company such as Orosman at Zafira (2008, 2010, 2011, and 2012), Ang Kiri (2009), Lulu (2009), Rizal X (2011), Collection (2013) and Ang Nawalang Kapatid (February 2014 and July 2014).
He has also directed a number of events inside and outside the university including the UAAP Season 71 Opening Ceremony, Brilliant! (The Grand Launch of the Theater at Solaire), Floy Quintos' Legacy: The Sun Life Story for the 120th Anniversary of Sunlife Financial Philippine (2015), First Pacific Leadership Academy's Spoliarium (2015), and UAAP Season 78 Opening Ceremony among many others.
Santos presented a 12-point plan of action that promises growth in the company's season of plays, sustainable business plan, student development and the celebration of DUP's 40th anniversary.
In time for DUP's 40th anniversary, Santos envisions DUP to be in the forefront of artistic direction in Philippine Theatre. In a time when Philippine Theatre is growing as a commercial effort, DUP will continue to set the standards for education, training, artistic innovation and unfretted vision.
With a theme "20/20 Vision: Clarity. Originality. Perspective," DUP's 40th theatre season puts premium on strengthening the DUP brand by highlighting the new DUP artistic director's signature style in interpreting world classics, original Filipino and contemporary plays. —Dulaang UP, photo courtesy of Prof. Dexter Santos