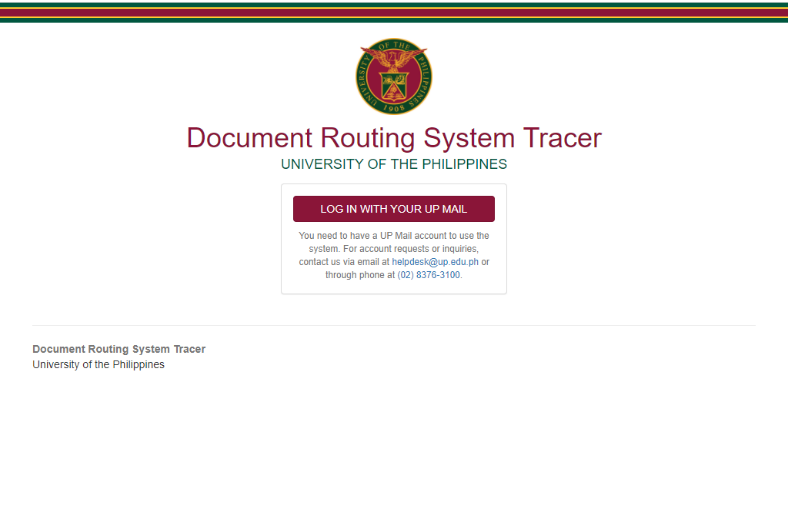 UP employees can use the document routing system (DRS) tracer to know the status of the documents they are processing starting Nov. 22.
The DRS tracer (https://drstracer.up.edu.ph) assists users by locating or monitoring the documents being processed in the DRS, even if they are not registered in the DRS itself. The two requirements for accessing the DRS tracer are the UP mail account (for authentication), and the DRS tracking number.
Using the DRS tracking numbers assigned to the documents, the DRS tracer will show the UP office/unit where the documents being tracked are currently located, and the status of the said documents.
A 10-page user's guide in PDF is also available at DRS tracer user guide. The guide shows the step-by-step process of tracing the documents, from logging in, encoding the DRS tracking numbers, up to logging out.
Here are important guide words (in the overview portion) in tracking down documents using DRS tracer:
Current office: the UP office/unit where the document is currently at
Current recipient office: the office which is assigned to receive the document
Available: the document is ready to be received by the recipient office/unit
Pending: the document has been received by the recipient office/unit; the document is currently pending at that office
Terminal: this means that the document is at its last stop and no other offices can receive or process it
According to the guide, if the "current office" field is blank, it means that the office/unit shown in the "current recipient office" field has not yet accessed the document, "but it is already assigned to that office/unit."
The DRS is the revised version of the document tracking system (DTS). For more information on DRS and DRS tracer, see https://itdc.up.edu.ph/services/document-routing-system.
UP personnel are highly encouraged to use the DRS for fast and efficient processing of documents, both electronic (soft copies) and printed (hard copies).
For inquiries and concerns on the DRS and DRS tracer, the UP system ICT support is available at https://ictsupport.up.edu.ph/.
The DRS and DRS tracer were developed by the Information Technology Development Center (ITDC) under the UP Office of the Vice President for Development (OVPD).