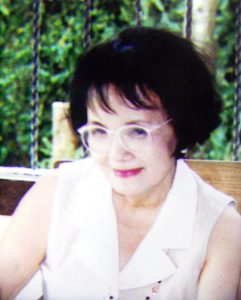 (AUG. 22) —Dr. Lilia F. Realubit, retired professor from the College of Arts and Letters Department of English and Comparative Literature (DECL), passed away on Aug. 17. She was 86.
Realubit served at UP Diliman (UPD) as faculty for more than three decades. She taught English, Bicol literature, folklore and Philippine Studies both in the graduate and undergraduate levels.
According to the Cultural Center of the Philippines Encyclopedia of Philippine Art, Realubit graduated cum laude at the Colegio de Santa Isabel in 1960 with a BS Education degree. She obtained her MA in Literature at UPD in 1962. She earned her master's degree in linguistics at the University of California in Los Angeles through a Fullbright-Hays scholarship grant (1964-1966). She finished her doctorate in Philippine studies in UP in 1985.
A member of the Bikol Heritage Society, Inc., she received the Lifetime Achievement Award in the Premio Tomas Arejola para sa Literaturang Bikolnon in 2004.
She is among the 11 Filipino scientists awarded by the National Research Council of the Philippine on March 15, 2003 "for her researches on the intricacies of diverse Philippine culture. Her lectures in many local and foreign literary conferences, seminar-workshops, and symposia promoted better understanding and appreciation of the country's folklore, spoken languages, and literature," according to the Department of Science and Technology website.
Realubit also authored, edited and translated several books and researches such as the "Bikol Dramatic Tradition" (1978), "Journal of Bikol writing" (1994), "Ibalon : Ethnographic History of the Bikol Region by Mariano Goyena del Prado" (1981), Bikols of the Philippines (1983), Haliya Anthology of Bikol Poets and Poems (2004), and the Bikol Literary History (2001).
She was the president of UP Folklorists, Inc. and founder and organizer of the Archdiocesan Museum in Naga City.
According to DECL Professor Ma. Rhodora Ancheta, Realubit's wake is at her house at 51 Jacob St., Naga City.