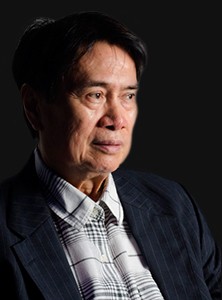 The University of the Philippines Diliman mourns the loss of Dr. Francisco F. Feliciano, National Artist and retired faculty member of the College of Music.  He died September 19 at the age of 72, after a long battle with cancer.
Dr. Feliciano was a composer, conductor and educator, one of the main figures bringing worldwide awareness of the Philippines' indigenous music.  His most well known works included operas and music dramas like "La Loba Negra", "Ashen Wings", "Sikhay sa Kabila ng Paalam", as well as chorale pieces like "Pokpok Alimpako", "Pamugun" and "Salimbayan", favorites of Filipino chorale groups when they would perform locally and internationally.
Feliciano taught at the College of Music from 1969 to 1972 and from 1980 to 1986.  He devoted much of his later life to the Asian Institute for Liturgy and Music (AILM), which he founded in 1980, and has become well known, and loved by church musicians.
Feliciano was declared National Artist by the Office of the President just last June 20, and honored, together with another College of Music faculty Dr. Ramon Santos, in a tribute last month.  He was unable to attend because he was already ill.
Feliciano will be buried today, September 25, 2014, at the Libingan ng mga Bayani.
Michael Lim Tan, DVM, PhD
Chancellor
University of the Philippines
Diliman, Quezon City
Philippines