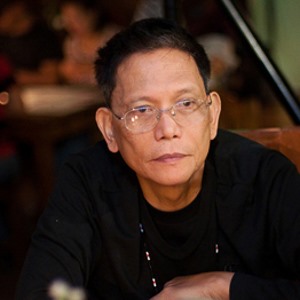 (APR. 4)—Former Asian Center (AC) Dean Mario Ignacio Miclat, PhD, passed away on Apr. 3. He was 71.
Known fondly as Doc Mic, Miclat was an acclaimed writer, poet, China studies expert, translator and Philippine Studies professor.
He won numerous awards and had been honored with lifetime achievement awards, including the 2013 Gaward Pambansang Alagad ni Balagtas for fiction in English and Filipino from UMPIL (Unyon ng mga Manunulat sa Pilipinas), and 2006 Patnubay ng Sining at Kalinangan of the City of Manila.
For his body of works, Miclat won the 1988 Gawad CCP (Cultural Center of the Philippines), Palanca Awards for Literature (1986-1987), 2008 UP Centennial Professorial Chair Award and 2008 UP Press Centennial Publication Awards.
His book "Secrets of the Eighteen Mansions" was long-listed for the 2009 Man Asian Literary Prize, while his "Beyond the Great Wall" was awarded the 2006 National Book Award for biography.
He was also author of "Mga Kuwento ng Kabayanihan" (1988) and "Pinoy Odyssey" (1989; relaunched by UP Press in 2005 as Pinoy Odyssey 2049), among others.
In 2019, the Komisyon sa Wikang Filipino (KWF) honored him Kampeon ng Wika for his exemplary contribution toward the development and growth of the national language.
He was AC dean from 2010 to 2012 and retired as UP Full Professor. He was also former Director of UP Sentro ng Wikang Filipino (1996 – 2001) and Associate of Likhaan: UP Institute of Creative Writing.
In her article "Mario Miclat's mighty heart," (https://lifestyle.inquirer.net/346464/mario-miclats-mighty-heart/) published on the "Inquirer" on Sept. 24, 2019, Alma Miclat wrote how she and husband Mario went to Beijing, China in the 1970s, "right before the suspension of the writ of habeas corpus in 1971. Martial law would be declared in 1972," and lived there for 15 years.
In China, the couple worked at Radio Peking which aired "a 30-minute program in Filipino three times a day and which was beamed to the Philippines." There, their two daughters Maningning and Banaue were born.
Miclat who was the UP Creative Writing Center (now Likhaan: Institute of Creative Writing) National Fellow for Translations (1995-1996) also received a citation from ICW.
Wife Alma in the same article wrote, "Earlier, Doc Mic received a citation for his accomplishments as a writer and academic from Likhaan (UP Institute of Creative Writing) headed by Jose "Butch" Dalisay Jr. It describes him as: 'Accomplished essayist and fiction writer, whose skill and craftsmanship have created stories of remarkable sharpness and poignancy in both English and Filipino, and whose extraordinary insights into culture, politics, history, literature and the human condition have enriched local and international discourse on nation and imagination. It adds: 'Passionate teacher, whose depth of knowledge and understanding has inspired countless future scholars, writers and lovers of the written word.' Finally, the citation says, 'Tireless administrator, colleague and friend, whose quiet gestures of kindness have touched many lives and whose magnanimity of spirit casts a ripple that extends to infinity.'"
Born in Marikina on Sept. 12, 1949, Miclat is survived by wife Alma, daughter Prof. Banaue Miclat-Janssen of the UP Department of Speech Communication and Theatre Arts and husband, and grandson Raja Miclat-Janssen.