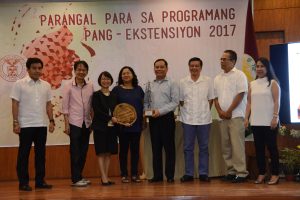 Two units of the College of Science were recognized at the Parangal Para sa Programang Pang-Ekstensiyon 2017, held on Apr. 25 at the Malcolm Auditorium, College of Law.
The Microbiological Research and Services (MRSL) Extension Program of the UP Natural Sciences Research Institute (NSRI) and The Marine Science Institute's (MSI) Bolinao Marine Laboratory (BML) Training and Extension Program, were recognized in the non-degree granting units category and in the degree granting units category, respectively.
The MRSL provides high quality and timely microbiological services, technical advice and training programs relevant to the safety of food, water, cosmetics and toiletries, pharmaceutical products and other consumer products, efficacy of natural products and biocide-containing products, microbial diversity and identification, and other aspects of microbiology pertinent to human and environmental health.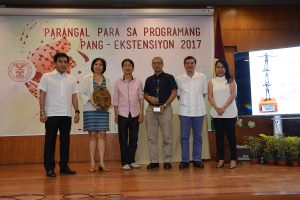 The MSI BML Training and Extension Program, on the other hand, supports the research activities of MSI on marine ecology of coral reefs, sea grass and mangrove ecosystems, coastal oceanography and coastal resources management. The program is also a venue for various high quality and science-based short-term training courses for students, resource managers, local and foreign researchers, local government units and costal communities.
The Parangal Para sa Programang Pang-Ekstensiyon is meant to recognize the importance of extension programs in UPD and is conferred to programs with significant contribution to the achievement of the vision/mission of the unit and the University.
Both NSRI and MSI received a plaque of recognition, made from recycled trunks of acacia trees, and a trophy designed and executed by UP College of Fine Arts faculty member Manolo Sicat.